Don Quixote Comes to Israel

From The Jerusalem Post Magazine
by HEATHER ROBINSON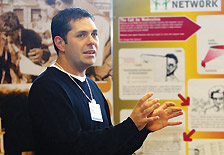 It is fitting Daniel Lubetzky would grow up to be an entrepreneur who tries to bring peace to the Middle East. He recalls how, one summer when he was 12 and working for a textile wholesaler in Mexico City, he overheard people on the bus bashing Israel.
"They were talking about Sabra and Shatilla," he recalls. "They were saying horrible things about Israelis and Jews."
Upset, the boy reported what he had heard to his father, Roman Lubetzky, a Holocaust survivor who talked with him about Israel's right to exist, its existential struggle. With his father's help, he wrote a letter to Mexico City's Excelsior newspaper decrying the double standard of condemning Israel without condemning the perpetrators of the massacres.
At 39, Lubetzky's youthful passions – for Israel, for raising consciousness, and for business – remain intact.
But he's come a long way from, as he puts it, "carrying shmattes" in Mexico City. These days, he peddles his food products, including Israeli-made sauces and spreads and Australian-manufactured nutrition bars, to a global market, with a presence in countries ranging from the US to Japan to Dubai.
PeaceWorks, his food company, is founded on the principle of simultaneously making profits and peace by bringing together, in business, people from opposing sides of various world conflicts. He also runs the PeaceWorks Foundation, whose main project is OneVoice, an organization Lubetzky founded to "amplify the voices of moderates" in the Israeli/Palestinian conflict. As the labels on his products state, 5 percent of all profits go to OneVoice.
Tall and broad-shouldered, with a full, expressive mouth, Lubetzky has the offbeat handsomeness of a character actor. Depending on the light, his large eyes look blue, green or brown. Married this year, he maintains homes in Tel Aviv, New York and San Antonio, Texas, the three cities where PeaceWorks has offices. OneVoice has offices in New York, London, Tel Aviv, Gaza City and Ramallah.
On a recent afternoon, speaking in his slightly Mexican-accented English, he articulated PeaceWorks' unique philosophy.
"We call it a 'not-only-for profit company," he says, "meaning, we won't do something if it is not profitable, but we hope to also make the world a better place."
PeaceWorks has three ventures: Meditalia, based in Israel and operated by an Israeli Jew, which buys ingredients mainly from Arabs in Israel, in neighboring countries and in the West Bank; Bali Spice, all-women-run cooperatives in Indonesia and Sri Lanka that produce coconut milk and sauces; and KIND Fruit & Nut bars, which according to SPINS Market Data (a market research and consulting firm for the natural products industry) have reached the top three spot in the US market in the health snack and energy bar category.
KIND Fruit & Nut are currently sold in over 20,000 stores, including US-based chains Whole Foods and Trader Joe's. They are also sold in countries including Saudi Arabia, Dubai, the United Kingdom, Japan and soon Israel ("We're in the process of certifying the factory kosher," says Lubetzky).
With their whole chunks of dried fruit and intact nuts bound by a light touch of honey or yogurt, the bars contain no preservatives or additives.
"They're the Rolls Royce of bars," says Lubetzky. "Made with ingredients you can actually see that have names you can pronounce."
Lubetzky does not own the factories where any of PeaceWorks products are produced. His company owns the brands and handles marketing and distribution.
THE MAIN office of PeaceWorks and OneVoice, located in the Chelsea neighborhood in Manhattan, is loft like and minimalist. The 30 employees, 20 who work for the business and 10 who work for OneVoice, sit in partially open cubicles.
Painted on the white walls in blue letters are quotations from luminaries like Ralph Waldo Emerson and Mahatma Gandhi. One quotation stands out: "If you have built castles in the air, your work need not be lost; that is where they should be. Now put foundations under them" – Henry David Thoreau.
Lubetzky's office, separated by a glass door and large window, is fully visible from the large room. On a recent afternoon, he sits with Darya Shaikh, executive director of OneVoice, and Erin Pineda, director of communications.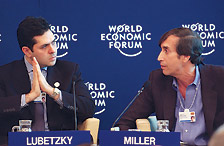 The three are planning a conference in Israel and the Palestinian territories of OneVoice, on which Lubetzky says he spends more time than on his business. While PeaceWorks employs "between 15 and 20" full-time, OneVoice employs 30, he says.
"When are we going to meet with [Foreign Minister] Tzipi Livni?" asks Lubetzky.
"It's impossible," says Shaikh.
"How can you say it's impossible, send a letter quickly, we're six weeks away. And we want to push for meetings with [Palestinian Authority] President [Mahmoud] Abbas, [negotiator] Saeb Erekat and [Prime Minister] Salaam Fayad. Please remind Fayad I met him in Davos."
Since he established it in 2000, Lubetzky's OneVoice has recruited almost 650,000 people – about equal numbers of Israelis and Palestinians – to sign a "OneVoice mandate." It's a short declaration of principles demanding that elected officials work to achieve such ideals as "the rights of both peoples to independence, sovereignty… dignity, respect, national security, personal safety and economic viability." It also demands that leaders negotiate a two-state solution within a year. In some cases, Palestinians received a preamble discussing an end to occupation, and Israelis got a preamble addressing the need for security.
While the organization continues to boost its numbers, it no longer uses the mandate. "There will be something done [with it] in terms of connecting the grassroots to the top level" in government on both sides, according to Pineda.
The organization has also graduated 1,280 Israeli and Palestinian "youth leaders," mostly teenagers, who go through training to speak in the territories, in Israel and abroad about the importance of cooperation between Israelis and Palestinians, especially in business. A popular topic is that Israelis and Arabs should oppose divestment campaigns.
Lubetzky flips open his laptop to share a video that appears on the OneVoice Web site of young people circulating leaflets in cities from Tel Aviv to Tulkarm.
"The vast majority of Palestinians and Israelis want to achieve resolution of the conflict, not for the sake of the other side but for their own sake," he says.
He clicks onto a picture of Palestinians sitting in rows in a sparsely furnished room in the Jabalya refugee camp. It's a OneVoice meeting at which Palestinians are discussing a two-state solution, he says.
He speaks animatedly about an essay contest that took place in both Israel and the Palestinian territories this spring. OneVoice workers, youth leaders and other volunteers distributed forms to teachers, asking children 13-17 to "share with us a vision of what 2018 will look like if there is an agreement for peace this year."
The Palestinian finalists were hosted at a summit of the World Economic Forum in Sharm e-Sheikh in May. The Israeli winners were chosen in June.
In the coming year, based on their essays, 10 kids will be selected – five Palestinian, five Israeli – to work with eminent filmmakers producing short films of their visions of peace.
Lubetzky has already recruited Danny DeVito and Davis Guggenheim, who directed Al Gore's An Inconvenient Truth, to work with the children.
"We want a new generation to say, 'Don't deny us our future, we want this thing to end,'" he says.
On the wall hangs a photograph of Lubetzky with his father, who died in 2003. The elder Lubetzky is seated and the younger leans over his shoulder. Their faces are side by side, bathed in rose light. Hanging nearby is a photograph of a young Israeli soldier holding the hand of an elderly Arab man as the two make their way through a crowded refugee camp.
"I fear that if we don't succeed the bad guys could succeed and what happened to my dad could happen again," Lubetzky says. "I won't allow that to happen without putting in the fight of my life."
LUBETZKY'S FIRST venture was Meditalia. After graduating from Stanford Law School, he went to Israel on a fellowship to research the potential for Israeli-Arab cooperation.
One night, he bought a jar of sun-dried tomato spread. Finding it delicious, he returned the next evening to buy more, but the store was sold out. He sought out the manufacturer, only to discover the company was going bankrupt.
Yoel Benesh, the owner, was importing glass jars from Portugal and dried basil from Italy, and couldn't net enough to cover his costs. Lubetzky demonstrated that importing glass from Egypt, and basil from a West Bank town called Uja, would reduce costs.
"I said, 'Let me introduce you to your neighbors,'" Lubetzky recalls.
Today Benesh manufactures Meditalia products for Lubetzky. Benesh buys olives from Egypt, sun-dried tomatoes from Turkey and olive oil from the Jahshan Family Farm, owned by a Christian Arab family in Galilee. He also buys produce from Palestinians in the West Bank, but can no longer employ Palestinian workers because of frequent border closings.
While he says he simply buys products where he gets the best price, Benesh believes in the PeaceWorks creed: "Once you do business with people, you trust them, they trust you, slowly, slowly – if ever – that will bring peace," he says.
Hani Jahshan, one of Benesh's suppliers, an Israeli Arab whose family is among the oldest manufacturers of olive oil in Israel, agrees. "In business, we have already achieved peace," he says.
IT'S THE FIRST day of the OneVoice conference in Israel, and Lubetzky, staff and several board members are visiting Ramallah for a lunch with OneVoice's Palestinian advisers.
Inside a white building, a cool entryway leads into a large room with a banquet table bearing humous, tabouli, pickled vegetables. Uniformed waiters are pouring drinks.
Lubetzky and several men greet each other with kisses on both cheeks. They include Qadora Farris, described in the bio Lubetzky's staff circulates as "a close friend, aide and adviser to senior Fatah leader Marwan Barghouti," Muhammad Naja, country representative of the Education for Employment Foundation, a nonprofit that helps Palestinian graduates obtain employment, and Dr. Samir Huleileh, executive president of the Palestine Development and Investment Company. Several OneVoice youth leaders in their teens and 20s are along.
Lubetzky shares the head of the table with Huleileh. Most of the formal remarks concern ways to bring business into the territories, which Lubetzky and the other participants refer to as Palestine.
"People ask me, 'Can you invest in Palestine at this time?'" Huleileh says. "I tell them the media is just concentrating on the negative side, not the peaceful side of Palestine."
Naja speaks of the importance of finding jobs for unemployed Palestinian college graduates. "Giving people hope is a very big task," he says. "We have to start on the youth, on both sides of the line."
Lubetzky then speaks about the essay contest, and about a beautiful presentation given by Christina Samir Odeh Yosef, a 15-year-old contest winner.
"We don't have a lot of other things we feel proud of, as a people," says Huleileh. "We must support our Palestinian athletes, musicians, actors, poets. It's not just a matter of money but of focus. We must support the Christinas of Palestine."
In October, Lubetzky canceled two highly anticipated concerts. The concert on the Palestinian side would have been the largest recreational event ever to have taken place in the territories. The singer Bryan Adams was to have performed, along with Israeli and Palestinian artists, first in Tel Aviv, then in Jericho. It would have been the culmination of OneVoice's drive to gather a million signatures to end the conflict. Tens of thousands were expected on each side.
Prior to the event, the Palestinian staff started receiving bomb threats. Around the same time, Abbas's office withdrew its support and sent out a statement distancing itself from the event. Lubetzky ultimately decided to cancel because of security concerns.
When the joint event did not take place, Lubetzky was crushed, according to Joshua Faudem, an independent filmmaker whom he had hired to serve as cameraman, documenting the week leading up to the event.
"The saddest thing was the last day we filmed," recalls Faudem. "We went to where the concert was supposed to be, and there was nothing there."
But Lubetzky refused to give up on his mission of ending the Israeli/Palestinian conflict.
"He's like Don Quixote," says Faudem. "Don Quixote refused to give up, he had a lot of stubbornness.
"The thing about Danny is, he could be a little, as we say in Yiddish, meshuga – crazy – but he's sincere."
"He's a great young man," says former Labor MK Ephraim Sneh, of Lubetzky. "What he's doing is building grassroots support for a two state solution. All the polls prove that two-thirds on both sides want this two-state solution.
"And by the way, the world is moving forward because of naïve people and not because of the cynics."
"OneVoice encourages moderates on both sides," says MK Yoel Hasson (Kadima). "It can help by changing the atmosphere, and the influence of the atmosphere is very important when dealing with the Israeli/Palestinian conflict."
BUT AT TIMES, an unasked question hovers like an unwelcome guest at the perimeter of all the hubbub around Lubetzky: Could it be that his prodigious energy, warmth and charm bring out the best in everyone for the moment, but only mask the underlying divide? In other words, do projects like the essay contest, the mandate and the concert-that-might-have-been mean Israelis and Palestinians are really speaking in one voice, or that in reality, they are articulating separate dreams?
Hasson chooses his words carefully: "Talking about the Palestinian/Israeli conflict, there is a problem… about meanings of peace."
Lubetzky, it seems, is not blind to this problem.
The following day, at the OneVoice board meeting, he and his staff debate whether the essay project, moving forward, should require Palestinian and Israeli children to acknowledge one another.
"We want… to make sure people recognize what peace means. It's not an amorphous concept. It requires recognition of the other," he says. "We were born for taking risks. I would rather let the organization die trying than die by not trying."
Nisreen Shahin, director-general of OneVoice Palestine, argues it is best not to speak directly of accepting Israel so that OneVoice can continue operating in Palestinian schools.
"This is what the ministry actually approved to say, 'Imagine, if a full and comprehensive peace will be achieved this year that would guarantee ending the occupation and establishing an independent Palestinian state, how would we imagine Palestine… in independence and peace?'"
Lubetzky points out that one of the essay contest winners was, before receiving her award, painting pictures of Greater Palestine that didn't show any Israel.
"To imagine that Israelis and Palestinians achieve a peace solution, that's not very complex language to use but that's better language than just saying [something] amorphously… and denying the existence of the other side," he says.
Toward the end of the meeting, Lubetzky gently chides several OneVoice staffers who he says he knows agree with him but who haven't spoken up.
Afterward he says, "I think the conclusion of the meeting was we need to be more specific in teaching children that there must be two states for two peoples and they need to come to terms with the reality of the other."
Lubetzky spends the final evening of the conference on a patio in the back of Jerusalem's Ambassador Hotel, with OneVoice youth leaders. They are engaged in a spirited debate concerning fund-raising on campuses where OneVoice operates.
"It's a two-way street," Lubetzky cries. "We need more student participation."
"Daniel, quit shouting," scolds a girl with curly dark hair.
"I'm not shouting," says Lubetzky. "This is Israel!"
The meeting ends. As Lubetzky turns to leave, a plump, bespectacled girl in a blue hijab tentatively approaches. "Mr. Lubetzky," she says, blushing. "I am so grateful for the opportunity."
Lubetzky nods and smiles.
It is a lovely moment, and a human one.
This entry was written by Heather Robinson and posted on July 25, 2008 at 1:58 pm and filed under Features.