Pittsburgh, On Purpose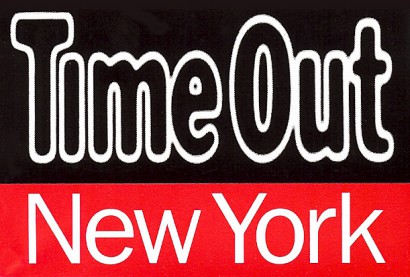 From Time Out New York
by HEATHER ROBINSON
Photographs by DEBORAH KOSSMAN
This old steel town has impressive artwork, funky neighborhoods-and first-rate thrifting.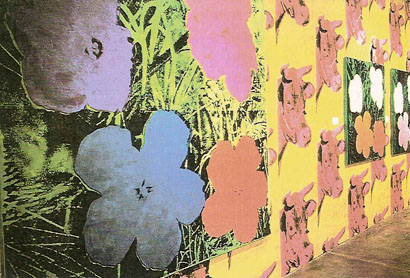 Caption: HEAVEN AND EARTH AT The Andy Warhol Museum, you can see his "Flowers" series and Cow Wallpaper.
When I was growing up in Pittsburgh in the 1970s, the city's steel mills were still intact. I remember them as dark slabs alongside murky waters. Today, Pittsburgh's three rivers-the Allegheny, Ohio and Monongahela-are slate blue, and the rocky hills surrounding them are fostering new developments, including artists' communities. When a friend I grew up with told me that she and some pals had traveled to our hometown to check out its vibrant alternative-art scene and well-stocked thrift shops, I was skeptical. Pittsburgh, Pennsylvania, a tourist destination? But when I recently returned, I was blown away by the painting, sculpture and installation art filling the city's museums, galleries, and new artists' work spaces. I also discovered that, having lived for a few years at a frenzied New York pace, I actually enjoyed Pittsburgh's unhurried charm.
My first stop was The Andy Warhol Museum (117 Sandusky St, 412-237-8300; $7, students $4). Located on Pittsburgh's North Side, this seven-story museum is permanent home to some of its native namesake's best-known works, including portraits of Marilyn, Elvis, Jackie and Mao. Also on display are early experiential works like Silver Clouds, a room filled with huge pillow-shaped Mylar balloons. After viewing pop classics like Campbell's Soup Cans and Heinz Boxes, I stopped at the museum's excellent cafe for a sandwich, homemade pastry and a cold drink. The museum also owns an abundance of sketches and paintings that Warhol finished while attending the Carnegie Institute of Technology (now Carnegie-Mellon University), for both youth art classes and college courses. Many of these hauntingly imaginative works reveal his budding exploration of gay themes.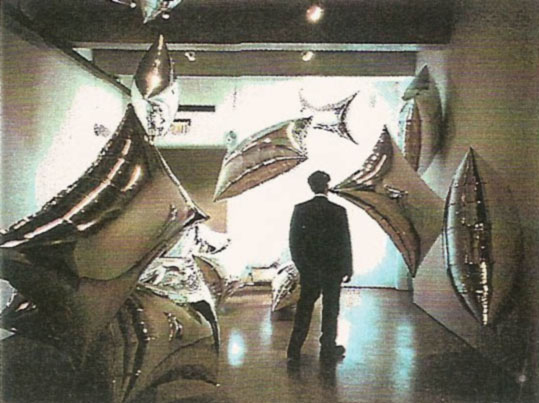 Caption: Warhol's Silver Clouds
A few sleepy streets away from the museum is The Mattress Factory (500 Sampsonia Way, 412-231-3169; $4, students $3). Here, in what must surely be one of this country's greatest little-known installation galleries, artists are given free rein to re-create the rooms of an old factory and its adjoining building. To experience Japanese artist Yayoi Kusama's Infinity Dots Mirrored Room Repetitive Vision, you step into a room lit with black lights, its walls covered with carnivalesque dots. An explosion of color greets you as you enter the adjacent room, where three mannequins-their bodies covered with bright tangerine spots–stand in a mirror-lined space. Danae, by American artist James Turrell, projects a lovely periwinkle light against a wall in a completely dark room. The richness of the color beckons you toward the light; touch it, however, and you discover that it is not the flat, projected light it appeared to be but a recess within the wall.
Next, I visited The Spinning Plate Artist Lofts (5720 Friendship Ave; to visit, call Artists and Cities at 412-687-5350), a residence that opened last November to provide low-rent work and living space to artists who earn less than $16,000 a year. In the building's first-floor gallery, which displays residents' art, I noticed Work That Ass, an industrial and whimsical piece by Ed Parrish. It's a metal chair painted technicolor-blue, with the seat covered in yellowish-green turf; a pink, treelike shape created from rubber work gloves and molten iron blooms from the seat's center. Located near the Spinning Plate, Ritter's Diner (5221 Baum Blvd, 412-682-4852) offers breakfast, lunch and dinner 24 hours a day. You can eat a great meal of eggs, toast, potatoes and fried green tomatoes here for under $5.
Shadyside, a neighborhood east of downtown, is home to two of the city's most diva-esque vintage boutiques. Eons Fashion Antique (5850 Ellsworth Ave, 412-361-3368) is popular with anyone who appreciates a glam look, from cross dressers to, oddly enough, my mother! I swooned for the beautiful tulle and lace gowns from the '50s ($25-$30) and the vast number of gloves, from black mesh to sheer pink nylon with polka dots ($8). Hey Betty! (5892 Ellsworth Ave, 412363-0999) has a great stash of never-been-worn vintage 1950s lingerie, including corsets, bustiers ($25) and bras ($15) padded like they don't pad' em anymore. Nearby Walnut Street is a great place to stroll and shop; it's filled with more specialty boutiques.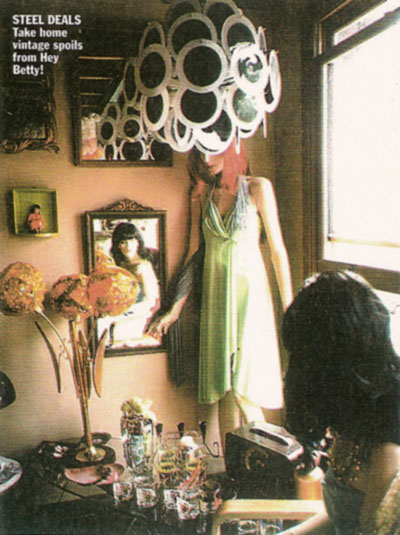 Caption: STEEL DEALS Take home vintage spoils from Hey Betty!
Carson Street, the gentrifying South Side's main drag, possesses an old-world, Eastern European charm. Thrift shoppers and costume buffs can get outfitted at Yesterday's News (1405 East Carson St, 412-431-1712), where pillbox hats and a cool selection of swing dresses from the 1940s and '50s ($15-$30) will take you way back. Fans of an industrial look will love The Second Scene (1923 East Carson St, 412-381-6030); owner Sandy Benedict claims that she dressed the cast of Flashdance, which was filmed in Pittsburgh in the '80s. Her store has tons of men's flannel shirts and "stuff they used to wear in the steel mills," she says. For your basic, nonspecialty thrifting, there's always the Salvation Army, which runs the ARC Thrift Shop (44 South 9th St, 412-431-9896). Since thrift stores' hours are sometimes as funky as their clothes, call before you shop. An exceptional restaurant on the South Side is Zenith (26th St at Sarah St, 412-481-4833), a vegetarian tea house, antiques store and art gallery. For fancy food, try Le Pommier (2104 East Carson St, 412-431-1901, entrees $16-$26), a cottage-style French restaurant.

Caption: RIVER'S EDGE The view from Mount Washington, overlooking the Monongahela and downtown.
Oakland, to the west of Shadyside, is home to the University of Pittsburgh and its Cathedral of Learning (Fifth Ave at Bigelow Blvd, 412-624-6000; $2 tours), an immense Gothic tower. Visit the Cathedral's cavernous ground floor and its jewel-like "nationality classrooms," designed and financed by Pittsburgh's various ethnic communities to replicate traditional spaces from their native lands. The Greek room, with its white marble floors, is patterned after Greek public meeting spaces from 2,500 years ago, while the English Room contains panels from England's 16th-century House of Commons. The Carnegie Museum of Art (4400 Forbes Ave, 412-622-3131; $6, students $4), also in Oakland, is known for its Impressionist and Early American collections. Every three years, this world-class museum hosts the Carnegie International, an exhibit featuring innovative young artists from around the world. Picasso, Matisse and Pittsburgher Mary Cassatt have all been featured in past exhibitions. The next International will run from November 6 through March 26, 2000. (For a list of featured artists, call 412-622-3131 after September 1.) If you're hungry, there's always a buzz around The Beehive (3807 Forbes Ave, 412-683-4483), a watering hole and coffee bar with an adjacent couch-filled independent movie house.
No thoughtful guide to Pittsburgh would be complete without mentioning the city's Strip District, adjacent to downtown. Before the days of supermarkets, mom-and-pop grocery-store owners flocked to this neighborhood to buy wholesale produce. The Strip has morphed into a trendy club and restaurant scene by night, but it remains the place to food shop by day. Sample every variety of olive known to man from huge plastic buckets at the Pennsylvania Macaroni Company (2010-12 Penn Ave, 412-471-8330) or munch on freshly baked biscotti in flavors including pistachio, cranberry, cherry, cornmeal and white macadamia nut at the Enrico Biscotti Company (2022 Penn Ave, 412-281-3581). When it's time to really chow down, head for Primanti Brothers (18th and Smallman Sts, 412-263-2142), a Pittsburgh institution where tough-talking waitresses slam the fries and cole slaw directly on (yes, on) the sandwiches ($3-$5). Pick up either of the city's two entertainment papers, In Pittsburgh Newsweekly or City Paper; in restaurants and sidewalk stands throughout the Strip and the South Side. These alternative weeklies publish extensive restaurant, concert, theater and film listings.
Accommodations
Situated in an historic Italianate house with a sculpture garden, The Morning Glory Inn (2119 Sarah St, 412-431-1707) on the South Side will provide you with easy access to the neighborhood for $110-$160 a night, including breakfast. The University Hampton Inn (3315 Hamlet St, 412-681-1000) is convenient to Oakland and Shadyside; the rate of $79-$109 a night includes breakfast and a shuttle bus to various city neighborhoods.
Getting There
US Airways (800-428-4322) offers multiple daily round-trip flights from La Guardia and Newark. At press time, a round-trip ticket with a seven-day advance purchase ranged from $166 to $271. US Airways also offers an $89 weekend E-Saver fare, which requires travel on a Saturday and a return on the same week's Sunday, Monday or Tuesday. E-saver fares are posted Wednesday morning for the upcoming weekend (888-359-3728 or www.usairways. com). Driving takes six or so hours from NYC. And having a car is great here, since there's little traffic and no subway.
This entry was written by Heather Robinson and posted on July 22, 1999 at 1:04 pm and filed under Features.