UN Vows Greater Protection for Civilians in Southern Sudan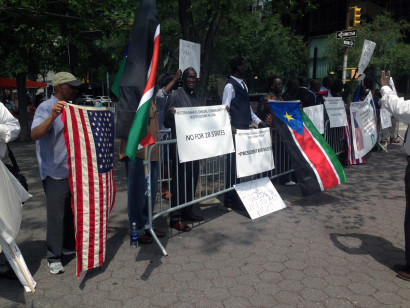 Hopeful news today from the United Nations, where the UN Security Council (UNSC) made a rare decision to meaningfully strengthen a peacekeeping force to protect civilians in a war torn nation.
The resolution, which passed 11 – 0 with four abstentions, gives UN peacekeepers in Southern Sudan authority to use lethal force if necessary to protect civilians against antagonists, including armed soldiers.
The world's newest country, Southern Sudan has been plagued by civil war since 2013. It has been characterized by severe, widespread, deliberate abuse of civilians.
Yesterday, Sudanese-Americans (pictured above) held a peaceful demonstration outside UN headquarters in New York City to appeal to the UNSC for this added protection. I was on the scene and heard their firsthand appeals for help on behalf of their countrymen and countrywomen.
Simon Deng, human rights activist, former Sudanese Olympic swimmer and escaped slave, who co-organized the rally, spoke today about the hopeful news. Last summer, Deng went on hunger strike for 45 days to raise awareness about the suffering of his fellow Southern Sudanese and the need for attention to resolve the conflict.
"This is the beginning of the right direction," said Deng. "We have to bring peace and save Southern Sudan. Really good news will be when we find a solution."
It will be important for the world to pay attention to this evolving situation.
In July, two Chinese peacekeepers were killed and several Rwandan troops injured near United Nations compounds.
United Nations troops have historically failed to keep the peace in Southern Sudan, or even to prevent assaults just outside the gates of many UN refugee camps that are harboring refugees.
In particular, sexual assaults are extremely common, and some sources have claimed to this reporter that sexual assault is being deliberately used as a weapon by government troops, with tacit permission of Southern Sudanese President Salva Kiir Mayardit.
The United Nations showed some courage here in giving its peacekeepers a mandate to actually do something and not stand idly by as civilians are attacked. The world should watch the UN to see if it upholds this mandate to take action if necessary to protect the innocent. And of course, President Mayardit and his former deputy, Riek Machar, who leads the rebel forces, should be held to account if abuse of civilians continues.
More to come.
This entry was written by Heather Robinson and posted on August 11, 2016 at 2:17 pm and filed under Blog.