Tea party opportunist Mourdock takes on pro-Israel Lugar in Indiana but turns out to be a Mr. Softee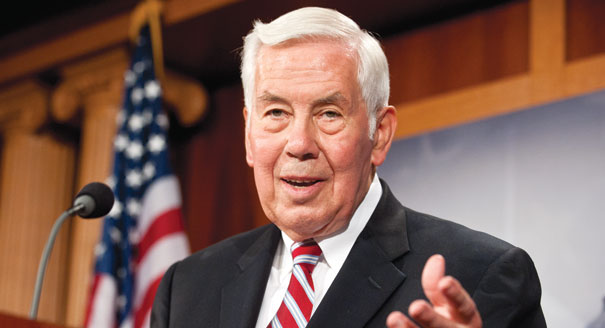 Six-term incumbent Indiana Republican Senator Richard Lugar (pictured above) is facing off in a close race against upstart challenger Richard Mourdock, the state treasurer, who is, according to one news site "running to Lugar's right with tea-party backing."
Mourdock may have an uphill battle in trying to "out-conservative" the venerable Lugar, a Capitol Hill denizen who has fought like a tiger for Israel, against nuclear proliferation, and for other important foreign policy priorities over the course of the past several decades with noteworthy leadership and creativity.
Last week National Review's Corner cited a document Lugar's campaign has released revealing Mourdock's conservative credentials aren't so pristine: apparently in 1992 Mourdock, then a Republican candidate in Indiana's 8th Congressional District, supported the Fairness Doctrine. That's a strong indicator Mourdock probably isn't the conservative purist he has positioned himself to be (a misnomer if ever there was one, The Fairness Doctrine–as resurrected in 2009–sought to impose on radio and TV broadcasts the imperative to air both liberal and conservative views in every show. That might have kinda worked in the 1950's when only three TV networks existed, but in a world of virtually unlimited media outlets, dictating content is unnecessary to ensure "fairness." Rather, it seemed like a transparent attempt by left-wingers to muzzle conservative talk radio, and as such, an attack on free speech). I am an independent who found the attempt to resurrect the "Fairness Doctrine" more obnoxious than Michael Savage on his worst day and have not met an independent, much less a conservative, or even a principled liberal, who didn't see through it.
Apparently Mourdock = Mr. Softee on legislation that would repeal penalties for companies that hire undocumented workers (according to the campaign questionnaire, he took no position. Is that sort of like voting "present?")Lugar, meanwhile, while making no claims to be an arch-conservative, has consistently advanced security-minded foreign policy during his decades in the Senate with noteworthy success.
Let's revisit a few of his bona fides:
Lugar is on record having pressed the Obama Administration to impose tough, meaningful sanctions against the Iranian regime and businesses that deal with it. Despite now taking credit for imposing tough sanctions, President Obama had to be pressed by both houses of Congress to pass meaningful sanctions and was never a leader in doing so.
Lugar has gone above and beyond signing on to letters and going with the bipartisan majority in pressing the Prez to actually do something other than talk tough about how Iran's getting a bomb is "unacceptable" to him.
For instance, Lugar is co-sponsoring The Iran Certification and Reporting Bill, (S. 2058). Obama critics take note: while the President was talking tough, apparently one of his executive agencies, the Department of Energy (DOE), was selling oil to at least two companies that were "engaged in business or trading activity with Iran." Guess where DOE was getting the oil from that wound up in the coffers of Iran's trading buddies? America's Strategic Petroleum Reserve (SPR). That's the oil we are supposed to keep in reserve in case of a global cataclysm/emergency. Nice, Mr. President.
Stuff like this makes me wonder why more Jews aren't planning to vote for Obama and, as he asked of them at the AIPAC conference in March, judge him by his deeds, not words, regarding Israel (that was sarcasm). The reality is, his words, although arguably overly-critical of Israel, are a whole lot prettier than his deeds. Of course, this isn't one of his deeds, it's a deed of an agency of the federal government. It's not like he's in charge for heaven's sake (yes, that was definitely sarcasm).
But most voters, including educated Jewish voters who care about Israel, remain enthralled by the President's voice and manner, and as far as his administration's less overt deeds, aren't really paying too much attention. Thankfully Dick Lugar has been.
Here are just a couple others of Lugar's achievements regarding Israel and Jewish causes, as well as advancing peace through strength around the world:1) Lugar co-sponsored Senate Bill 1048, the Iran, North Korea, and Syria Sanctions Consolidation Act of 2011. This bill expands the circle of foreign companies that would be subject to sanctions based on transactions with Iranian entities.
2) Going further back, Lugar was instrumental in pressing the Soviets to liberalize their laws restricting Jewish emigration.
3) Lugar co-authored the Nunn-Lugar program, which dismantled more than 7,500 nuclear warheads, more than 1,400 nuclear-capable ballistic missiles, 155 bombers, and 32 nuclear submarines in the former Soviet Union during the years immediately following its collapse. The program also upgraded security at 24 strategic sites. (This work was incredibly far-sighted and absolutely crucial given the possibility that enemies of Israel and the U.S. could have gotten a hold of this stuff). To the extent that the Russians have not already sold nuclear weapons and WMD to Islamic terrorists (fingers crossed), we may very well have to thank Dick Lugar for reaching across the aisle to do this absolutely vital work.
I'm all for the Tea Party as an expression of popular will and discontent with Washington insider politics. But there is something to be said for experience, and Lugar–derided by some as a 'RINO'–has a solid record of achievement in advocating peace through strength via meaningful policies that have protected the U.S. and its allies. I'm no Hoosier, but I'll be rooting for him May 8.
This entry was written by Heather Robinson and posted on April 26, 2012 at 1:55 am and filed under Blog.