King Tut resurrected: A comic legend comes west

From JTNews
by HEATHER ROBINSON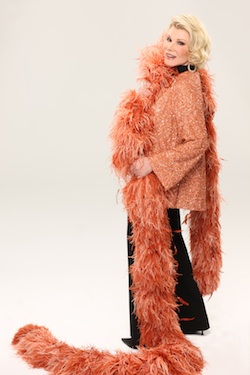 In advance of her November 4 performance at Tacoma's Pantages Theater, the indefatigable Joan Rivers made time to speak with JTNews about her two TV shows, memories of her Jewish grandmothers, and how to stay forever young at heart.
JTNews: Hi Joan! Last time we spoke you were also performing in these parts. What do you think of the Pacific Northwest?
Joan Rivers: I love the climate, the look of it. It's glorious. If I had been born in this neck of the woods I would have been happy and sane. I have a friend and we say we are going to buy an island outside of Seattle. I'd better hurry up.
JT: Any Rosh Hashanah resolutions or spiritual thoughts?
JR: Please, God, let me lose weight.
JT: One of the country's biggest military bases, Fort Lewis-McChord, is located just outside Tacoma, where you'll be performing. Given how tough it is to find straight, relationship-oriented men in Los Angeles, where you and your daughter Melissa live and film your reality TV show, "Joan & Melissa: Joan Know Best?" is there any chance you might film an episode here and consider dating some military men?
JR: I have dated military men. I used to do USO shows — but only for the Confederate side… Seriously, one of [the] big charities [I raise money for] is the Wounded Warrior Project. Unbelievable the way [service members] come back and people just forget about them. And they're all 19 years old. I hope the country is worthy.
JT: Maybe some service members will come to the show.
JR: That would be wonderful … At least the gays in the military will probably come.
JT: Fans of "Joan & Melissa: Joan Knows Best?" are delighted WE TV has renewed the show for another season. Can you give us a preview?
JR: The new season starts in January. One of our friends, a 28-year-old WASP, found out his grandmother on his mother's side was Jewish. So we gave him a Bar Mitzvah.
JT: People seem to enjoy seeing you relate to your grandson Cooper on "Joan & Melissa" and on your other TV show, "Fashion Police" on E!, you are a fashion critic. Do you remember your grandmothers and what their styles were like?
JR: They were opposites. The one who had style — people tell me she was so chic — died when I was young. The one I remember had no style. She had a black dress and a cane and a diamond brooch. And that brooch did not go to my side of the family.
JT: Any advice on how to stay well dressed, sexy, and full of energy into your 70s and beyond?
JR: Number one, don't think about your age… [Also] … most of my friends are younger. I don't discuss doctors and operations…I buy things that I like — wear a feather in your hair! I am in my 70s so I can do whatever I damn please.
You can wear the styles but with more discretion. You may not want to show your arms, so buy a dress with sleeves. You can wear a short skirt if you've still got good legs, just not as short. People are living so much longer today. I remember when my mother's friends hit 50, they were half dead. Now… being Grandma has a different look. As I am getting closer to 80, I think that. Then again, I'm sure Cooper and his friends think I'm resurrected from King Tut.
This entry was written by Heather Robinson and posted on November 2, 2011 at 9:07 am and filed under Profiles.