Former NYC detective, counter-terror liaison has worked to protect the innocent: Mordechai Dzikansky to discuss lessons learned

From The Jewish Standard
by HEATHER ROBINSON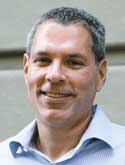 From using "Jewish guilt" to interrogate criminals to reporting to the New York Police Department from the scene of suicide bombings in Israel, Mordechai Dzikansky's career has been unique.
"You have to be unconventional and you have to take risks if you want to get where you want to go in life," Dzikanksy, 48, said in an interview on Monday. "If people are robotic they won't accomplish what is right."
Dzikansky, a former NYPD detective who divides his time between the United States and Ra'anana, Israel, has graying hair but the easy, open smile of a friendly college boy. His Brooklyn-accented voice becomes impassioned as he talks about a subject close to his heart: protecting the innocent.
"Whether it's Jewish schools or synagogues, people must take responsibility for being vigilant, even if doing so requires being politically incorrect — and spending money," he said with an affable bluntness.
On May 19 at the Kaplen JCC on the Palisades in Tenafly, Dzikansky will discuss his book "Terrorist Cop." Released in 2010 and co-written with Robert Slater, it chronicles a 25-year career in law enforcement that ranged from working as the first Orthodox Jewish police officer in Brooklyn's notorious Bedford-Stuyvesant housing projects during the 1980s to apprehending Torah thieves as an undercover detective in the 1990s, to serving as the NYPD's first intelligence division liaison to Israel's national police when, starting in 2003, he gathered intelligence from the scene of suicide bombings and reported back to the NYPD.
In another soon-to-be-released publication, a textbook called "Terrorist Suicide Bombings: Attack, Interdiction, Mitigation, and Response" co-authored with Israeli counter-terror specialist Gil Kleiman, Dzikansky will share lessons about how governments, institutions, and individuals can better protect themselves — another topic he will discuss on May 19.
Over coffee at Starbucks, Dzikansky, who is retired, spoke about the moral imperative that has driven his career. Growing up as the son of a rabbi in Canarsie, Brooklyn, he was expected to pursue a white collar or Jewish-oriented career — as a rabbi or teacher, or perhaps as a doctor, lawyer, or accountant.
"I was born to do people's taxes, and I wound up being a police officer and eventually a detective," he said. "Anything I did, I wanted to make a change, whether it was locking up a murderer or investigating suicide bombings so we can take away lessons learned."
As an young man less inclined to sit and study than to play basketball, Dzikansky came across a flier distributed by the Shomrim Society aimed at recruiting members of the Orthodox Jewish community to the NYPD. In an effort to encourage Orthodox Jews to join the force, the NYPD was offering entry exams on a Friday rather than Saturday. He took the test and went on to become a New York City police officer.
As a rookie cop he was assigned the midnight to 8 a.m. shift in the Bedford-Stuyvesant housing projects during the years when one informal police motto was "Do or Die in Bed-Stuy" — a reference to the high crime rate and the fearless attitude toward police on the part of criminal elements there.
His year as a police officer in "Bed-Stuy" reinforced his conviction that it was worth putting himself in harm's way if that meant he could protect the innocent.
While most of the people he encountered between the hours of 2 and 6 a.m. "had a gun, a knife, or narcotics," in the mornings "I'd sit with a cup of coffee and see all the good people going to work," he recalled. "I would sit near the train — I didn't want anyone to bother them — and it made me feel good to see I'd been protecting the decent people [in Bed-Stuy] who just wanted to go to work and come home."
He always wore his yarmulke in the early days of his career (see excerpt), and encountered plenty of stares. His time in Bed-Stuy set the stage for future risky assignments, including several years as an undercover investigator in the NYPD's narcotics division — during which his knowledge of basic Hebrew helped him assist the Drug Enforcement Administration in apprehending Israeli drug dealers and resulted in his promotion to detective.
His Jewish background and ability to speak Hebrew continued to prove useful in helping him solve a series of high-profile cases.
Following a spate of Torah thefts on Manhattan's Upper West Side, Dzikansky was assigned to a Torah task force created to deal with the problem. Working with fellow detective Walter Harkins, Dzikansky eventually helped to crack more than one case and enable the return of many of the stolen Torahs. In one instance, he used his Jewish background to develop a unique interrogation strategy.
Following the arrest of a public school teacher named Richie Stevens for attempting to burgle silver from a display case at the Waldorf-Astoria Hotel, Stevens revealed that he had been the Torah thief who had taken the sacred scrolls from 14 separate synagogues.
Stevens balked, however, at revealing the name of the fence — or the person who bought the stolen Torahs — because, he said, the man was a friend and had a family.
At that point, Dzikansky, who knew that finding the fence was vital to recovering the Torahs, sensed that Stevens would respond to a tactic resorted to by many a Jewish mother — the guilt trip.
"Do you know how many people are crying at the fact that their Torahs are gone?" he asked the thief, as recounted in "Terrorist Cop." He writes, "I laid it on heavy — every Jewish grandmother would have been proud!"
Stevens did give up the fence, who was eventually arrested.
Dzikansky also helped to crack the case of Torah thefts from Temple Emanu-El, which was then in Englewood.
In 1998, two Torahs were stolen from the synagogue, which had been led for almost 30 years by noted historian Rabbi Arthur Hertzberg.
Hearing of Dzikansky's work on the earlier Torah theft case, the Englewood Police Department called him in.
David Pollock, associate executive director of the Jewish Community Relations Council of New York, who in 1994 went to the NYPD to ask for a task force to address the Torah theft issue, recalled his first impression of Dzikansky.
"They sent this young kid who spoke Hebrew and had just made detective," said Pollock. "They put him on the task force."
Following up on a lead from the synagogue itself, which provided the caller ID number of an individual who had inquired, via phone, about the history of the missing Torahs, Dzikansky and a fellow detective went to the Upper West Side address that corresponded to the phone number. They found in an apartment two Torahs and a Torah breastplate, with the name of Temple Emanu-El on the Torah covers.
But recovering the Torahs was only part of cracking the case, as the thief was still at large (the Upper West Side man had received the Torahs and housed them in preparation to possibly buy them, but was not charged with the theft).
To catch the thief, Dzikansky helped to design a sting operation in which he dressed like a rabbi and posed behind the counter of a Judaica store in midtown Manhattan. In walked the Torah thief, offering to sell him the Torahs belonging to the Englewood synagogue. Because Dzikanksy couldn't recall the word "cavalry" — which he was supposed to use in order to call for backup from officers listening to him via a wire — he simply tackled the Torah thief in a bear hug to apprehend him.
In the wake of that success, Dzikansky was promoted to homicide detective and eventually to Detective Third Grade.
After 9/11, Police Commissioner Raymond Kelly tapped him to serve as the NYPD's first overseas liaison to Israel's national police.
His job was to enable information exchange between Israeli police and the NYPD as well as to gather information from the scene of suicide bombings that the NYPD could use to increase public safety in New York City.
On the scene after a terrorist incident, he brought a homicide detective's eye to the carnage, made assessments about security procedures and terrorist tactics, and relayed the information back to the NYPD.
He was also tasked, he says, with "looking for a nexus to New York" — gathering information that could alert city officials to possible ties between Palestinians committing acts of terror in Israel and those who might wish to strike New York. In addition, he studied the transportation systems in Moscow and Madrid following the terror attacks in those cities and reported his findings back to New York.
Cultivating relationships with Israeli police and providing them with information that could benefit their counter-terror efforts as well as gathering information to help the NYPD were tasks Dzikansky was ideally suited for, according to Pollock, who continued working with him following the Torah theft arrests on cases involving the Jewish community.
"Can you imagine a strange cop coming in and wanting to know everything, on the scene of the bombing?" said Pollock. "Morty was a pioneer. He is incredibly tenacious."
Pollock added that he believes the NYPD's protocol in the years following 9/11 for helping protect the public safety — from its "See Something, Say Something" public service campaign and random bag checks in NYC subways to the omnipresence of police officers wearing heavy weapons at city landmarks — was heavily influenced by Dzikansky's recommendations.
For his part, Dzikansky declines to share specifics of the information he shared with the NYPD, stressing he prioritized New York City's safety but looked for ways he could share information that would be valuable to his Israeli counterparts as well.
He is not shy, however, in sharing his opinions about the places where politics and counter-terrorism intersect.
Although as an investigator, part of his job was to imagine the mindset of a criminal, he has no patience for justifications for terrorism.
"People are people except for terrorists," he said. "They are the personification of evil, because they indiscriminately target civilians. It's not fair to accomplish your religious or political goals through targeting innocents.… It is a perversion of human rights."
He believes that hatred and narcissism, rather than desperation, are suicide bombers' and other terrorists' primary motivations.
While he says it was a privilege to work with Israelis, he believes that in general, Israel could combat terrorism even more effectively than it does.
"Israel's tolerance for terror is at times a little too high," he said. "Political correctness is much more [stressed] there than here and they care too much about world opinion.
"After the first suicide bombing, [the Israelis] should have built the fence."
At present, Dzikansky travels the United States, lecturing to synagogue, church, and school groups and conducting trainings for first-responders including police officers and medical personnel. He is also helping his wife Meryl, who custom-designs kippot, in running the family business (http://www.kippamania.com) and spending more time with their three children, Zachary, 12, and Jake and Talia, both 9.
Of his career, he says he has no regrets, and he would advise young people to follow their hearts.
"Looking back, it was the perfect choice, and the hand of God drew me," he said. "My career was 100 percent divine intervention, and everything that happened, happened because I was needed."
This entry was written by Heather Robinson and posted on May 15, 2011 at 11:02 pm and filed under Profiles.