Simon Deng: 'No More Enslavement… Islamization, and No More Arabization' For South

From Big Peace
by HEATHER ROBINSON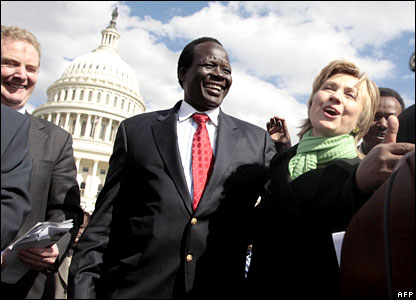 Note: On January 9, 2011, Sudan's Southern population of nearly 16 million – mostly Christians and animists, or practitioners of native religions – will vote on whether to become an independent nation. In a prior interview with Big Peace, Simon Deng, escaped slave and human rights activist whose historic, 300-mile "Freedom Walk" gained him an audience with President George W. Bush, discussed his escape from slavery as a child, and efforts he and other activists made during the 1990's to raise awareness about the threat of terrorism emanating from Sudan. In the following segment, Mr. Deng discusses the plight of Christian and animist South Sudanese today; the unique relationship between South Sudanese Christians and Israel; and his high hopes for South Sudanese independence January 9, 2011.
Since the 1950's, war has raged between the Islamist government of Sudan based in the capital, Khartoum, and the Christian and animist South. Between 1955 and 1972, one and a half million Sudanese Christians and animists were killed by Sudan's Islamist government. From the early 1980's until 2005, 2 million South Sudanese were killed through violence and the withholding of food aid, according to escaped slave and human rights activist Simon Deng. Thousands were enslaved.
This political, racial and religious drama played out tragically for the children of South Sudan, including Deng. At age 9 he was kidnapped by a slave-dealer and enslaved by an Arab Muslim family – a common practice during the decades-long war between the country's Muslim North and Christian South.
Heather Robinson: Let's speak about the January 9th referendum. Do you think the Southerners will vote for secession?
Simon Deng: Yes, one hundred percent. If Sharia Law is the law of the nation, how can you tell me I have a place? I'll speak for myself and my family …We're fed up. Enough is enough. Four million lives perished in the name of 'unity.' … We want freedom now. No more enslavement. No more Islamization and no more Arabization. We are not going back into enslavement.
HR: Do you have any concerns as to whether the Khartoum government will respect the outcome of the vote on January 9th? What happens the day after?
SD: January 9th we will cast our vote. Whether the moon will fall from the sky is irrelevant. Whether the sun will come out is irrelevant. We do not look toward the sun, the moon, the waves. We only look toward that day.
HR: President Obama made some public statements recently – that all Sudanese and world leaders must respect the outcome of the vote, and the eyes of the world are on this. Do you feel that he set the right tone with these statements and what else, if anything, would you like to see him do?
SD: I am a person who believes in walk the walk, not talk the talk. Khartoum is tampering with America's authority every day. Khartoum is not accepting anything from Washington on a daily basis, ignoring this and ignoring that. Members of Congress are asking the President to send former Secretary of State Colin Powell or to send [former U.S.] Senator [Jack] Danforth. These members of Congress feel the pain of the people of South Sudan and they have asked the President.
Martin Luther King walked, he didn't just talk. That is one reason why President Obama is in the White House.
This peace agreement didn't come because of talking the talk.
HR: It was former President George W. Bush, whom you personally met with after you walked from the United Nations to the Capitol on your historic Freedom Walk, who brokered the 2005 Comprehensive Peace Agreement between North and South, correct?
SD: Yes, he brought freedom as part of the CPA [Comprehensive Peace Agreement]. We want him to tell the world now, "The will of the people [of Southern Sudan] should not be denied, and this is what we believe as free people in a free nation, the United States of America." He is a hero – not just in Southern Sudan, but in all of Africa.
HR: Really?
SD: George W. Bush is the one who has championed freedom and defended freedom. He said he would promote freedom wherever people call for freedom. The people of Southern Sudan are calling for it now … We are asking the former President: Mr. Bush, please stand with us. We need you now more than ever. Stand with us for the last and final minute as we are coming to decide.
HR: A powerful appeal. I hope he reads this. Let me briefly switch gears. There is a small community of Southern Sudanese Christians living in Israel.
Since about 2003, several thousand South Sudanese Christians have crossed the Sinai desert on foot to escape the Khartoum government's persecution. Many went first to Egypt, where they were treated brutally: in December 2005, in front of the United Nations High Commission of Refugees office, Egyptian police bludgeoned to death more than 30 unarmed refugees, including women and children. Now about 3000 Southern Sudanese Christians reside in Israel.
HR: What are conditions like for them now in Israel?
SD: Bad, to be honest. [The] Israeli [people] do not discriminate against them, which has been very good. But the government's policy is sloppy. Main frustration is, Southern Sudanese were not given asylum like the Darfuris [Muslims] were. They were given conditional visa they must renew every three months. It is difficult to get or hold a job on a tourist visa … These are people whose nation tomorrow will stand shoulder to shoulder with Israel … I asked the government [of Israel], just give these people a chance.
HR: But since independence is probably around the corner, the Israeli government position may be, why permanently host them when they will have their own country?
SD: Of course, yes. When they have a country of their own why [do] they need to be in another's house? But [until the new nation is established] we still need to eat every day. Let the Southern Sudanese have their country and we'll do heaven and earth to get them back home.
HR: You have spoken about how your people, the Christians of Sudan, a population of approximately 20 million—nearly 16 million in the South and about 4 million in the North–are Christian Zionists, and very supportive of Israel. You say that not only those few thousand who reside in Israel, but also the majority of South Sudanese Christians who have never even seen Israel, support the Jewish state. Can you elaborate?
SD: The Star of David. You will see people in the villages using this symbol. But it is a crime [to display the Star of David] in the [Muslim] North. People from South Sudan say, 'God Bless Israel.' They love Israel. Israel is their brother.
HR: What do they think of the U.S.?
SD: America is their father.
HR: Why do you think their associations with Israel are so positive?
SD: It is tied to Christianity, to the Bible, and goes down from Moses. Even though the South Sudanese did not have Moses to rescue them [from the Islamists] … My people, the Shilluk Kingdom in Sudan, fought Islamization before anyone knew about radical Islam.
HR: When was this?
SD: In the 1800's. It goes back in time to when Islam came to Sudan. The people of Darfur were the ones to convert to Islam. But they failed to convert the Shilluk tribes. We fought a bloody war.
HR: Those are your people, who are now the South Sudanese Christians?
SD: Yes, my people fought a bloody war. Arab Muslims [waged war] to convert the Shilluk Kingdom into Islam. [The Shilluk Kingdom] is a gateway to Southern Sudan because we are on the Nile. If every Shilluk had converted a long time ago, not only Sudan but all of Africa would be Islamic.
HR: So your people held the line?
SD: The Shilluk Kingdom [has been] paying the price. If you go to South Sudan, you will see the Shilluk Kingdom is the only standing kingdom in Sudan today. It is the kingdom that fought the terrorists before anyone knew the definition of the word terrorist.
HR: When were these battles?
SD: In the 1800's…[The Shilluk Kingdom]…fought Islamization before anyone knew about radical Islam. These are the stories no one even knows.
HR: You also say those Sudanese Christians who are in Israel are very loyal to Israel?
SD: Israel is not alone…Ahmadinejad will have to wipe everybody out, because they are going to fight.
HR: You mean the Southern Sudanese in Israel?
SD: Just give them that chance.
HR: You mean they want to serve in the Israel Defense Forces?
SD: Yes, yes. Well, they are not citizens. …When I was [in Israel], they were putting a list of people together who wanted to join but could not because they do not have [permanent residency] status. In the Lebanon War, they wanted to join, but they couldn't … But…there is a nation coming, besides the refugees. The refugees are thousands. We're talking about a nation of millions, a nation with territory as big as any country in the mideast, and a friend to Israel and the U.S., in North Africa. That nation is Southern Sudan. Ask anybody there—please look into it, reach out—I say to Israelis and Americans, take a walk, take a flight, take a journey. You will be surprised who is your friend.
This entry was written by Heather Robinson and posted on December 29, 2010 at 7:31 pm and filed under Profiles.