Anyone Can Be Moral, Even Under the Worst of Circumstances

by HEATHER ROBINSON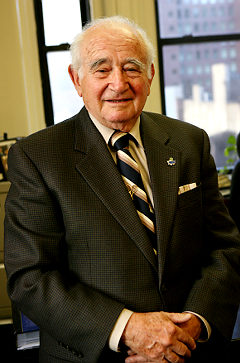 When his children were small, they would ask Roman Kent to tell them stories about his boyhood.
A Holocaust survivor, Kent told them happy stories about his family – his brother, two sisters, himself and their parents – before the Germans forced them into the ghetto in Lodz, the city in Poland where they lived. His stories often included a mutt named Lala, his childhood pet.
Talking about Lala was one way to share with his children some of the beautiful and ugly truths about his childhood. In telling the remarkable story of how his dog found and visited them in the ghetto, he was able to talk about love in the midst of horrors.
"Our dog was not prejudiced against us because we were Jews," said Kent in his Murray Hill office on a recent afternoon. "Animals are smarter than people in this way."
After retiring from his textile importing company about three years ago, Kent, a grandfather of three, decided to write the miraculous story of how Lala located him and his family. Writing that story led to publication of "My Dog Lala," a children's book, and spurred him on to write his memoir, "Courage Was My Only Option" (Vantage Press, $26.95) published this year.
In the book's introduction, former Secretary of State Lawrence Eagleburger, who worked with Kent on the International Commission on Holocaust Era Insurance Claims, writes of how Kent and his brother struggled to maintain a small garden in the Lodz ghetto so they could feed their mother and sisters. "This gentle man," writes Eagleburger, "fights on with a will of steel."
Kent, who lives in Murray Hill with his wife of 51 years, Hannah, is president of the Jewish Foundation for the Righteous, a New York-based nonprofit dedicated to providing financial assistance to non-Jews who saved the lives of Jews during the Holocaust.
Squarely built at 83, his gaze is direct and his speech straightforward. But at emotional moments, a lilt in his voice betrays a sensitivity that, it is striking to realize, has survived all that he has.
As a survivor of Auschwitz, the Lodz ghetto, Gross-Rosen slave labor camp in Germany and Flossenberg, a concentration camp in Germany, Kent has witnessed more inhumanity in one lifetime than most human beings could imagine. Yet he has dedicated much of his life to helping others, and his words and deeds reflect a reverence for life.
In 1980, he produced a documentary, "Children of the Holocaust," dedicated to the 1.5 million children who perished.
At times, "Courage Was My Only Option" reads like a lay-friendly book about business. "It's not just about the Holocaust; it's about what happened before, during and after," Kent says.
Having lost their parents and one of their sisters – their other sister survived the war and moved to Switzerland – Kent and Leon, his younger brother, came to the United States under a collective visa for 5,000 orphans after the war.
They were placed first in a children's center in the Bronx, then with a foster family in Atlanta. In the book, Kent recalls that many people in Atlanta, including ones in the Jewish community, lacked understanding about the survivors.
"In those days, rabbis, synagogues, they never spoke about the Holocaust," he says.
He started his career peddling, mostly to African-American families in Georgia towns, many of whom referred to him as "The Jewman."
He learned this name "was not meant to be insulting at all, but was an expression of joy" because he sold these families much-needed goods like women's clothing, and his arrival was a special event in country towns.
Eventually he moved to New York, where he opened an import/export business with several partners.
He has also served as treasurer and chief negotiator for the Conference of Jewish Material Claims Against Germany.
He is dedicated not only to his fellow Jews, but also to those who stood up for them. As president of the JFR, he says, "How do you describe a heroic act when someone jumps into the ocean and saves a child?
"In Judaism, we say, 'He who has saved one life, it is as if he has saved the world.' … But the righteous gentiles did more than that. They risked their lives every day for years; they risked their families' lives.
"Heroism that could last for days, weeks, months and years … we don't have a word to describe the longevity of such heroism."
The JFR trains teachers to educate youngsters about the Holocaust, including the moral lessons it raises. Decency, Kent maintains, is not for the weak.
"We like to teach people anyone can be moral, even under the worst of circumstances – if they have the guts," he says.
This entry was written by Heather Robinson and posted on October 15, 2008 at 1:56 pm and filed under Profiles.