City Planner Keeps Brooklyn's Public Interest in Mind

by HEATHER ROBINSON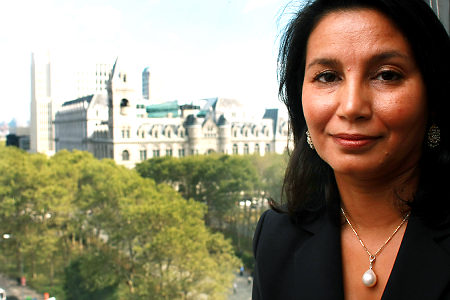 Outside Purnima Kapur's office, the spires and towers of downtown Brooklyn sparkle in the early fall sunlight.
"Everything we create here is for people to live and work in," says Kapur, 45, wearing a smart black suit and perching on the windowsill, "and if we don't understand that, we haven't succeeded as urban planners."
As director of the Brooklyn office of the City Planning Department, Kapur is responsible for directing urban design and land use policy. In day-to-day terms that means she balances the needs of communities and business in mapping out neighborhoods.
On any given day she might meet with members of a community to hear their concerns about having enough sidewalk and park space, for instance. Or she might talk with real estate developers and attorneys about balancing their desire for profit with a community's need for mixed-income housing and retail stores.
Presently one of her biggest concerns is supervising the controversial redevelopment of Brooklyn's historic Coney Island, including the now-closed Astroland amusement park.
"Developers are looking at the bottom line, and my job is to make sure the public interest is protected."
The majority of the Coney Island amusements area is privately owned but the city's redevelopment proposal calls for acquiring the land and turning it into a park that includes rides, Kapur says. The proposal also includes new retail and affordable housing in the surrounding area.
"It's gritty, it's kitschy, it's not Disney, it's got its Brooklyn identity and we don't want to lose that," she says, her dark hair and eyes shining.
Proposed last November by Mayor Bloomberg, the plan has met plenty of opposition from amusement operators, owners and some neighborhood residents, but Kapur says she and other planners have sought a balance.
"We all love Coney Island; it's the birthplace of amusement districts in the world," she says. "But if you go there today, it's clear Coney Island is past its prime."
Married with one son, Kapur lives on the upper East Side, but she lived for many years in Cobble Hill, Brooklyn. She says having lived in the city's largest borough gives her insight into Brooklynites' concerns, such as preventing out-of-scale development in brownstone neighborhoods. Residents agree and credit her with care and skill at communicating.
"People of the 'brownstone belt' are concerned about out-of-scale development. Purnima, because she was a resident of that area, understands," says Jerry Armer, former chairman of Community Board 6, serving Park Slope, Carroll Gardens, Red Hook, Cobble Hill and Gowanus.
"She's able to explain complex zoning issues to people who aren't trained in those issues … [and] she's honest about, 'What does this mean for a guy who owns a house or a business?'"
Developers respect her backbone and work ethic.
"We don't always see eye-to-eye, but she's forthright in terms of what she thinks is a good idea and what she thinks is not," says Jed Walentas, a real estate developer who's worked with Kapur on numerous projects.
"She is always fair. Also, she is always knowledgeable and informed — her energy and intelligence leads to that."
Kapur grew up in New Delhi, which she describes as a "big, teeming city," and earned a degree in architecture from the School of Planning and Architecture in New Delhi.
She worked briefly as an architect in India and came to the U.S. in her 20s to obtain a master's of city planning and a master's of science in architectural studies from the Massachusetts Institute of Technology in Cambridge, Mass. Soon after, she moved to New York and began working at the City Planning Department.
"When I first moved here India was home for me, but at some point that shifted," she says. "I love that New York City brings together people from so many different backgrounds."
New York requires its residents to live in close quarters. While that can add to stress, she likes the ways sharing space and resources can affect attitudes.
"In a city like New York, [many people] don't have a backyard, so you go to the park," she says.
"You don't have a car, so you take the subway and you learn to deal with sitting with people you don't know," she continues. "Our sidewalks, our parks, our plazas — our public spaces become our private spaces."
This entry was written by Heather Robinson and posted on October 2, 2008 at 4:59 pm and filed under Profiles.