It's Not Only Me. There are Thousands of Liberian Children Who Have Been Through War

by HEATHER ROBINSON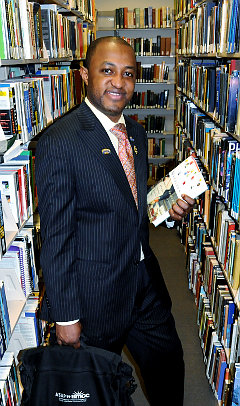 "My mother told me, 'My heart is broken to be separated from you, but you will find family in America,'" says Morris Sheriff. "That never left my mind."
Nattily dressed in a tan suit and a red and gold tie, Sheriff, 25, is the picture of confidence as he speaks of his efforts to reach out to other evening and weekend students at Borough of Manhattan Community College (BMCC).
His bright, clear brown eyes are briefly clouded by sorrow as he recalls the devastation his family endured in their homeland of Liberia. The horrors prompted him to seek asylum here, which he was granted in 2005.
"Homes were burning, shots were being fired, people were being murdered," he recalls, looking off into the distance.
"One of my brothers was shot while searching for food; another brother was abducted by rebels. My father was shot by firing squad."
He, his mother and his sisters survived by fleeing to neighboring Guinea.
However, Sheriff – who as a youngster had been involved in community organizing – remained a target of Liberian dictator Charles Taylor's regime, and in 2003, he made an arduous journey across land and sea to the U.S.
"I have seldom heard accounts as harrowing as I heard from [Sheriff] except in cases of human smuggling," says Karen Yau, former pro bono counsel for the Immigration Law Project at Safe Horizon, a human rights organization that helped Sheriff get asylum.
In 2005, with the help of several high school teachers who had encouraged him to get his general equivalency diploma, Sheriff applied to BMCC. At the end of this month, he will graduate with honors.
He's been admitted to George Washington University where he plans to study economics and political science. He is now in the process of getting scholarships to be able to attend.
During his time at BMCC majoring in accounting, he has held down two jobs, received numerous scholarships, served as president of the school's accounting club and established several clubs, including the Evening Weekend Student Club, to bring nontraditional students to the forefront of campus life.
He reminds himself he is not the only one who has suffered.
"What I've been through, it's not only me," he says. "There are thousands of Liberian children who have been through war, many people all over the world who have been through worse than Morris Sheriff's situation.
"I want to inspire children who have come from war – whatever country – to realize a person who has suffered war, crime, violence can always be successful if they put their mind to it. Don't let your past hold you down."
Sheriff, who has a girlfriend, Telma Mason, also from Liberia, and a 1-year-old son, Ali, adds, "I want to achieve the American Dream."
On a recent sunny afternoon, under the banners of nations ranging from Japan to Israel to Nigeria that festoon the high ceiling of BMCC's main lobby in downtown Manhattan, Sheriff strides along jauntily. His fellow students greet him with broad smiles and handshakes.
He makes it a point to be upbeat.
"I always want to portray success," he explains. "When I was with my lawyer [seeking asylum], who wore a tie and suit, I'd look at him like, 'How can I be like you?' He'd say, 'Don't worry, when you get your papers and start working, you'll be fine.'
"So when I got my papers and started working, I always put on good clothes."
But doing his best extends beyond appearances. As president of BMCC's accounting club, he organized a trip to the Federal Reserve Bank in downtown Manhattan, and as president of the Evening Weekend Student Club he initiated a stock investment seminar with Martin Sternberg, retired senior vice president of Morgan Stanley.
He also started a newsletter, designed a seminar and debate on globalization in coordination with BMCC's Student World Assembly, hosted a meet-and-greet with the college's deans, and initiated a dress-for-success seminar.
He got the idea for Dress for Success while working as a salesman and wardrobe consultant for Men's Warehouse in Pelham Bay, the Bronx and Flatbush, Brooklyn.
His fellow students love these activities – and admire Sheriff.
"He's a great guy, a great leader, extremely competitive and a really hard worker," says Michael Brown, 21, editor-in-chief of Voice of the Voiceless, BMCC's student newspaper. "He's always looking to bring new experiences to students."
Sheriff has received several scholarships. In particular, this year he received a scholarship through Phi Theta Kappa, the international honor society of the two-year college, with the highest score of any applicant in New York State.
"I know this is the land of opportunity," he says.
Sheriff wants his future to reflect the dual goals of advancing himself and helping others.
He is looking for a job as an accountant or financial analyst, and hopes to bring his mother and sisters to the U.S.
Ultimately, he would like to work for the advancement of Africans.
"I want to thank the American people for their generosity in opening their arms to a son of West Africa," he says.
This entry was written by Heather Robinson and posted on May 21, 2008 at 3:28 pm and filed under Profiles.