Friendship Between Jewish and Muslim Pharmacists Fuels Giving

by HEATHER ROBINSON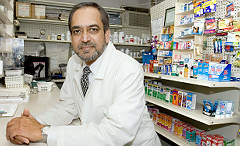 In the early 1980s, Mohammed Saleh got a break that changed his life. He was working as a pharmacist, raising a family in New York City and struggling to get ahead.
A Muslim originally from Bangladesh, Saleh heard about a Jewish pharmacist in Brooklyn who was looking to sell his business.
The friendship that developed between Saleh and Eugene Bresnick paved the way for Saleh – who now owns four pharmacies – to buy his first.
Since then, Saleh, 60, has dedicated himself to giving breaks to others both in the U.S. and in his home country.
"[Bresnick] was a helpful person, and I try to be helpful also in the same way," Saleh said on a recent afternoon, sitting amidst shelves of medications in the bright, tidy back room of his pharmacy in City Line, Brooklyn.
"I miss him like I miss my parents," he says of Bresnick, who died in 1983. "We were great friends … two unknown characters. … I was young at that time, and he was much older. But, we got along very well."
Saleh, who lives with his wife, Nazma, in Merrick, L.I., has established scholarships for students in the U.S. and Bangladesh, serves on the Nassau County Human Rights Commission and supports a medical clinic and an orphanage in his homeland.
A trim and dignified man, Saleh speaks in a clipped and measured tone, but his voice becomes more animated as he tells the story of how Bresnick gave him several breaks.
After earning his undergraduate degree in pharmacy in one of the first classes of pharmacists at the University of Dhaka in Bangladesh, Saleh emigrated to the U.S. in 1971 with plans to return.
"Back then, if you had a higher degree [from the U.S.], you were better paid [in Bangladesh]; I was ambitious," he recalls.
He got his intern's permit in 1973 and with it worked under the supervision of a pharmacist in Harlem and in East New York, Brooklyn.
In 1976, he got his U.S. pharmacist license, and a year later, his master's degree in pharmacy administration from Long Island University.
By then, he was married and wished to stay in New York. But finding a good job was difficult.
"In the beginning, I felt some discrimination from employers because of my color and my accent," he recalls.
He decided he wanted to go into business for himself. After meeting Bresnick, he saw an opportunity: Since the pharmacy where he worked in East New York closed at 5 p.m., and Bresnick's closed at 7 p.m., he volunteered to work with Bresnick after 5 p.m. for a couple of days a week to get a feel for the business.
Bresnick had wanted to pass his business on to his son, but he was not interested. The older pharmacist came to view Saleh as someone who would take care of the pharmacy and its loyal clientele.
"In that three, four months, he developed confidence in me, that I am a trustworthy and hardworking person," Saleh recalls.
Bresnick sold him the pharmacy for considerably less than it was worth, says Saleh -the first of several breaks his friend gave him.
Soon after Saleh bought the business, when the money order company the pharmacy used threatened to stop insuring him to be able to handle money orders, Bresnick intervened, offering his personal guarantee.
When the bank told Saleh they would not cash his third-party checks because he lacked sufficient collateral, Bresnick intervened again, threatening to take his business elsewhere if the bank did not accept Saleh's deposits.
"A bad guy could have taken advantage, but [Bresnick] put his trust in me," said Saleh.
B resnick did buy a life insurance policy on Saleh just in case. "He said he worried I would have a heart attack because he never saw a person work so hard," says Saleh.
Saleh now owns two pharmacies in Crown Heights, one in City Line and one in the South Bronx.
He views it as an imperative to give opportunities to others. He sponsors two philanthropic projects in Bangladesh: one educational and one medical.
The Saleh Medical Clinic, run out of a room in his family's home in Patharghata, sees 40 to 60 patients a week. Doctors treat villagers for eye and skin problems, diar-rhea, high blood pressure and infections.
He also established the AlauddinHazera Welfare Trust, in memory of his parents, to provide education and school supplies to youngsters in Bangladesh, and an orphanage, the Alauddin Orphanage and Learning Center.
"I have students from 6 years old to 14 years old," he says. "They get education, board, food and shelter."
He helps provide opportunities in New York, too.
Saleh has established a scholarship fund for students of Bangladeshi or Southeast Asian background to attend pharmaceutical school at the Arnold & Marie Schwartz College of Pharmacy at Long Island University – his alma mater and that of his daughter Irene, who is also a pharmacist.
In his work on the Nassau County Human Rights Commission, he interviews people and investigates their claims of discrimination.
Perhaps his most important work is encouraging the next generation. A niece and nephew are studying to be pharmacists, and his son is in medical school.
"He held a family gathering and said he wanted more pharmacists in the family," said his nephew, Mohammed Taher, a fifth-year pharmacy student at LIU. "He has given me a sense that it's not just a job, it's a profession."
This entry was written by Heather Robinson and posted on May 2, 2008 at 9:41 am and filed under Profiles.