You Have Faith in Yourself and You Decide You'll Make It

by HEATHER ROBINSON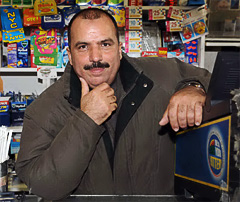 On a blustery afternoon in late March, Jimmy Bissan guides a visitor around his neighborhood.
In the distance, the Cyclone roller coaster, a Coney Island landmark, stands dinosaur-like above a terrain filled with souvenir shops and pizza places.
Solid, barrel-chested Bissan stops at the end of a block. He gestures toward a red brick building with a sign that reads "Laundromat," and another, on the other side of the street, that says "Amir Grocery."
"My businesses," he says.
Bissan's road to the American Dream started at age 12, when he came to the U.S. with his uncle from the Middle East nation of Yemen.
He has lived and worked in Coney Island for the past 30 years and now owns the grocery, the laundromat and several residential apartments.
"When you hear about America, growing up, you expect to go to the U.S. [and have it be like] heaven," says Bissan, 48. "When you come here, it's not what you expect. Anything you do in the beginning is not easy."
But, he adds, "You have faith in yourself and you decide you'll make it. Life is in your hands."
He began working as a teenager in a Coney Island grocery store. He saved his money and, at age 21, approached his boss about buying into the business.
"The owner liked the way I worked," Bissan recalls. "He saw that I was honest with the money and never stole a penny from him."
So Bissan bought a 25% share of the business and eventually went into business on his own.
Today, he gives back to this historic Brooklyn neighborhood in ways that range from extending credit to needy families to hosting yearly block parties.
"I'm a single mother of two and Jimmy has always helped me," says Maria Aziles, a Coney Island homemaker. "I have a baby with Down syndrome, and if I'm short [of money] I can get milk, or Pampers, and pay him back. As long as Jimmy is on the corner, I never have to worry."
Aziles also praises the block parties Bissan hosts every year: "Franks for free and popcorn, colas, potato chips…" she says. "He gets a big water slide and dunking machine."
He is there in times of crisis, too.
"After the blackout, Jimmy kept his prices the same," said Officer Sean Ahearn of the 60th Precinct. "He said, 'This is my community and I couldn't look people in the eye if I was charging them two or three times the usual.' He gave away milk for free, to make sure all the kids in the community had milk to drink."
Bissan also gives turkeys to the needy at Thanksgiving and has been honored by the 60th Precinct for his good works.
After a tour of his neighborhood, Bissan settles into a table at Fiorentino's Ristorante, a regular hangout. Exchanging warm greetings with the staff, he orders several dishes of salad, linguine and breaded oysters (in case friends drop by), and with a shy smile, offers a little philosophy.
"It's good to be good. Whatever you do, it will come back to you," he says.
"One day I saw a guy grab some baby food [without paying]," Bissan recalls. "I grabbed him and said, 'What are you doing?' He said, 'My nephew needs baby food.' I said, 'Please don't take it. Just come and ask me. I will give it to you.'"
***
Those values may sound unusual to some. But, according to retired Detective John Fisher of the Brooklyn District Attorney's Squad, they work.
"I met Jimmy when I was walking the beat as a cop with the 60th Precinct," said Fisher. "He's such a good guy. He trusts people, but they look up to him, so they rarely take advantage."
Bissan also gets along with people from all walks of life.
"Here we have Italian, black, Spanish, Mexican, Russian," he says. "It doesn't matter [to me] what color or religion. In Yemen, we have an expression, 'In every country, you build a house,'" which, he explains, means it is beneficial to have friends from different backgrounds.
That paid off after 9/11, when community members rallied around him, fearing a backlash against him as an Arab-American.
"People from the community, they stood outside the store all day and night," he recalls. "They said, 'You are one of us. This has nothing to do with you.'
"No one bothered my family or me," he adds.
Bissan is married and has five children, three boys and two girls. His son Abraham, 18, works alongside him in the grocery store and is deciding where to attend college.
"I travelled through the Middle East and Europe and this country is the best," Bissan says. "This country is my heart."
This entry was written by Heather Robinson and posted on April 9, 2008 at 10:43 pm and filed under Profiles.