African Day Parade Founder Seeks to Unify Compatriots

by HEATHER ROBINSON
March 5, 2008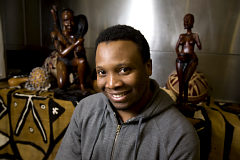 "When you look at the news, they don't talk about different African communities in the U.S. unless something bad happens."
On the third floor of the Harlem State Office Building, groups of young Africans and African-Americans sit at tables, looking through papers, chatting, and taking notes.
"Hey Kone," (pronounced "Konay"), several say as Mamadou Kone, wearing jeans and a casual gray sweater, strolls past.
As he nods to one and smiles at another, it is clear that Kone, 27, is quietly in charge.
A Harlem resident who hails from the Ivory Coast, Kone is the founder and organizer of the African Day Parade. "I dream big," he says simply.
Through resourcefulness, grit, and pure determination, Kone has built a network of organizations that promote African unity and culture in the U.S. and seek to empower Africans — here and on the continent.
The dozen 20- and 30-somethings who greet him are among 41 volunteers helping plan this year's parade on Aug. 24, and leading to it, African Week, starting on Aug. 18.
Four years ago, while organizing an African music festival at Marcus Garvey Park in Harlem, inspiration struck.
"I thought, 'What would make a great impact in uniting the African community in the U.S.?'" says Kone. "A parade!
"When you look at the news, they don't talk about different African communities in the U.S. unless something bad happens. We need positive news. We have small businesses, we participate in the development of this great city."
Self-financed by Kone — an insurance agent for the HMO WellCare of New York — and a handful of others, last year's first ever African Day Parade attracted some 2,000 participants and 8,000 spectators to Adam Clayton Powell Blvd. in Harlem, the epicenter of the African community in New York.
African New Yorkers hailing from 23 countries and numerous U.S. states marched in traditional dresses, performed dances and played musical instruments like the shkere and the balafon. Participants also prepared typical African foods.
"The parade is getting big," he says, though he adds finding financial support is tough. "I don't want it to disappear because of lack of funding, [so] I work all the time."
Billed as "a celebration of African culture," African Week in Harlem includes a fashion show and art contest, a tourism expo, a business networking day, a women's achievement award banquet and a children's festival.
Orlando Rodríguez, liaison for G.A.L.O.S. Corporation, which is marketing the parade, says Kone's leadership inspired him to volunteer as well.
"Kone's vision is that of the African Diaspora," says Rodríguez. "He's reaching out to not only people from sub-Saharan Africa but people from places like Haiti, Puerto Rico and Brazil [who]… inherited a sense of African culture. This is a way of linking people's common culture and finding common ground."
The roots of Kone's leadership stretch back to childhood.
At 10, he moved in with his sister, Nabintou Kone. Because he is the youngest of six, and the only boy, his sister wanted to prevent him from becoming spoiled.
"She wanted to build my character," he says, recalling how she made him do chores like cleaning the house.
"She said, 'To be a leader you have to learn to take care of yourself first,'" he says. "She's a leader, too-independent and strong."
His sister — the second oldest of the siblings — runs programs to empower women back home. "She showed me how to unite and organize people," he says.
When he was 15, she had to go to France for medical treatment, and Kone watched her children — ages, 8, 9, and 11 at the time. Caring for his niece and nephews fostered his independence, he believes.
A sprinter in high school, the government of the Ivory Coast sent him to Manhattan Comprehensive High School in Union Square on a track and field scholarship when he was 18. When he hurt his leg and wasn't able to run competitively, Kone's drive found other outlets.
Still in high school, he completed an internship in video production at Manhattan Neighborhood Network, a public access TV channel. After producing the award-winning documentary "Carpe Diem," about a young New York woman struggling with drug addiction, he helped found The Youth Channel, a public-access TV station for teenagers.
In 2000, he also founded the African Diaspora Education Society (ADES), dedicated to helping Africans in the U.S.
"Lots of Africans here have to spend 12, 14 hours a day working and don't have time to go to school," he says. "But they are so smart. To see them wasting their potential as future leaders bothered me."
The ADES has awarded scholarship money to students attending CUNY's Hostos Community College and the Borough of Manhattan Community College, and helped African organizations back home build schools and hospitals, provide clean water, and advance women's education.
"Because of my Mom and my sisters, I believe in woman power," he says.
"He is sensitive to topics like children, women, and the arts," says Nathalie Dispagne, 24, a dancer originally from Niger who is volunteering to help plan this year's parade.
"Kone has the capacity to bring people together."
This entry was written by Heather Robinson and posted on April 1, 2008 at 4:26 pm and filed under Profiles.