Walter Monheit: The Oldest Club Kid

From The New York Sun
by HEATHER ROBINSON
July 23-25, 2004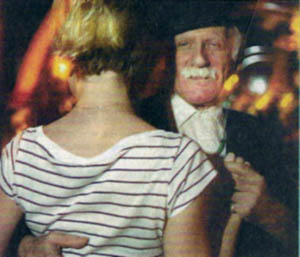 On the New York City nightclub scene, Walter Monheit is a fixture, an icon even.
Since the days of ballroom dancing clubs in the 1950's, this now-78-year-old man has been clubbing two to three nights per week from around midnight until about 5 a.m.
A retiree who lives in Bensonhurst with his cat, Precious, he is known for nocturnal antics like dancing with sexy young women in clubs, and getting their phone numbers. In a world marked by status-consciousness tied to youth, physical beauty, and wealth, this elderly man of modest means is popular and respected, and some club owners admit him for free—the mark of a VIP.
Once inside a club, Mr. Monheit, who walks slowly due to arthritis in his knees, typically sits for a while, then grabs the prettiest, most voluptuous, or most dynamic woman in the room and pulls her onto the dance floor. He twists and gyrates. If his partner is game, he slow dances with her.
Small and square, wearing a black suit, black cap, and string of multicolored Mardi Gras beads, he balances lit candles and drinks on his head, tells jokes, and philosophizes, dispensing wisdom on race ("If you don't like someone's color, argue with God. It's God who made us all different,") and spirituality ("People say, 'There are no miracles.' I say, 'Look at the snow. Look at the rain. Life is a miracle.")
When asked why he has chosen to devote so much time to activities most people associate with youth, Mr. Monheit suggests the answer is simple: it makes him happy.
"I keep myself busy," he says in a thick Austrian accent. "When you cry, you cry alone. But when I smile, the whole world smiles with me."
So what's the secret of his eternal youth?
"Young girls," he says.
Is he still interested in them romantically?
His answer is cryptic.
"People ask me, 'Can you still get it up?' I tell them, 'I can't complain.'"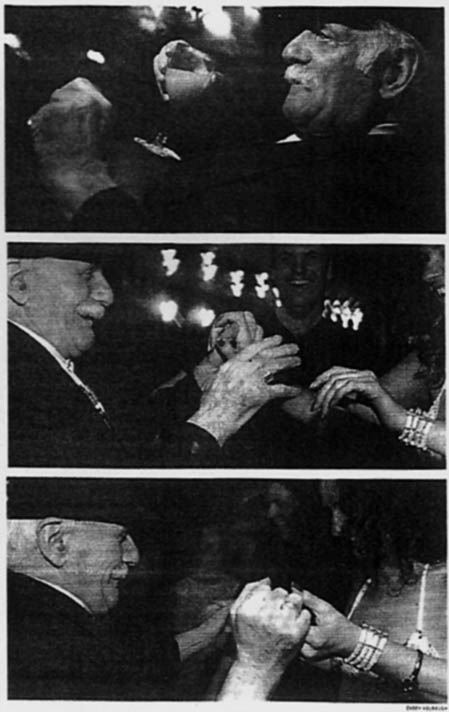 Very occasionally, Monheit does succeed romantically with younger women, according to his first cousin's son, Ira Gold.
"I've seen him making out with 35-year-old women," says Mr. Gold, who visited clubs with Monheit semi-regularly in the mid-80's. "Maybe he's just doing what everyone wants to do. He lacks all self-consciousness, which can be a good thing."
It is tempting to speculate that Monheit's unconventional lifestyle may be rooted in the desire to forget tragedy. Born in Austria in 1926, he vividly remembers Kristallnacht, the night the Nazis destroyed Jewish businesses and homes, and killed and injured many Jews in Germany and Austria. Monheit recalls that that night, Nazis pushed his father down the stairs of the family's home in Vienna. His father was taken away, and was one of the six million Jews murdered during the Holocaust.
Eventually Mr. Monheit's mother was deported to a concentration camp as well.
Mr. Monheit has two brothers—one older and one twin. They were all spared when their mother sent them from Austria to England on the Kindertransport–a program in which England agreed to accept 10,000 Jewish children from within the Third Reich as refugees after the Anschluss, or German takeover of Austria. At one point, Mr. Monheit remembers being separated from his brothers, who were taken on a transport ahead of him. For several months, he waited in Holland in the care of a Jewish organization, Agudath Israel. Eventually, he made it to England.
The children were reunited with their mother after the war, when his older brother found their mother in Czechoslovakia and brought her to the U.S.
Mr. Monheit is proudly Jewish; he frequently wears a ring that bears a silver star of David, keeps kosher, and attends Shabbat services on Saturday mornings.
Unlike Mr. Monheit, who is a lifelong bachelor, his brothers are married, with several children and grandchildren each. One niece is a career officer in the Israeli army.
As to why he never married, he says, "Why make one girl miserable when you can make all the girls happy?"
He has been a guest of Hugh Hefner at the Playboy Mansion, and fondly remembers the heyday of New York City's nightclub scene in the 70's, when places such as Studio 54 and the sex club, Plato's Retreat, were all the rage.
"It was the greatest party of all time," he says.
Celebrity news photographer Marina Garnier, who met and began going to clubs and parties with Mr. Monheit in the 80's, says she did so because she shared Mr. Monheit's love of the nightlife.
"We shared the desire to have fun and meet people," she said. "Many people saw an older man and younger woman and had the misconception that something was going on. But for him, friendship is enough of a reason to spend time together. That's the European in him."
Mr. Monheit's star rose in the late 1980's when Garnier, then a photographer for Spy magazine, introduced him to the staff there. He was originally a messenger, but soon became a kind of official prankster.
"He was a happy-go-lucky disco guy, a colorful character, and Spy was a fun, party magazine, so his personality matched the Spy ambience," Ms. Garnier said.
Spy began using Mr. Monheit's image, wearing a monocle, as part of a spoof on film critics, and even recruited him for an article in which he posed as a Scottish laird, wearing a kilt and riding in a limousine, in order to fool society types into thinking he was royalty.
In the 1990's, Vanity Fair editor-in-chief Graydon Carter borrowed Spy's film reviewer spoof idea, pairing Mr. Monheit's image with ghostwritten film reviews.
When asked what he did for income in his life, Mr. Monheit, a twinkle in his blue eyes, speaks of having been a massage therapist and ballet dancer who performed with Mikhail Baryshnikov.
Then he confides that he held a clerical job in a bank. Today, he manages to get by on a pension from that job and social security. He says he also "thank [s] God," for city services like the Access-a-Ride van, which provides transportation for the elderly. He uses this service to go to doctors' appointments—and also to return from the Manhattan nightclubs to his Bensonhurst apartment in the wee hours.
On a recent morning at 4:30 a.m, Mr. Monheit unwinds at a small, dingy Indian fast food restaurant on Tenth Avenue. He strikes up a conversation with two young British women, Serena and Maryanne. He gives them his phone number, gets theirs, then shuffles with exquisite slowness into the early dawn to wait for the Access-a-Ride van. It's supposed to come at 5:30.
In front of Marquee, the dance club in which he's spent the night, he sits on a stool to wait. In the orange glow of the club's lights, he looks at the glossy invitations he's been handed by party promoters. A beautiful, olive skinned woman with a jewel in her navel and a tight halter rushes over to him, breaking away from her companion. She embraces him, asking, "Where have you been?"
He tells her the clubs: Pangaea, China Club, Au Bar, and here, Marquee.
He smiles, his handsome, lined face lighting up.
It's 5:40, and no van.
He sighs.
"You know my favorite part of the night?" he asks. "The morning. The sun rise on Ocean Parkway."
The van comes, and Mr. Monheit slowly rises to go home.
This entry was written by Heather Robinson and posted on March 11, 2008 at 2:41 pm and filed under Profiles.