If We Make It a Priority, Cancer Will Be Cured Before Long

by HEATHER ROBINSON
December 19, 2007"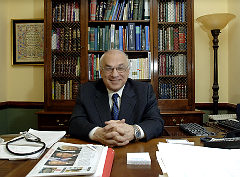 When I first came to Sloane-Kettering, a small glass cabinet held all the cancer drugs that were known," recalls Dr. Yashar Hirshaut. "So I've seen the transition from a very primitive time till now, where people have chances they didn't have before."
Dr. Hirshaut, an oncologist in private practice with a focus on breast cancer and a professor of medicine at Weill-Cornell Medical College-New York Hospital, has dedicated his career to fighting cancer.
His efforts have included treating patients, writing, and raising funds to support research. He does the latter as chairman of the board of the Israel Cancer Research Fund (ICRF), a nonprofit organization that supports cancer researchers in Israel.
Early life acquainted Dr. Hirshaut with life's precariousness. Born in Berlin, his Jewish family escaped Nazi persecution by moving to the Philippines, where they lived under Japanese occupation. It was in the Philippines as a teenager that he saw his father succumb to cancer.
"One week before he died, while he was still walking about, the doctor told my mother he would die shortly," Dr. Hirshaut recalls. "I lived with that knowledge less than two weeks but it was hell on earth."
The desire to cure cancer has been a guiding force in Dr. Hirshaut's life. He's been a driving force behind the ICRF since 1975, when it was established by Dr. Daniel Miller, head of the lymphoma clinic at Memorial Sloane-Kettering Cancer Center, where Dr. Hirshaut was working.
At the time, cancer research was on the upswing as a result of Congress's passage, in 1970, of the National Cancer Act. Scientists from around the world were applying for grant money, including Israeli scientists whose work stalled when the budget was cut several years into the program.
Dr. Miller recruited Dr. Hirshaut and several well-known scientists to sit on the board of a new organization.
They started small: raising $25,000 to make grants of $5000 each. They were scrupulous from the start to assemble some of the best researchers, including Dr. Henry Kaplan, a pioneer in radiation therapy for Hodgkin's Disease, and Dr. Charlotte Friend, discoverer of the Friend Leukemia Virus, to decide which researchers to fund.
"As though you were investing money in Wall Street and you were choosing the best bankers, we set this up so the very best scientists are choosing the very best projects," he says.
Their discernment paid off. One of the early projects they helped fund, research by Israeli scientist Yair Reisner, yielded advances in transplantation of bone marrow. In the aftermath of the 1986 Chernobyl disaster, the former Soviet Union requested assistance from Reisner in providing bone marrow transplantation to fire fighters exposed to radiation.
"At that time Russia was at war with Israel [but] the Soviets invited Yair Reisner to help," and Reisner did, Dr. Hirshaut recalls. Today ICRF awards $1.7 million in grants each year, and has awarded a total of $33 million in grants, making it Israel's largest single source of private funds for cancer research.
"Most [Israeli] leaders in cancer research have been funded at on time or another in their careers by the ICRF," says Dr. Hirshaut, who served as president of the organization for twenty years.
Scientists receiving funding from the ICRF have included Dr. Aaron Ciechanover and Dr. Avram Hershko, researchers at Technion-Israel Institute in Haifa who, along with Dr. Irwin Rose of the University of California, Irvine, received the Nobel Prize in Chemistry in 2004 for their discovery of ubiquitin, a substance present in all cells.
The discovery of ubiquitin has paved the way for development of new cancer-fighting drugs called proteasome inhibitors, which have been useful in treating multiple myeloma and forms of lymphoma.
In addition to promoting research, Dr. Hirshaut never stops fighting for his individual patients, according to colleagues.
"He takes the maximum amount of time with each patient, and he will never tell anyone there isn't hope," says Harriet Elisofon, currently president of the ICRF. He is author of the lay-friendly text, "Breast Cancer: the Complete Guide."
"[Being diagnosed with cancer] is a terrorizing experience," he says. "The question is, what does it mean? Who can you turn to? How do you pick a surgeon? What are the latest discoveries in chemotherapy?"
In his book-lined, Upper East Side office on a cold fall afternoon, Dr. Hirshaut raises his eyes with a look of determination.
"I can see a lot of progress being made," he says, pointing out that the rate of cure for testicular cancer is now 92 percent, and for Hodgkin's disease, about 80 percent. "We're…still not there of course because too many people are dying."
He adds, "These are solvable problems, but…each of us must be determined we have had enough of terror, enough of fear. If we make it a priority, cancer will be cured before long."
This entry was written by Heather Robinson and posted on December 19, 2007 at 4:56 pm and filed under Profiles.