Bringing People Together, One Snack at a Time

by HEATHER ROBINSON
October 31 2007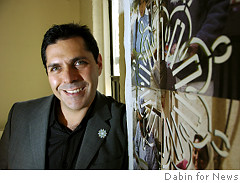 If people from different backgrounds can find common ground, according to Daniel Lubetzky, it's food – and the desire to prosper.
The founder of PeaceWorks, a food and condiment company, Lubetzky, 38, has promoted over the past decade economic cooperation among people on opposing sides of various world conflicts.
At the busy Chelsea headquarters of PeaceWorks – and OneVoice, a nonprofit organization he established "to amplify the voices of moderates" in the Israeli/ Palestinian conflict – Lubetzky flips open his laptop to share a video showing young activists recruiting members to OneVoice.
With his broad shoulders, big hazel eyes, and megawatt smile, he comes across more like someone who would be promoting star athletes than peace. But the latter is a mission he has pursued doggedly for years.
"We are a not-ONLY-for-profit company," he says of PeaceWorks (www.PeaceWorks.com). "Meaning, we won't do something that's not good business. But we hope to also make the world a better place."
So far, he has helped to establish businesses bringing together Jews in Israel and Arabs on the West Bank; Muslims, Christians and Buddhists in Indonesia; and Sinhalese and Tamils in Sri Lanka.
Lubetzky also owns an Australian company that manufactures the fruit and nut bars KIND. While they are not made in a conflict region, 5% of the company's profits go to PeaceWorks.
Lubetzky says he employed a basic principle of economics when he founded PeaceWorks in 1994: that each party in an exchange should bring to the table something that benefits the other.
At that time, after graduating with a law degree from Stanford University, he went to Israel on a fellowship to research the potential for Israeli-Arab cooperation.
One night, he bought a jar of sun-dried tomato spread. Finding it delicious, he returned the next evening to buy more, but the store was sold out. He sought out the manufacturer only to discover the company was going bankrupt.
It turned out that the owner, an Israeli Jew named Yoel Benesh, was importing glass jars from Portugal and dried basil from Italy, and couldn't net enough to cover his costs.
Lubetzky showed him it was far cheaper to import glass from Egypt than from Portugal, and instead of getting basil from Italy, he could buy cheaper and fresher from a Palestinian town called Uja, near Jericho.
"I said, 'Let me introduce you to your neighbors,'" Lubetzky recalls.
When Lubetzky rescued that company, PeaceWorks' first brand, Meditalia, specializing in sauces and spreads, was born.
To this day, Benesh co-owns the company, and buys most of his ingredients from Israeli Arabs, Palestinians, Turks and Arabs in other countries. Lubetzky handles the importing, marketing and distribution for this and the rest of PeaceWorks' brands in the U.S.
Those brands include Bali Spice, an all-women-owned cooperative that makes seasonings, noodles, sauces and coconut milk processed by Sinhalese and Tamils in Sri Lanka, where violence has claimed the lives of over 60,000 people in the past several years.
Benesh says working with his partner Abdullah Ganem, who lives on the West Bank, has heightened his awareness of Palestinian moderates and the positive role business can play.
"The only way to solve the conflict is through the economic situation and the opposite can happen if the economic situation will be bad," said Benesh.
Business and cooperation come naturally to Lubetzky, who is Jewish and was born in Mexico.
"Being raised as a minority in Mexico City…my parents inculcated in me the importance of learning how to work with everybody," he says.
His late father, Roman Lubetzky, was a Holocaust survivor whose experience motivates him. "I fear that if we don't succeed the bad guys could succeed and what happened to my dad could happen again," he says.
In keeping with his vision of empowering moderates, Lubetzky established OneVoice in 2000. The nonprofit has trained 3,100 Palestinian and Israeli leaders. Some are "citizen negotiators" and some are students.
"We are trying to get the younger generation, instead of joining the forces of darkness, to see there is a better way to get their lives back," says Lubetzky.
The negotiators participate in signature drives and petitioning elected officials in Israel and the Palestinian territories to consider the voices of moderates, whom Lubetzky believes are in the majority on both sides.
The organization also trains student leaders to travel to schools, where they speak out against boycott and divestment campaigns and endorse alliance-building.
"An Israeli and a Palestinian…travel together and speak in one voice, which is remarkable to people when they see that [they] can find common ground," says Lubetzky.
With offices in Tel Aviv, Gaza, Ramallah and London, Lubetzky is a citizen of the world. But this year he became engaged to a third-year medical resident who lives in New York, which has meant more time at his city headquarters.
"[Daniel] leads by example," says Darya Shaikh, executive director of OneVoice. "He has an incredible work ethic and sets bold goals for himself and the organization….He inspires trust and hope."
This entry was written by Heather Robinson and posted on November 2, 2007 at 10:06 am and filed under Profiles.