'I Don't Know What I Can Give This City, But I'll Do My Best'

by HEATHER ROBINSON
October 3rd 2007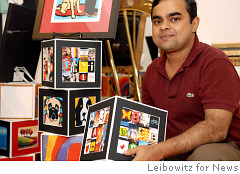 It's Wednesday afternoon, and Shadin Hossain is surrounded by people. A friend named Joe runs in to ask if anyone wants coffee.
Alam, Hossain's brother and his co-manager of Galleria – an art and framing store in Murray Hill in Manhattan – says he will attend to the customers. Meanwhile, Hossain fields phone calls from artists who have agreed, at his request, to donate to charity a portion of the proceeds from their work.
"I'm so happy here, and so blessed," says Hossain, 39, an immigrant from Dhaka, Bangladesh, whose big brown eyes radiate joy and energy. "I feel like, to do something for others, God gave me that opportunity."
About a year ago, he saw a news story on TV about orphaned children in the Congo who were starving to death. Deeply disturbed, he resolved to do something. He made the largest financial contribution he could, but he wished he could do more.
One day, inspiration struck.
He conceived the idea of donating his time to plan a benefit in which artists' work could be sold, with a percentage donated to help the children.
Unsure whether it was possible, he confided his idea to "Auntie Roxie" – one of his many friends who frequently stops by the store on Third Ave. between 35th and 36th Sts.
"I said, 'Can I do that?'" he recalls. "My Auntie Roxie – a lady who lives on 36th St. – she said, 'Do it!'"
Armed with his friend's encouragement, Hossain approached Galleria's owner, who agreed. But finding artists was a challenge, as many were hesitant to come onboard a first-time project organized by someone inexperienced.
He found his man in Marc Tetro, an Atlanta-based artist who illustrated the latest "101 Dalmatians" book for Disney, and with whom he had done business before.
"When he started talking about the events he wanted to do, I didn't have any doubts," says Tetro. "It's interesting how the neighborhood and the neighbors get involved; he has that magnetism. … When Shadin calls, you can't run and hide – he'll find you."
Tetro's benefit show ran for two weeks last November at Galleria. The artist was on hand to sign his brightly colored paintings and calendars, many of which feature vibrant images of hip-looking urban dogs.
Fifty percent of the proceeds went to World Vision, a Christian humanitarian organization dedicated to helping families overcome poverty by addressing root causes. The first benefit, according to Hossain, raised $5,200 to help abandoned children in the Congo.
"It went toward helping them with all their needs – water, food, getting back to school, and helping them find folks who would mentor them into a more normal situation," says George Ross, executive director of World Vision. But Hossain was just getting started.
In June, he organized a bigger benefit. This time, numerous artists participated, and so did Hossain's celebrity friends – author Salman Rushdie and Carson Kressley of "Queer Eye for the Straight Guy." That benefit, Hossain said, raised $7,200.
He couldn't have done it without his friends and loved ones, Hossain says.
Friends Megan and Stephanie helped him prepare the space for the second benefit's opening reception. Proudly, he shares pictures of the guests milling around the space, which is filled with the artwork of Tetro, Thomas Kinkade, whose paintings are ubiquitous in art stores and shopping malls across the U.S., and Kamrun Nahar Monee, who flew in from Bangladesh for the event, among others.
His nieces, Antora, 12, and Ohana, 8, helped prepare the food, he says.
Hossain, who came to the U.S. in 1993, is single and lives in Sunnyside, Queens. He says he feels the desire to help others so keenly because his doctor, Richard Schlussel, performed for free "extremely expensive" and lifesaving surgery on him several years ago for an adrenal gland disorder.
"He understood the situation I was in," says Hossain, who required treatment he could not have obtained in Bangladesh. The doctor's compassion inspires his efforts to give back, he says.
"I thank millions and billions [of times] to God for my doctor," he adds. "Thanks to New York City, and thanks to America. I don't know what I can give this city, but I'll do my best to do good. I don't have to be rich; if I can do good that will be fine with me."
He just finished a third benefit. This time, he didn't throw a party; he just simply donated 20% of profits from September framing jobs to World Vision.
Hossain also is planning a party and show early next year to benefit Smile Train, an international organization that provides plastic surgery to children in 71 of the world's poorest countries born with cleft palate syndrome.
"Children who have this problem, when they talk, you can't understand them," he says. "If you give them an opportunity so they can talk, they can go to school and be something."
Adds Tetro about Hossain: "These Mother Teresa types look like quiet and simple people, but to make these things happen, you can't be a pushover.
"You see how easily [Hossain] can pull people in? There's always someone who knows someone. I guess that's New York, too."
This entry was written by Heather Robinson and posted on October 3, 2007 at 4:00 am and filed under Profiles.