Giving Generations of Sephardim a Chance at Higher Education

by HEATHER ROBINSON
April 11, 2007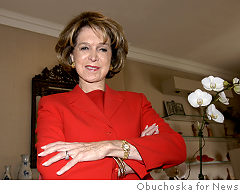 During the early 1970s, Nina Weiner realized that if she were going to help Israeli Sephardim – Jews whose ancestors had immigrated to Israel from the Arab world, Asia and Africa – she would have to think outside the box.
At the time, she worked for the United Nations, representing Israel to nonprofits dedicated to providing human services. But she hit a wall of prejudice when seeking help for people in the Jewish state. "I was there when they declared, 'Zionism is racism,'" recalls Weiner, 73, of the upper East Side, now president of the International Sephardic Education Foundation (ISEF), a New York-based nonprofit dedicated to helping Sephardic Israelis receive higher education.
"I realized it was futile and nonproductive to be [operating] in an atmosphere that was so hostile to Israel, the U.S. and the West." Traditionally, the term Sephardim refers to Jews whose ancestors were expelled from Spain and Portugal in the Middle Ages, many of whom settled in Turkey, Greece and Bulgaria.
Also today, the term can also refer to Jews whose ancestors remained in Israel throughout the centuries following the Romans' destruction of ancient Judea. And the term can apply to Jews who lived in Arab, African and Asian countries such as Iran, Iraq, Tunisia, India, Yemen and Ethiopia.
In all, Sephardim comprise about half of Israel's Jewish population. Many are dark-skinned, and those from Ethiopia are black. The other half are known as Ashkenazim, mostly lighter-skinned people whose ancestors settled in Europe.
In general, educational and economic gaps, although decreasing, exist between the two groups, with Ashkenazim tending to populate Israel's cities and more affluent communities and many Sephardim living in working-class or economically depressed towns.
In 1977, believing the key to closing the economic gap lay in addressing the educational one, Weiner, a Jew of mixed Ashkenazic and Sephardic background, approached Edmond Safra, a New York-based international banker, and his wife Lily.
"[The Safras] were receptive to the plight of the young generation of Sephardim, many of whom lived on the periphery, away from big cities," Weiner recalls, explaining that, many Sephardim immigrated to Israel in the 1950s and '60s and they settled in developing towns outside the city.
The Safras and Weiner established ISEF, which turns 30 years old next month and has awarded more than 14,000 university scholarships to young Israelis from Sephardic or disadvantaged backgrounds or both.
This year alone, ISEF gave 750 scholarships to students at 19 Israeli universities and colleges, including the Technion-Israel Institute of Technology in Haifa, the Bar-Ilan University in Ramat-Gan, near Tel Aviv, and Hebrew University in Jerusalem. And ISEF presently provides 25 scholarships to students in Ph.D. programs across the globe.
The Israeli institutions match the funds donated by ISEF, covering the entire cost of students' educations.
Students receiving scholarship money from ISEF to attend institutions overseas – which have included Harvard, Yale, Columbia, Oxford and The London School of Economics – are mostly Fulbright fellows. The cost of their education is covered by the institutions; ISEF pays living expenses.
"I'm from a small town, with big dreams Nina and ISEF helped me realize," says Itsik Francis, 28, an ISEF fellow earning his doctorate in molecular medicine at the University College of London and working in a cooperative program at Columbia University to develop treatments for Alzheimer's disease.
Francis' Iraqi-born mother works in elderly care, and his Bulgarian-born father is a metalworker in his hometown of Bat Yam, south of Tel Aviv. ISEF not only helps Francis finance his education, but provides him with a home away from home.
"It's a family feeling," says Francis who lives in Harlem. "Nina calls to check on the students in New York City. She wants to know, 'How are your studies? How is your social life?' She is a Jewish mother who wants us to succeed and to be happy."
Weiner's own life's path has intersected multiple cultures.
Born in Egypt to a Sephardic mother and an Ashkenazic father, she moved to Israel as a teen after the nation's War of Independence in 1948.
"My mixed background gives me a lot of understanding," she says. "One of my grandmothers lived under the czar, and the other lived under the Sultan of Turkey. So I understand all what's special about Ashkenazim and all what's special about Sephardim."
Weiner speaks five languages, having grown up hearing Ladino – the Romance language of Sephardic Jews, Arabic, Russian, Hebrew and Portuguese.
She attended the University of Geneva, where she studied with the renowned psychologist Jean Piaget. And she went on to earn a master's degree in psychology and counseling from Columbia University, work as a psychologist, marry lawyer Walter Weiner and raise two sons, Tom and Jon, in New York.
But her drive to promote education among Israel's Sephardim remained.
During her summers in Israel when she was a college student, Weiner worked with children who lived in what was known as a "youth aliyah" transit camp.
This entry was written by Heather Robinson and posted on April 11, 2007 at 4:49 pm and filed under Profiles.