Steve Mariotti: Thinking Big About Small Business

by HEATHER ROBINSON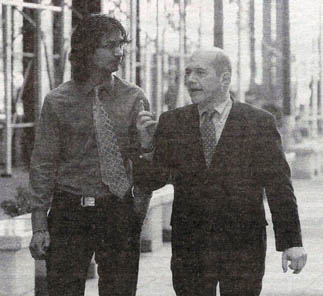 "Every child should learn how to start a business, especially children who are having difficulty in school," says Steve Mariotti. "Let them be exposed to the concept of self-ownership."
With his easy banter and warm smile, Mariotti seems more like a guy you'd find behind the counter of a neighborhood deli than running an educational empire.
But for Mariotti, 52, inspiring youngsters to start small businesses is a big obsession.
As founder and director of the National Foundation for Teaching Entrepreneurship (NFTE, pronounced 'Nifty') he runs a non-profit organization that teaches the principles of small business management to 28,000 young people per year in over 13 countries worldwide.
He is also creator of the curriculum that NFTE trains teachers to use, and author of "Entrepreneurship: How to Start and Operate a Small Business," a textbook that reflects his twenty years of working to help junior high and high school students to start their own businesses—and make money.
A sturdy, plainspoken fellow, Mariotti believes that the best way to help the poor, even poor children, is to teach them to make money.
"The only way to beat poverty, long term, is business development," he says.
At one time a financial analyst for the Ford Motor Company, Mariotti left Ann Arbor, MI for New York City in 1979, pursuing the dream of being his own boss. He started an import/export women's shoe business, and was successful. But in 1981, he was mugged by a gang of teenagers, a deeply traumatic experience.
Searching for a way to overcome his fears and reconnect with others, he decided to teach, and began his new career at one of the city's toughest schools, Boys and Girls High School in Bedford-Stuyvesant.
Students would lock him out of the classroom, he recalls, and practice dance steps in the back of the room—anything to avoid learning. One day, frustrated, he took some students to dinner and talked with them. He learned that they felt his lessons had little to do with their lives, and they were bored.
At that point, a theory was born.
He decided to incorporate his experience in the business world into the classroom, designing lessons that simulated business transactions in order to teach math.
"Some kids are fascinated by business and money, and I started designing a curriculum for them," he said.
The kids perked up; he went on to supervise creation of student-run stores, and to begin teaching basic business principles, like developing ideas, finding niches, and record keeping.
In 1987, after six years teaching in the New York City public schools, Mariotti founded NFTE.
The NFTE curriculum requires students to make a minimum 50 hours commitment to learning basic business skills such as record keeping, maintaining income statements, writing and defending a business plan, and making sales calls.
In addition to training teachers to offer the program in schools, NFTE partners with community centers and colleges including New York University to offer free, week-long summer camp programs. About 4,500 New York City students participate each year.
The curriculum is flexible and can be incorporated into pre-existing math or business classes, or taught as a separate elective class, like "Entrepreneurship."
In addition to teaching business skills, the program is designed to encourage kids to stay in school.
"It's a strategy to help kids stay in school and master basic skills while also developing skills that can be used later to help them make a living in a free enterprise system," says Mariotti.
Keeping kids in school is vital for them and for society, he believes.
"Certain kids are just not responding to schools, and once they drop out, there's 65 percent unemployment from ages 18 to 30," he says. "Once they're disconnected, there are so many tragedies.
"Keeping kids in school has such great economic and social value."
There is evidence that NFTE's curriculum does keep kids in school, and have other benefits, too: a 1993 Brandies University study found that for older high school students, participation in NFTE correlated with increased likelihood of attending college. And a Harvard University study conducted during the 2002-2003 school year found that students participating in NFTE gained a greater sense that their actions, not outside forces, accounted for success.
Kids speak with great enthusiasm about NFTE.
Mohammed Omar Faruk, 17, a high school junior who participated in one of NFTE's summer camp programs in Bedford Stuyvesant, has since established several internet businesses, including bluestreamcorp.com, an internet consulting firm, and megalowprices.org, a retail site.
In all, he and a business partner have netted about $4,000. He would like to attend Babson College, and thinks his experience with NFTE will help him.
"NFTE teaches you, early in life, a lot of information you can use later on," he says.
Jasstina Featherstone, 16, who runs Jass Esscents (Homecandles238@aol.com), a candle business featuring "unique, hand-carved designs," learned business skills through a NFTE camp program she heard about at her school.
"NFTE has helped me a great deal; I don't think I could have done my business without it," she says.
Although she says she had researched how to make candles on her own, and was already "motivated," the business skills she learned through NFTE enabled her to "overcome self-esteem problems" that might have prevented her from developing her craft into a business, and to "learn how to manage the business end."
So far, she says, she has earned several hundred dollars selling her candles.
NFTE presently operates in low income communities across the United States and in 13 countries around the world, through its curriculum, teacher education programs, and support services for alumni.
Some of the places in which NFTE operates include China, India, Israel, South Africa, Belgium, Tanzania, Holland, and the United Kingdom.
Many of the world's greatest entrepreneurs have been poor children, and it's a natural fit, according to Mariotti.
While middle class upbringing tends to prepare one for functioning in a structured environment, like a government or a corporation, poorer children's circumstances tend to more closely mirror the conditions of independent business people's, Mariotti believes.
"Many of these kids have 'chutzpah,' and have learned to deal with a volatile, unpredictable world, and that's [like] the world of independent business," he says.
Owning a business isn't easy, and isn't for everyone, but that doesn't mean it's not worthwhile for everyone to learn about it, Mariotti maintains.
"A lot of people don't want to make the sacrifices necessary to own," he says. "Not everyone will choose the path of the entrepreneur, and that's fine. But having whole communities never given the opportunity to think about ownership is a tragedy.
"To me, there should be a class in every school to learn how to start a business."
This entry was written by Heather Robinson and posted on April 11, 2006 at 12:47 pm and filed under Profiles.