Tree of Life survivor: 'There is so much goodness in the world, and we need to embrace it'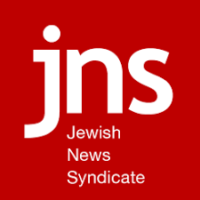 From The Jewish News Syndicate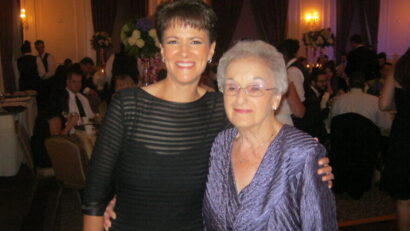 Andrea Wedner, who lost her mother in the 2018 shooting, focuses on the future and what she can do to help heal the Pittsburgh Jewish community.
Two years ago, Andrea Wedner was attending Shabbat-morning services with her 97-year-old mother, Rose Mallinger, at the Tree of Life*Or L'Simcha Synagogue in the historically Jewish Squirrel Hill neighborhood of Pittsburgh, Pa. That morning, Oct. 27, 2018, a bullet hit her arm after an anti-Semitic gunman entered, and shot and killed 11 Jewish worshippers, including her mother. Since then, Wedner has undergone extensive rehabilitation.
A wife, mother of two and grandmother of two, Wedner, 63, took some time to talk with JNS as the anniversary of the deadliest anti-Semitic attack on U.S. soil approaches.
Responses have been edited for brevity and clarity.
Q: Andrea, at this two-year commemoration, would you like to say anything about your mother and her values? How do you think she would wish to be remembered?
A: My mother was a sweet, kind, loving and generous woman, and her family meant everything to her. She lived a modest yet complete life. Even at 97, she had a lot of spirit and toughness. She certainly would not want people to make a fuss over her, so my guess is that she would simply want to be known as a person who cared and provided for the ones she loved.
Q: Will you participate in this year's commemoration? I understand that some of the activities will be online because of the coronavirus pandemic.
A: Along with my family, I will be included in the commemoration. This year, due to the pandemic, the commemoration program is being held virtually, but there is also community service, Torah study and other activities. I haven't yet decided which ones I will participate in, but I was able to use my connections as a dental hygienist to secure supplies for one of the volunteer opportunities, which is creating dental hygiene kits.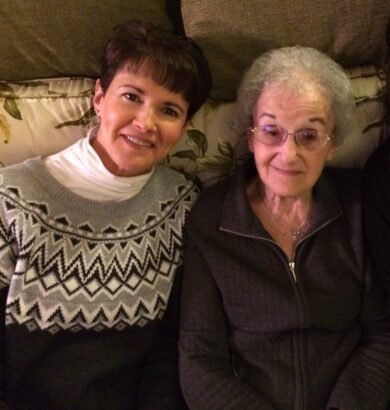 Q: How has the horror of what happened affected your faith?
A: I will admit that in many ways, my faith was shaken by the shooting. But the outpouring of love towards me, my fellow congregants, the Jewish community and the city of Pittsburgh reinforces my faith in humankind. I enjoy time with friends (however limited these days) and spend as much time with my granddaughters as I can. I want families that have internal discord to resolve their issues. Have faith in your fellow man. Don't argue over insignificant things; don't be afraid to say "I love you." Be humble. Don't be too stubborn to say "I'm sorry," and when we are allowed, to give hugs. There is so much goodness in the world, and we need to embrace it. Within hours of the shooting, the mantra "STRONGER THAN HATE" became ubiquitous in Western Pennsylvania, and I truly believe that love conquers hate. It has to.
Q: How is your recovery coming along?
A: I have received some counseling to assuage the pain, but my family and others around me have provided me the strength I needed to make it through these past 24 months. I have always had a positive attitude and handled stress pretty well. But nothing can prepare you for the kind of trauma I experienced. My two older brothers, like myself, have a lot of inner strength, and my husband and children have stayed strong for me, never allowing me to become disheartened or depressed. I have no alternative but to move forward.
Q: How do you feel about being Jewish at this time in the United States? Do you think we are uniquely vulnerable? Do you have any thoughts about whether anti-Semitism is on the rise and from what corners? And what any of us can do about it?
A: Growing up, I never felt overt anti-Semitism, and it really wasn't discussed in our house. But there certainly seems to be a new wave of emboldened anti-Semitism. Think of Charlottesville, where people chanted racist and anti-Semitic slogans, and then the shooting at the Chabad synagogue in Poway, Calif., and finally the attacks in Jersey City, N.J., and Monsey, N.Y. I wish I could give you an answer on how to change ideology. Maybe it's education, maybe faith. Hate sites on social media need to be reined in and monitored for sure, as hate speech begets hateful actions.
Q: What is your position on what should happen to the shooter? Do you favor the death penalty?
A: I am letting the judicial process take its course. I will be ready if called to testify. Those closest to me know my position.
Q: Do you have any ideas on what we can do to protect the Jewish community? Do you believe that synagogues should have armed guards?
A: Prior to 10/27, I would have said no to armed guards other than on High Holidays, but my view has changed. Yes, we are vulnerable … I'll leave it to professionals in the field [of security] to come up with the right solutions.
Q: People across the country and world showed a great deal of support in the wake of the shooting. Muslim communities raised hundreds of thousands of dollars, and Pittsburgh Steeler Zach Banner stood up to anti-Semitism in the NFL (when the League's executives did not), citing his experience in Pittsburgh. Do you think there's anything the country as a whole can take away from what happened?
A: We all know there are so many more good people than bad ones. Zach Banner speaking out against anti-Semitism is a good thing. One of the really sad things about the shooting at Tree of Life is those murdered were either seniors or individuals with special needs. The people in the world with compassion and empathy are those we need to emulate. Ultimately, it takes everyone to end hate and bigotry.
Q: Do you have any thoughts on the plan for the Tree of Life building? My understanding is that it is to become a multi-use center and house the Holocaust Center of Pittsburgh, in addition to a cafe. Do you think that is something your mother would have supported?
A: My parents were members of Tree of Life when the synagogue was on Craft Avenue in nearby Oakland and then moved with it when it opened in Squirrel Hill. [My husband] Ron and I were married 38 years ago in the same chapel where I was shot, and both my children and all my nieces and nephews celebrated their b'nai mitzvot in that same chapel. Our congregation needs to [remain] at the corner of Wilkins and Shady Avenues. My mother certainly would have supported that. Membership has been given periodic updates on what is happening with the building, and everything I've heard so far has been positive. I trust that those in charge will do the right things.
This entry was written by Heather Robinson and posted on October 24, 2020 at 7:13 pm and filed under Features.