Booker, Gillibrand Defy Progressive Group's Call to Boycott AIPAC

From The Allgemeiner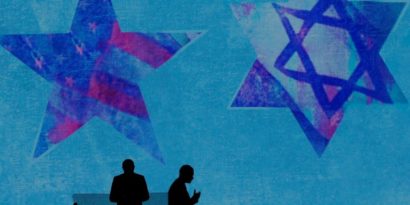 Senator Cory Booker (D-NJ) and Senator Kirsten Gillibrand (D-NY) defied progressive advocacy group MoveOn.org's call for Democratic presidential candidates to boycott the annual AIPAC Policy Conference in Washington DC, which wrapped up on Tuesday, delivering what some AIPAC attendees described as rousing speeches there.
Speaking to a packed room of delegates from New Jersey, Booker vigorously reaffirmed his support for the US-Israel relationship, and was warmly received, according to a source in attendance. In his speech, Booker frequently quoted from Scripture in both English and Hebrew.
Gillibrand's remarks focused on antisemitism, and she reportedly said, "Those who want to criticize Israel's government or [raise] issues with its policies should not be expressing their views by using antisemitic language. And that's why I will always, and always have, spoke out loudly and clearly whenever I heard such hurtful, bigoted tropes, whether they come from my own party or whether they come from across the aisle … [W]e can never allow antisemitism to become normalized."
Senators Amy Klobuchar (D-MN) and Kamala Harris (D-CA) reportedly also spoke to AIPAC conference attendees, though it was unclear whether they came to the convention center or met with constituents at their offices on Capitol Hill.
Video appearing on Facebook on Tuesday in the conference's aftermath showed Booker standing at a podium with AIPAC President Mort Fridman, who praised Booker for attending the nation's largest yearly pro-Israel gathering, to which delegates — or citizen lobbyists — travel from across the country, often at their own expense, to lobby members of Congress on legislation in support of the US–Israel relationship.
While none of the presidential hopefuls was officially invited to speak at this year's AIPAC Policy Conference, the issue of whether Democratic candidates were influenced by Moveon.org to avoid appearing at the event — historically a non-controversial stop for would-be presidential aspirants, even sometimes in "off" election years — was very much in the air this year, with some attendees voicing hope that Democratic contenders would defy the progressive advocacy group and show up.
Prior to Booker's appearance, this reporter interviewed two dozen of the nearly 20,000 delegates in attendance. Many who identified as Democrats expressed strong desire to see Democratic presidential candidates attend. Numerous African American Christian delegates expressed hope of seeing Senator Booker in particular.
"There are a lot of candidates running, and there are many priorities," said Bianca Blades, a consultant from Atlanta. "If they don't make it here, it's not [necessarily] that they don't care."
"But I really hope [Cory Booker] makes it," she added.
Others expressed hope that Booker in particular, a longtime bridge builder between the African American and Jewish American communities, would defy the call to boycott AIPAC at a time when the surging anti-Zionist rhetoric and anti-Israel sentiment in the European political realm now appears to be seeping into the Democratic Party here in the US as well.
"This is a major conference, with ramifications for our relations with an important ally, and I'll be disappointed if Cory doesn't make it, especially with what you have going on in the world today," said Brett C.S. Roberts, 35, of Los Angeles. "There is what's politically expedient, and there's what is right. If you stand on principle, you stand on bedrock, and you can handle whatever criticism comes your way… It's disappointing to be honest that a lot of the major Democratic candidates are [probably] not coming."
Roberts added, "I live in Los Angeles, and I found a way to be here."
Anton Gunn, a former South Carolina state legislator, who addressed a group of students at the conference, said, "You bless Israel, God will bless you, that's Genesis, and that is something every Christian has heard."
Gunn emphasized that his support for the State of Israel was, while rooted in his personal religious belief, also based on an understanding of what modern Israel consisted of and stood for.
"Many people have a shallow, media-driven understanding of the US-Israel relationship," he said. "One of the reasons Cory Booker is a great candidate is his more informed understanding of the region's history and the US-Israel relationship."
Other delegates voiced the perspective that attendance at AIPAC — historically a group that espouses a big-tent philosophy with room for both liberals and conservatives — would be show of support of the American values of open dialogue and speech.
"It would be a powerful act on the part of any of the Democratic candidates to make a showing here," said David Bernstein, president and CEO of the Jewish Council for Public Affairs.
This entry was written by Heather Robinson and posted on March 30, 2019 at 12:37 pm and filed under Features.