New Yorkers who find love after 40 — and beyond

From The New York Post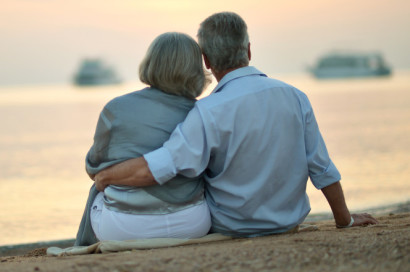 At 42, Phil Reinstein, an insurance broker from Huntington, LI, became single after a dozen years of marriage. He and his wife, a teacher, separated and eventually divorced.
Reinstein dated, but, largely preoccupied with trying to see his three children and working to pay alimony and child support, he didn't expect to find love.
Eleven years later, in 2001, Reinstein met "the love of my life." He and Marie met onmatch.com.
Several years after that, though, he became single again. Marie died of lung cancer in 2007.
"Even though our time was short," said Reinstein, "it was a good enough love for a lifetime."
Now, at 67, he hasn't given up — he's in a relationship again.
For men and women who are single in their middle years, who despair of finding true love, Reinstein's story, though bittersweet, perhaps offers hope.
As fall sets in, many New York City singles — especially those over 40 — see a reminder that another season has passed without true love. They can be tempted to abandon their quest for love, figuring that if it hasn't happened yet, it won't.
Not so, say New York City's singles and dating experts, who point out that Reinstein's experience reflects that of many people who find true love in their 40s, 50s and older for the first, or second or third, times.
"When it comes to dating, the 30s are the new 20s," said Jenn Zucher, co-founder of Project Soulmate, a high-end matchmaking company. "Getting married in the 20s is not happening as much now [in New York], and it can be difficult because you don't know yourself very well. By the later 30s or 40s, you've dated enough that you've narrowed down what the deal breakers are and what you are looking for."
Zucher also pointed out an offbeat, surprising benefit of pairing off later — less chance of unpleasant surprises. "Mental illness and co-dependence comes out before people hit their 40s, so [when you meet later in life] you know what you are getting and there aren't going to be drastic changes."
Then there's the perhaps surprising effect aging has on self-esteem, according to Will Winter, a Manhattan psychiatrist. "Low self-esteem tends to be more of a young person problem," said Winter. "We are attracted to things we wish we could be, and repelled by things we don't like in ourselves. That is less true, though, as we age and mature and start to accept ourselves more. When we are older we choose more on the basis of the personality fit and how we feel spending time with the person, as opposed to the person's perceived status."
Holiday time can be especially traumatic for older singles. In the Jewish community, many head to hometown synagogues during this season's High Holy Days; family, clergy and other members of the community will grill them: Why are they still unattached? Many single New Yorkers of other faiths encounter this at Thanksgiving and Christmas.
But here in New York, some religious leaders say the trend toward older marriage has positive aspects.
 Rabbi Shmuley Boteach says "marrying young is not for everyone." He sees an advantage in falling in love and marrying young "and not having to go through a lot of heartache and rejection; on the other hand, finding love later in life, I think there can be a deeper sense of appreciation."
Reinstein's story echoes this. He was dating several women when he met Marie, and it wasn't love at first sight; in fact, he was trying to decide whether to ask Marie or another woman to be his date for a relative's bar mitzvah.
He invited Marie, and decided that she was the woman for him. "When I met Marie, it wasn't revealed right away, but she was right for me," Reinstein said. "The first time I felt true love — really complete, eternal, romantic love — I was 54 years old."
He stayed by her side when she was dying of cancer. "Every second we had was special."
About a year after Marie died, Reinstein found love again. At 58. At a dance club.
"I'm in a very nice relationship since then with a lovely, adorable lady named Sheila," he said.
He added, "Marie was that rare person, so in touch with life and death. It changed my whole perspective on what the priorities in life are. It's not just about me, and you've got to get that, and I finally did."
This entry was written by Heather Robinson and posted on October 6, 2016 at 3:28 pm and filed under Features.