JICNY Gala Combined Retro Charm With Big Town Glam


From The New York Blueprint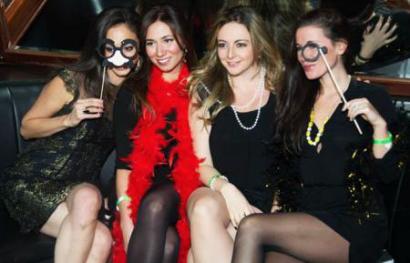 Over 380 turned out for Gatsy-themed eve in Times Square
Hundreds of young professionals broke out their bow ties, feather boas, and pearls for Jewish International Connection New York's (JICNY) annual gala, held this year at B.B. King Blues Club in Manhattan's Times Square on November 4.
With a Great Gatsby theme, a Southern-influenced menu, and a swing band playing standards from Frank Sinatra's "Somewhere Beyond the Sea," to Bobby Darin's "Mack the Knife," to pop hits like Pharell Williams' "Happy," the evening combined big city glam with retro charm.
Over 380 people came to the gala, according to Jodi Samuels, co-founder of JICNY, a New York-based nonprofit catering to young Jewish professionals who have moved to New York City from around the world.
Entering the ballroom, gala attendees encountered trumpet- and horn-players as well as actors playing flappers and gangsters. Jessica Abo, TV personality and Chief Inspiration Officer at Apploi, was event emcee, and Sivan Hadari and Leona Krasner were event co-chairs.
"The Great Gatsy himself would have been happy with the evening," said Michael Penn, 24, a marketing consultant originally from Boca Raton, Florida who was in attendance.
JICNY hosts over 200 events a year including social, networking, cultural, and couples events. The organization also recently launched a group for Jewish singles ages 35 to 50. For information visit JICNY.com.
This entry was written by Heather Robinson and posted on January 13, 2015 at 2:59 pm and filed under Features.