A Date With Moses?


From The New York Blueprint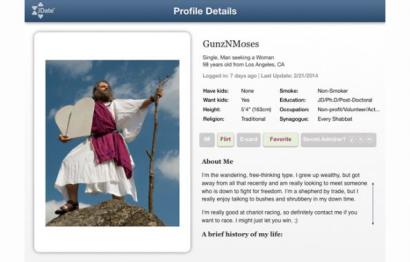 JDate Haggadah aims to spice up Seder
"A long long time ago, in a desert far away, there was a land where people worshipped cats, and men wore eyeliner. No, this wasn't the Internet; it was the land of Egypt."
So it was. At least according to the second annual JDate Haggadah.
Released mid-March, JDate's Haggadah — a far cry from the Maxwell House version many Jewish-Americans grew up with — offers a modern take on an ancient text.
"We see it as a way of reaching a young adult segment," said Rachel Seliger, JDate community manager and a contributor to JMag, JDate's online magazine. "The driver was to create a seder that's enjoyable, to entertain people while remaining true to tradition and the importance of Passover. It's a less dry version."
Introduced for the first time this year in iBook format, JDate's Haggadah is filled with features that singles in particular can relate to.
For instance, the Exodus story's characters — including Pharoah, Pharoah's daughter, and Moses himself — have faux JDate profiles. Pharaoh's reads, "I'm a no-nonsense kind of guy … I have a lot of people working below me … Also, I'm a rich and powerful ruler of a desert land. If you want to know which one, I guess you'll have to message me." And Moses': "I'm the wandering, freethinking type. I grew up wealthy, but got away from all that recently and am really looking to meet someone who is down to fight for freedom."
Pharoah, whose marital status is "separated," declines to list his religion, and Moses' 'past relationships' section references his fear of abandonment.
"Even though this Haggadah is not exclusively for singles, we do have a lot of content that will appeal to anyone who's ever experienced online dating," said Arielle Schechtman, director of public relations at Spark networks, JDate's parent company.
Like the pdf, the iBook is free and can be found at jdate.com/haggadah. However, in addition to photos and profiles, the iBook version also has animated illustrations, such as an interactive seder plate with a popup egg and shank bone.
JDate's Haggadah, according to Schechtman, provides guidelines for a "30 minute fully functional seder." It covers the essentials, including the seder plate's symbolism, the Four Questions, Moses' life trajectory, the Ten Plagues, the Exodus and Dayenu. Also included on almost every page is an irreverent, modern take on what is ancient: seder-goers are advised, for example, they can answer the question about why on this night we dip twice by "blasting 'Da' Dip,'" a smash single by '90's hip-hop star Freak Nasty.
Last year's JDate Haggadah got 2,800 downloads and this year's has already gotten more than 10,000, according to Seliger.
Participants can also search for a "virtual afikomen"; the first 18 to find it get a free month of JDate membership.
Seliger added that the idea is for young adults who might be participating in a seder with friends to celebrate even if family might not be close by — something Jewish singles interviewed said they are into.
Alina Lukashevsky, 32, a Manhattan dentist, says she would consider using the JDate Haggadah and she likes the way it makes the ancient relevant.
"Laughing about how our ancestors were similar to us is celebrating freedom today," she said.
This entry was written by Heather Robinson and posted on January 13, 2015 at 2:55 pm and filed under Features.