Top 10 Things Not To Say/Do at a Passover Seder


From The New York Blueprint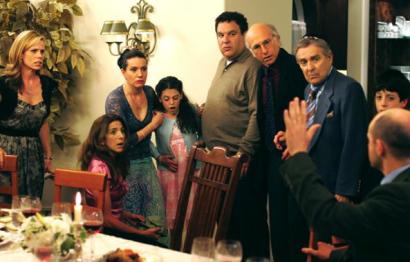 G-d commanded us to relax and enjoy at Passover. But some of these lines/moves might get you booted from the Seder.
10. "Mr. Greenberg, I love your recipe for hard matzoh balls. Oh, these are the soft ones?"
9. Talk to the woman undergoing IVF about how the egg is a symbol for fertility.
8. Show up dressed in the Supergirl costume you wore on Purim and exclaim, "Whoops! Wrong holiday!"
7. Return in a big Easter Bunny costume and say, "Whoops! Wrong again!"
6. Organize a post-Seder discussion of erotic themes in the literature of bondage and submission.
5. Excuse yourself to open the door for Elijah, then pass out in the bushes (because 4 glasses of wine just wasn't enough).
4. Spend 30 minutes in the bathroom. Return with a sheepish smile and declare you have experienced worse bondage than the Israelites due to the effects of matzoh on your digestion.
3. Push that six-year-old out of the way and grab the afikomen 'cause you're just a big kid at heart.
2. Complain that you haven't had sex in so long, you fear it might be another 40 years in the desert (or at least until next year in Jerusalem).
1. Ask your single friend, "Is 3,000 too old for you? Because I hear Elijah's still looking."
This entry was written by Heather Robinson and posted on January 12, 2015 at 2:04 pm and filed under Features.