Pro-Israel Iraqi Official May Be Tapped For Key Post In New Cabinet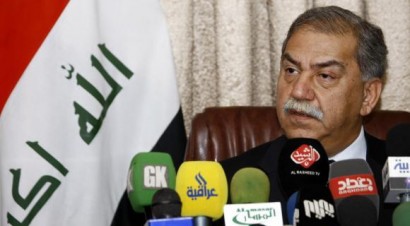 by Heather Robinson
From The Jewish Week
Mithal al Alusi, honored by AJC for moral courage, says U.S. should unite region against terrorism.
Iraqi Parliamentarian Mithal al Alusi, whose support for Israel earned him the American Jewish Committee's Moral Courage Award as well as tragic personal consequences, told The Jewish Week on Tuesday that he has been approached about becoming Minister of Human Rights in the new Iraqi government of Haider al Ibadi.
A longtime advocate for cooperation between Iraq and Israel, Alusi says he would consider the cabinet post only if he believes Iraq's new government is going to advance democratic values. For him, that includes fighting Islamist extremism.
"I said to them, and I have said in the Iraqi media, 'I don't think there is any difference between Hamas, Hezbollah, and ISIS,'" Alusi said, referring to the radical militant group known as Islamic State in Syria. "We cannot fight ISIS really if we don't look at all these extremists … If Israel will help us with information to fight ISIS, I will take it and say 'thank you.' I am saying this in the media and the extremists can't stop me. The Islamists are afraid of the media, because the media can affect opinion and reality."
A Sunni Muslim elected to Parliament as an independent candidate, Alusi has a history of voicing controversial views and making decisions that have angered extremists. Appointed to head Iraq's de-Baathification commission after Saddam Hussein's fall, he publicly advocated normalized relations between Iraq and Israel, and in September 2004, traveled to Israel to attend a counter-terrorism conference there. In February 2005, terrorists murdered his two grown sons and their bodyguard, apparently as payback for Alusi's decision to travel to Israel.
Refusing to be intimidated, he stayed in Iraq and worked to build the Democratic Nation Party, which promotes human rights — including women's and minorities' — religious freedom, rule of law, and cooperation among democracies in fighting terrorism.
He was re-elected in April 2014 to Iraq's Parliament for a third term despite campaigns of intimidation and propaganda against him by Islamists.
Alusi has survived numerous assassination attempts and has refused to leave Iraq or to stop building his political party.
"Giving the AJC Moral Courage Award to Mithal al Alusi in 2005 was one of our proudest moments," David Harris, AJC executive editor told The Jewish Week. "He embodied the principles and values that could offer all Iraqis a brighter, freer and more prosperous future. And we were particularly struck by his desire to get to know and engage with Israel, seeing it as a natural partner for Iraq. For this desire, he paid the highest price — the cold-blooded murder of two beloved sons — but even that overwhelming tragedy wouldn't deter him.
"He's a man of personal warmth and steely principle, undaunted and unafraid," Harris said. "If those aren't traits worthy of AJC's Moral Courage Award, I don't know what are. And now, if he's being considered for a top-level position in a new Iraqi government, it could offer a glimmer of hope at a time when glimmers of hope, alas, have been in relatively short supply."
On Tuesday, Alusi said he will not assume a cabinet post unless the new Iraqi government advances human rights and fair elections, and is not beholden to other governments, including Iran, which he has accused of corrupting Iraq's political system in the past by bribing Iraqi politicians. http://www.nysun.com/foreign/bribe-was-offered-by-iran-iraqi-lawmaker-re…
"If they want [me] to be in a strategic position," he said, the new government must understand, "I am not serving Turkey, Iran, or Saudi Arabia. I am Iraqi, that's it."
Because of U.S. airstrikes against ISIS in recent weeks, Iraqis are feeling more secure, Alusi said. The U.S. has a window of opportunity, he believes, to build on Iraqis' feelings of gratitude for the relative calm and protection from ISIS to promote a democratic and moderate Iraqi government.
"The general opinion is now, 'Thank you America,' for the air strikes," said Alusi. "America has an open door now, to advise and to help."
He believes U.S. commitment to the region must be long-term, for purposes of advancing the fight against Islamist extremism.
"Obama says it will be a long term process," said Alusi. "I agree with him … Long-term process means we should not accept an Iranian nuclear bomb. Long-term process means we should not accept Hamas and Hezbollah to be international terror organizations."
The United States and other pro-democracy forces must cooperate to fight terrorism if the current intervention is to be meaningful, he said.
"The air strikes are important; thank you Mr. Obama. But is it just a show?"
Alusi suggested that President Obama "organize a conference" of nations to promote counterterrorism cooperation and "normality." This would include having Israelis and Palestinians pledge to reject terrorism and advance moderates.
"Air strikes did succeed to be very effective against ISIS," he said. "But we, all of us, know it is not enough. ISIS is not just a small organization; it's connected to the reality of extremists in the Mideast. There are many terrorist organizations.
"Because all of us are afraid from ISIS—Turkey, Jordan, Iraq, even Iran—it is a mix of nations—I think President Obama should use this chance to push some goals for all of us, normality, not terrorism."
He stressed the need to empower Muslim moderates, as opposed to trying to "make deals" with terrorists and extremists, including Maliki, whom he believes had ties to Iran, and no interest in protection of minorities or fair elections.
"The U.S. administration didn't learn," Alusi said. "They are listening to extremists and they think they will have a moderate direction? They need to talk to everybody. I like to hear President Obama say long term, but long-term commitment to democracy and a stable Iraq will require partners.
"Who will be the United States' partners? ISIS? Hezbollah? Hamas? Come on.
"My question is, what does long-term [commitment] mean and how will we do it? That is what we need to hear from President Obama."
Prior to his first election to Iraq's Parliament in December 2005, Alusi was politically active in opposing human rights abuses in Iraq. In 1976, while studying aeronautical engineering in Cairo, he was sentenced to death in absentia by Saddam Hussein for circulating anti-Baathist flyers. He fled to Germany, where he lived in exile and went into the textile business. He continued opposing Saddam Hussein's tyranny by joining the Iraqi Opposition Coalition, a group of Iraqi exiles dedicated to Hussein's removal from power.
In November 2003, he returned to Iraq, accepting a leadership position in the Supreme National Commission of de-Baathification, a body dedicated to removing top Baathists from Iraq's post-Saddam government.
This entry was written by Heather Robinson and posted on August 21, 2014 at 2:23 pm and filed under Features.