How Men Are Like Apples: A Rosh Hashanah Meditation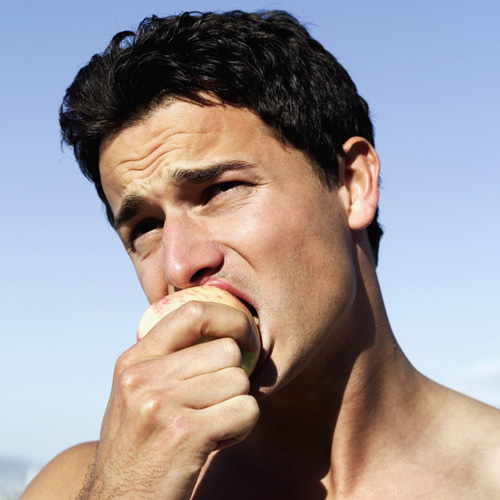 In the late summer days before the onset of Rosh Hashanah, I went shopping for apples at the Union Square Greenmarket in Manhattan. Strolling past tables of farmers hocking their wares and couples walking hand-in-hand, I thought about how men can be like apples.
Since apples partnered with honey are a Jewish symbol for a sweet new year, and for a single person, Rosh Hashanah represents the start of a new year of possibilities to find the right life partner, I started to wonder if the same strategies I use for choosing apples could be applied to choosing the right man. (Since I am an apple lover and very good at choosing them, I figure this meditation might be fruitful).
For instance, obviously, in the case of both apples and men, appearances can be deceiving. And in both cases, there is a range in terms of preference.  Hashem designed the universe so no two apples – or human beings – are exactly alike. So we go out into the world seeking that ideal balance of elements in another, to compliment ourselves. By that logic, it makes perfect sense that we'll encounter some disappointments until we are satisfied.
Below I've broken apple qualities down into a few basic elements, to serve as a guide to choosing them – and men.
1. Firmness: Have you ever gotten excited about a big, firm-looking Red Delicious apple, only to get it home and discover it's all soft inside? This happens with men, too. My friend Talia recently dated a tall, handsome attorney who had no fear of confrontation, whether it was with litigants in a courtroom or with people at the movies who were putting their feet on the back of the seat next to Talia's. She admired his backbone. But when she tried to discuss with him what she felt was not working so well in their relationship – that she wanted him to ask more questions about her, and to listen more carefully when she told stories about her life – he ran scared, ending the relationship.  A man, like an apple, should be able to stand firm despite obstacles.
2. Sweetness: For me, there's little worse than lusting over a beautiful, waxed-up apple gleaming like a vision, only to get it home, take a bite and discover – huh? – it's not even all that sweet! Unfortunately, when it comes to apples, it can be very difficult to assess sweetness based on looks, and you never know till you taste one. Fortunately, when it comes to men, it is a lot easier to assess sweetness before you take a bite. Just spend a good chunk of time with him – at least a month – and if you're paying attention, a man will reveal his nature. Remember: no matter how firm and gorgeous your apple (or man) if he's not sweet, it's no treat.
3. Tartness: This would be analogous to liking a man with edge, or a bad boy. Most women like a bit of this quality, as they associate it with confidence. Nothing wrong with that. But the balance of sweet and tart is important. My friend Becca has a jazz apple fetish; she says, "They are crisp, firm, hard, tart, and last a long time." Similarly, her taste in men runs toward musicians who make passionate love to her and involve her in long-term relationships that ultimately go nowhere. Often too, they sport a sarcastic sense of humor and made jokes at her expense.
4. Beauty/shine: My favorite apple is a Mutsu, which tends to be an ugly apple. Large, often asymmetrical, weirdly colored (they are yellowish green and often have brownish spots that are harmless and not indicative of any internal disease). But one bite and I'm in heaven. They are firm, tart, deliciously sweet without being cloying, juicy without being messy, and somehow surprising every time! In contrast, my friend Alexa likes perfectly symmetrical, shiny Mcintosh apples. A beautiful woman in her early 40's, she tends to pride herself on attracting handsome younger men, but all too often these guys seem more interested in the moment than in building the right long-term connection. While I would never disqualify an apple – or  man – for being beautiful, keep in mind the outside is probably the least important indicator as to whether you will be happy once you buy that apple.
5. Size: Much has been written and said about this quality when it comes to men—er, apples. One of the only men I've truly loved – a friend who handled my feelings like the mensch he is – is a smaller man, but in stature only, not in intellect, strength, initiative, or courage. When it comes to apples – and men – size has no bearing on sweetness or firmness. Bottom line: it does not matter. At least not to this woman, which is why I've often suspected my beshert might be a smaller guy. Come to think of it, smaller apples may be, on the whole, more firm. Hmmmm. Truth is, I like apples – and men – of all sizes. Men, like apples, are created by Hashem with great variety and I appreciate that.
6. Freshness: Obviously no one wants an apple on its way toward its demise. But a good apple, like a good man, can last a long time. Don't be too hasty in passing over an apple that may have been waiting around the market a little longer than you think ideal. Just because no one has picked it yet does not mean anything is wrong with it. It may have a few bruises or marks you'll need to pare away, but its insides may be just as firm as that of a fresher apple, and time may have enhanced its sweetness.  And men have a longer shelf life than apples.
I wish you all best of luck in your search for the right apple – and partner. And while, if you get a rotten apple you can make applesauce, the best advice if you have a bad experience with a man is to turn it to your advantage in finding The One you seek. L'Shana Tova!
This entry was written by Heather Robinson and posted on September 12, 2013 at 3:59 pm and filed under Features.