Miss Israel, Yityish Aynaw, Dishes With Blueprint

From NY Blueprint
by HEATHER ROBINSON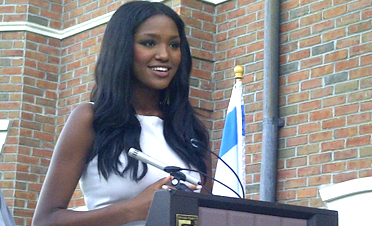 Yityish Aynaw, Israel's Ethiopian-born beauty queen, mingled with New York singles Tuesday evening at a Manhattan rooftop party underneath a celestial sky. Crowned in February, Aynaw is the first black Miss Israel. In recent months, she has wowed audiences around the world and in March met with President Obama. Known to many by her nickname, "Titi," she came to New York this week to raise money for a community center in Netanya for at-risk youth, but at Tuesday's party, hosted by Manhattan internet entrepreneur Ari Ackerman, the gracious beauty made time to speak with Blueprint (with help from a volunteer translator) about her love for Israel, her recent trip to her birth country, Ethiopia, and the controversy concerning Ethiopians who claim Jewish ancestry and wish to come to Israel. We also discussed shoes and men.
Blueprint: I'm delighted to meet you. I even dressed up (this isn't my typical reporter outfit).
Titi: You look great. I love your shoes.
Thank you. I guess if Miss Israel says my shoes look good, they look good.
Yes.
Speaking of shoes and clothes, I've heard that some members of the Ethiopian Jewish community are conservative and traditional. Did anyone within your community, like the older people, object to you appearing in a bathing suit with heels for a beauty contest?
They don't care about this; they care that I am a beauty queen and I'm Ethiopian. They feel very very proud about this.
Good to hear that they have an open mind.
Yes, the community has big support for my choice to be in the competition.
Wonderful. When you travel the world, in Europe and elsewhere, do you hear this accusation against Israel, that Israel is an apartheid state? Do you use your story to counter this?
I am not representing Israel on the political side. But as a Jew I believe Israel is my home, and the place I belong. Most of the places I have traveled, I got support and a big hug and people loved the story I shared… When I meet people, they don't ask me about politics… but about myself, my story, and how Israel [got] me as Miss Israel.
But do you ever encounter any prejudice against Israel?
Nothing at all.
Well, you are a good representative. Have you done a lot of traveling as Miss Israel, say to Europe?
I was in Rome, on TV, in Switzerland, also just returned from Ethiopia last week.
Yes, I read about that. You returned to where you were born. Do you want to talk about why you went?
The trip to Ethiopia, it wasn't simple. It opened emotions and memories from the past. I had two main goals for the trip. First, I went with La'Isha magazine [which sponsors the Miss Israel pageant, and] which belongs to Yedioth Achronoth newspaper… The newspaper helped me to bring my family, my uncle who is from Ethiopia, to Israel to make aliyah. It's one reason I traveled to Ethiopia. The [other] reason I flew to Ethiopia is to see Jewish life there now, what's going on, why the process is so slow, why things are working like that.
Yes. Is there anything you'd ask Israel's government to do, to help to bring more Ethiopian Jews to come to Israel?
They want to come to Israel and they have to come to Israel. There's a lot of [bureaucracy] on the way to Israel… I tried to understand why the process is going so slowly and can't just bring them fast. The [priority for me] was my family.
Of course.
My family was not on the list to come to Israel, and they are Jews, and they are recognized as Jewish, and without my support and involvement, they would never have the opportunity to come to Israel.
So would you say some people who are Jewish are still there in Ethiopia?
Yes. A lot more Jews have to come but this is [a] government [issue].
I know it's controversial. But it seems to me it proves there are some Jewish people still there if your family is.
The problem is, Israel never established a committee which was able to… check what is going on…
To check who is really Jewish and who is not?
[Yes], who is really Jewish and who is not. They [have] actually recognized the previous list which was established many years ago and [have] not followed the new list. On that [new] list [are] still a lot of Jews who live in Ethiopia.
And they are waiting to come?
I don't know if they will come or not. This is something that was very hard for me. To look and to see the children and the families.
I see. I hope you don't mind my asking some serious questions. I do have some lighter questions, too.  Since you were crowned Miss Israel, do guys ask you out or are they intimidated?
They are like bees around honey. My life has changed from one point to another, extremely. Aside from Miss Israel, which I already have, it has helped develop my career and I feel I have the opportunity to help other people who surround me. When I'm in Israel, I speak in front of groups of soldiers, and aside from speeches, I am promoting my project, which is why I've come to New York.
Yes, tell me about what brought you to New York.
I came all the way to New York to raise money. It's a joint venture with the Netanya Foundation. I want to take children, after school, in Netanya, and find them activities. Today they don't have any programs and they are looking on the street [for something to do].
What kinds of activities?
I want to open a community center. It will be lectures, as well as sports, culture, education, for kids 13 – 18, to help them develop themselves.
I know you met President Obama in March. Did you see him this time too?
No, he's busy.
I read you were going to ask him to release Jonathan Pollard. Is that true?
I didn't have much time to talk with him about this issue; I had only one minute. I know the story of Jonathan Pollard very well. When I was in school, we had a school event for Jonathan Pollard.
I know many people feel he was treated in a way that was uneven compared to other people.
I know that. I believe he has to be released but it may be [better handled] quietly.
Last question, what is the best thing about serving as Miss Israel?
Wow, I've learned a lot of things, and many good things have happened to me. Sometimes I think I'm in a dream because too many good things happened for me. I'm very happy to represent the State of Israel because I love my country. It is an honor for me to represent the State of Israel. It is hard work, and I feel happy with that.
This entry was written by Heather Robinson and posted on June 16, 2013 at 9:05 pm and filed under Features.