Hebrew charter school leaves teachers, parents in the lurch

From The Jewish Standard
by HEATHER ROBINSON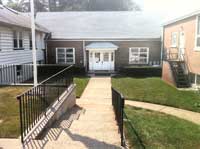 Teachers and parents are scrambling to make alternate arrangements in the wake of the announcement July 15 by the New Jersey Department of Education that Shalom Academy, a Hebrew-language charter school, will not open in September. The DOE announced that the K-5 school was being given a "planning year" and would not open before September 2012.
In June, the school failed to pass the state's "preparedness review" because, said Justin Barra, a spokesman for the state education department, "Shalom Academy didn't have a certificate of occupancy to move into their building, which is one of the key pieces of our readiness review."
Since missing the June deadline, Shalom Academy, which was supposed to open in Englewood, reportedly made an arrangement to be housed in Teaneck instead. On the day of the state's announcement, the school obtained a certificate of occupancy for rooms in the Sunday School building at the rear of St. Mark's Syrian Orthodox Cathedral in Teaneck. The certificate, however, allowed for only 89 students and four classrooms. Earlier this year, the school announced that it had registered 160 students for grades from kindergarten to fifth grade.
On July 20, DOE spokeswoman Allison Kobus told The Jewish Standard that while Shalom Academy had filed a "certificate of continued occupancy," that document "is not sufficient to allow the school to open." She did not elaborate.
Parents of prospective students and engaged teachers received an e-mail on July 15 informing them that the school would not open this year. "SACS submitted our documentation including fiscal requirements, purchase orders, curriculum, lease, 'educational' use zoning, certificate of occupancy, satisfactory facility inspections, policies and systems, staff and enrollment, etc.," the e-mail read. "However, we were not given certain certificates in time for final approval. We sincerely regret that many of you will be inconvenienced by the State's decision and hope you will reapply for the 2012 school year."
Nine new charter schools passed the state's preparedness review and will open their doors in September. Twenty proposed charter schools in addition to Shalom Academy were granted a "planning year." One proposed charter school was not granted a planning year "because it failed to demonstrate sufficient progress towards readiness," according to the DOE.
Barra, the DOE spokesman said, "As far as I know, the academic requirements were in place."
The announcement that Shalom Academy would not open in September was greeted with shock and dismay by teachers who say they are in a quandary about what to do for work in the coming year.
"I was so looking forward to this school. I was tasting it already that I'll be working," said Simonne Baum of Paramus, who had been hired as an assistant teacher. While she stressed she is hopeful the school will open in 2012 and that "it will be the best school in Bergen County," she choked up during an interview with the Standard, saying, "I need a job. All I want to do is work. The school was supposed to be open."
Baum, who comes from Haifa, Israel, was looking forward to using her Hebrew at the school. She says she has been looking for a full-time job for a year since budget cuts forced her from her job at the Solomon Schechter Day School of Bergen County in New Milford.
She is not aware of any provision being made by SACS for its teachers, who were supposed to start work on Aug. 28.
"I had signed a contract," she said. "[There was] no clause about God forbid it doesn't open…, so I'm back to square one." At present, she works part-time with fifth-graders in the after-school program at Temple Beth Or in Washington Township.
Shalom Academy "is going to be an amazing school once it opens. I feel it in my heart," she said. "I really want to be there, to use my language to teach and do amazing activities with the children."
In the meantime, she said, "I need a full-time job this year to keep me afloat."
Another teacher, who asked that her name not be used, said that she is likely to be unemployed for the year because of Shalom Academy's failure to open. She said she and other teachers hired by the school were upset and angry.
"We were under the assumption 100 percent that we had a job," she said. "I signed a contract, for God's sake."
She said she was not aware of any clause in her contract stating that employment was conditional on state approval.
"I would have been looking over the past month and a half" for another teaching job, she said, had she been made aware the school's opening was uncertain.
"You can't imagine how upset and betrayed I feel," she said. "It's tough to find a job anyplace these days, let alone if you are a teacher and school starts in September."
Moreover, she is outraged by what she perceives as a lack of accountability on the part of the school's founder, Raphael Bachrach, an Englewood businessman, as well as the state.
"The [state] board of education should take some responsibility. They are saying, 'Sorry, we can't help you to find another job.' I was led to believe I'd start work at the end of August and now I have nothing."
She said her phone calls to Bachrach have not been returned. He did not return this newspaper's call for comment as well.
"To get this e-mail before Shabbat [and read], 'Sorry for the inconvenience,'" she said, was outrageous. "This is more than an inconvenience.…Who's going to pay my bills? I told people I was starting work at the end of August. It's humiliating."
She said she knows several teachers who left jobs at other schools to take positions at Shalom Academy.
Teachers are not the only ones affected by the school's failure to launch in September.
"What about the children? Where will they go?" Baum said.
While no parents responded to the Standard's request for comments, posted on Teaneckshuls, many are complaining about the situation on the Bergen County Yeshiva Tuition Blog (http://200kchump.blogspot.com/), an online forum run by a parent who describes himself as "an average full-tuition paying parent at one of the local Bergen County yeshiva day schools."
Administrators at Yavneh Academy and Ben Porat Yosef, both in Paramus, said they are seeing an increase in last-minute applications for September for children whose parents had planned to send them to Shalom Academy.
Ruth Roth, director of admissions and public relations at Ben Porat Yosef, said she has heard from "a number of parents" of students who had been enrolled in Shalom Academy. While she said that because her school is "growing" it has been able to accommodate several new families at the last minute, other schools cannot do so as easily. "It's a staffing issue," she said, noting that some schools in recent years "had to close classes and combine and consolidate" others. She is hopeful some of the schools will "step up and take back" their former students.
"Yavneh has received a number of inquiries and applications from families who had enrolled their children in SACS," said Rabbi Jonathan Knapp, principal of Yavneh Academy. "We are trying our best to accommodate as many students and families as we can."
This entry was written by Heather Robinson and posted on July 23, 2011 at 10:24 am and filed under Features.