N.J. lawmakers act to protect volunteers who drive: Federations sought measure, which would help Meals on Wheels

From The Jewish Standard
by HEATHER ROBINSON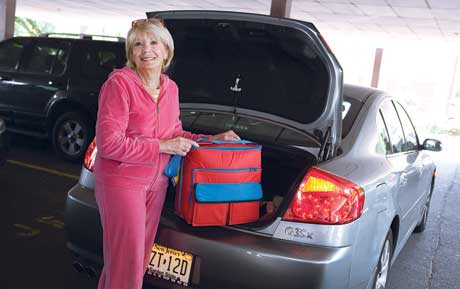 "No good deed goes unpunished," or so the saying goes. But an alliance of New Jersey nonprofits has enlisted a bipartisan group of legislators to prevent that maxim from applying to volunteer drivers in the Garden State.
The move was prompted by a survey conducted by the non-profits, including the New Jersey State Association of Jewish Federations (NJSAJF). It showed that some charities shy away from recruiting volunteer drivers because of concerns that auto insurance companies will raise volunteer drivers' rates, or that the volunteers would be subject to greater liability payments in case of accidents.
The legislators responded by introducing bills to prevent either from occurring. Meals on Wheels and programs to drive the elderly to medical appointments could be especially vulnerable without such protection.
"We wanted to close every loophole so that someone who volunteers his or her time will have no liability at all other than the standard liability of driving a car," said Sen. Robert Singer (R-30), co-sponsor with Sen. Robert Gordon (D-38) of S2249, which would protect the interests of volunteer drivers.
"The second part is, we wanted to make sure there would not be any surcharges or additional charges [for volunteer drivers] from the insurance companies," Singer said.
Reps. Valerie Vainieri Huttle (D-37) and Ronald Dancer (R-30) introduced a corresponding bill (A3523) in the State Assembly.
The immediate prompt for introducing the legislation, according to Singer, was some insurance companies' possible plans to raise rates of coverage on volunteer drivers.
"It was brought to our attention that some insurance companies are considering surcharging people who are using their own vehicles to do volunteer work," he said.
Huttle said she was moved to introduce the legislation after being approached by Jacob Toporek, executive director of NJSAJF, and Linda Czipo, executive director of the Center for Non-profits, an umbrella organization that provides resources to non-profit agencies.
"Jake Toporek and Linda Czipo had been talking to me about some of the issues they face with the senior population [and] transportation is the number one issue," said Huttle. "Frankly, they have difficulty recruiting and retaining volunteers [to drive,] and this bill would help."
In addition to preventing insurance companies from raising rates for individuals because they are volunteer drivers, the bill would protect those drivers from increased liability in accidents. The bill would not give volunteer drivers any special legal protection in an accident, but it would prevent someone from obtaining additional damages because the driver was a volunteer, Singer said.
Should the legislation succeed, said Huttle, volunteer drivers would "not need to be afraid of anything extraordinary" because they were volunteers.
Toporek emphasized the fact that the fears are theoretical, not actual; at least, not yet. "There have not been any known complaints…where an individual has seen [insurance] rates rise because of being a volunteer driver," he said. Nevertheless, social service organizations "have indicated they are having trouble recruiting volunteer drivers because of these concerns."
The NJSAJF sees this legislation as part of a long-term plan for dealing with an aging population, especially if fiscal hard times continue.
"New Jersey has more than one million seniors, and by 2030 it'll be 2.5 million… so the idea is, how do we deal with senior transportation issues?" said Toporek.
The many organizations that rely on volunteer drivers include Jewish Family Service of Bergen County, which uses over 200 volunteer drivers to coordinate delivery of Meals on Wheels, the free food program for the homebound elderly.
Other programs relying heavily on volunteer drivers include those for the blind and visually impaired, and services that provide seniors and the disabled with access to medical appointments.
The case for the pending legislation has been reinforced, Toporek said, by a survey conducted recently by the NJSAJF, as well as the Center for Non-Profits and the New Jersey Foundation for Aging. The survey polled over 130 non-profit administrators whose agencies provide assistance to the elderly and/or the poor and disabled across the state.
It uncovered three relevant findings, according to Toporek. First, more than half the non-profit responders reported having trouble recruiting volunteer drivers. Second, over half of the non-profit agencies that do not use volunteer drivers cite organizational liability concerns as the main reason. Third, over 40 percent of responders that do not use volunteer drivers point to prospective drivers' concerns about potential liability.
Another of the survey's findings is that 82 percent of non-profit responders believe that a law along the lines of the legislation now pending would be helpful in recruitment and retention of volunteer drivers.
The Assembly bill is before the Financial Institutions and Insurance Committee. The senate bill is in the hands of the Commerce Committee.
Both legislative houses are expected to vote on the legislation later this year or in January, an aide to Huttle said.
This entry was written by Heather Robinson and posted on July 16, 2011 at 4:30 pm and filed under Features.