Write On For Israel program prepares teens to stand up for Israel on campus: Local student recognized for pro-Israel advocacy

From The Jewish Standard
by HEATHER ROBINSON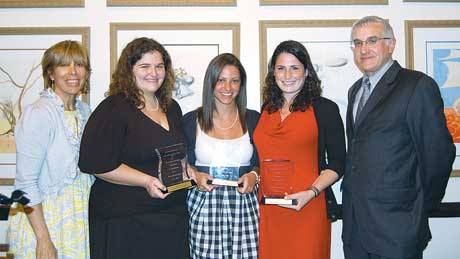 Over the past year, as anti-Israel events on campus surged in what one professor characterized as an anti-Israel "drumbeat," pro-Israel students at Rutgers University refused to sit quietly and be drowned out.
Among those striving to make pro-Israel voices heard was Rutgers student Sam Weiner.
Weiner, who will be a senior next year, says he was helped in learning how to respond to anti-Israel students by his work with Write On For Israel, a program in which he trains high school students in countering efforts to demonize and de-legitimize Israel.
"People whose business cards I got through Write On made networking much easier.… I had relationships," people to talk to and ask, "'Here's what's going on. Can you send us some information and send us a speaker?'" said Weiner, who along with five other students was to be recognized Thursday evening for his work as an adviser to younger students in the program.
Created in 2002 by Jewish Week Editor Gary Rosenblatt of Teaneck and former CNN Correspondent Linda Scherzer of Closter, the program seeks to instill in students the confidence, knowledge, and skills to make Israel's case in the classroom and beyond.
"We discovered along the way they needed skills not just outside the classroom … but also dealing with professors, who may be putting out information that at worst is factually inaccurate and at best is grossly unbalanced," said Scherzer, who in addition to covering the Middle East for CNN during the 1980s traveled in the Arab world to produce a documentary, "Through the Eyes of Enemies: Is the Middle East Ready for Peace?" She added, "Students are in a position where, these are the people who are grading them, authority figures … and they are sometimes intimidated."

The two-year program focuses on writing and advocacy. It has "graduated" 350, among whom dozens, according to Scherzer, have gone on to assume leadership positions on college campuses across the country.
Applicants must submit an application including two essays, transcripts, and references. Forty high school seniors and 44 juniors are participating this year.
First-year participants meet for seven day-long sessions at Columbia University's Hillel building, where they practice composing letters to the editor and opinion pieces.
"We work with core groups of students to develop the abilities to look at the press and the way it writes and speaks about Israel, [and] to respond as succinctly and effectively as possible," said Weiner.
Numerous students' letters to the editor have been published, including one recently in The New York Times.
Another component of the program is education in Israeli history, taught by Rabbi Yotav Eliach.
"Students are responsible for a large amount of information; this is the story [of Israel]; we need them to know it backwards and forwards," said Weiner.
They also hear speakers, including such prominent journalists as Bret Stephens, foreign affairs columnist for The Wall Street Journal, and Israeli officials such as Ido Aharoni, Israel's consul general.
Write On For Israel also serves as a "feeder system," according to Scherzer, to the world of pro-Israel advocacy.
"We are giving them contacts" with people from organizations like AIPAC, StandWithUs, and Hillel, she said.
In the middle of the year, the juniors travel to Israel on a week-long excursion and meet with Israeli politicians and foreign ministry officials.
Arik Legman, 17, a junior at Northern Valley High School in Demarest, attended the AIPAC Policy Conference last month with a delegation from Write On For Israel and wrote about the experience for the newsletter of his synagogue, Temple Emanu-El in Closter.
He also traveled to Israel as part of his participation.
In an interview, Arik described the Write On For Israel trip, including visits to Sderot ("We saw how close Gaza was") and to army bases. But it was his conversation with an Israel Defense Forces company commander he remembers most.
Returning from the Golan, the group met with two of Eliach's former students who are now serving in the IDF. One told them that "he does his job which is to keep Israel safe, and he can't do his job unless we do our job, which is to explain to the world why Israel does what it does.
"Someone who every single day has to wake up and try to keep Israel safe — this high-ranking officer — is telling a group from New Jersey that our participation is important to his work and important to the survival of Israel," Legman said.
The trip and other elements of the program are funded by the Avi Chai Foundation.
Write On For Israel also has branches in Chicago, Cleveland, and San Francisco.
For information, visit www.writeonforisrael.org.
This entry was written by Heather Robinson and posted on June 27, 2011 at 5:52 pm and filed under Features.