Ramapo College to offer new minor in human rights and genocide studies: Program to promote student internships with New York City-based organizations

From The Jewish Standard
by HEATHER ROBINSON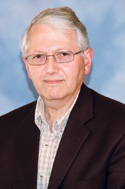 Starting this fall, Ramapo College of New Jersey will offer its students a minor in human rights and genocide studies. It will be the first program of its kind in New Jersey's state college system, according to Michael A. Riff, director of the Center for Holocaust and Genocide studies at the Mahwah college. "I think we are the first college in the New Jersey state system that has been able to launch a minor like this," he said. "At least when we started looking at the possibility about a year and a half ago, we were alone."
The minor is being offered under the auspices of the college's School of American and International Studies. Rebecca Root, assistant professor of political science and international studies, is to serve as convener of the program.
Other schools nationally that offer similar minors include the universities of Connecticut and Chicago.
Riff says he, Root, and Hassan Najad, dean of the School of American and International Studies, conceived the idea because Ramapo already offered a range of courses on human rights and genocide, including the Holocaust.
"That was an important part of this initiative," Riff said. "We discovered we had more than a sufficient number[of courses] to possibly launch a minor."
Courses to be offered as part of the minor include Jews in 20th-Century Europe and Paradigms of Genocide, both taught by Riff, as well as Human Rights in Latin America, taught by Root. Other offerings will include Literature and the Holocaust, Sociology of Race Relations, and Women in Middle East Societies.
In his class on genocide, Riff discusses the Holocaust, the Armenian genocide, and the genocides of Christians and Darfuri Muslims in Sudan.
The minor combines the study of human rights violations and the study of genocide because of the historical connection between the two, according to Riff.
"Violations of human rights often precede genocide," he said.
Before developing the new minor, Ramapo administrators polled students and discovered there was interest in the idea. Brandon Flanagan, 20, an international studies major who will be a senior in the fall, intends to pursue the minor.
"Three years ago, when I first showed up at Ramapo, I went to talk to Dr. Riff, before the minor was proposed," said Flanagan. He said that, since he hopes to attend graduate school and to enter the field of human rights, he is "grateful" for this minor.
One course in particular he found memorable, which will be available in the fall as part of the minor, is International Migration and Human Rights, taught by Behzad Yaghmaian, professor of political economy. "It focused on the sociological impact of certain global economic policies, how they forced people to move, and resulted in human rights transgressions and violations," said Flanagan. "There was some background on displaced populations after the concentration camps were liberated in the 1940s, how … the idea of a universal declaration of human rights stemmed from that and has been applied to other populations."
Riff intends to develop linkages to human rights and genocide-prevention organizations in New York City to promote cooperative research projects and internship opportunities for students.
"One thing we want to facilitate … is students doing internships," he said. "Since we are in the New York metropolitan area it should not be that difficult."
Possible options for students seeking internships through the program include the United Nations, the Jewish Foundation for the Righteous, the Museum of Jewish Heritage, Human Rights Watch, and the Anti-Defamation League, he said.
This entry was written by Heather Robinson and posted on June 11, 2011 at 11:56 am and filed under Features.