Won 'Jeopardy!' (What did the rabbi do on Monday?)

From The Jewish Standard
by HEATHER ROBINSON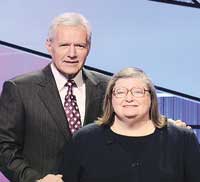 Jews have a reputation for answering a question with a question. That might help explain Rabbi Joyce Newmark's big news — she is a "Jeopardy!" champion.
In the episode of the television game show that aired on Monday, Newmark had no problem defeating two other contestants and finishing with $29,200.
In Tuesday night's episode, she came in second, losing to challenger Lisa Bloomberg of Minneapolis, Minn.
"Once Lisa hit the third daily double I knew it was over," Newmark told The Jewish Standard on Wednesday.
Newmark, who served as rabbi of Cong. Sons of Israel in Leonia from 2000 until 2005, says she enjoyed her turn in the spotlight and was proud to represent her community.
"If you check out the Jeopardy website, you'll see [contestants'] promos for local TV stations, and mine is distinctly Jewish," she said.
In another video that appears on the site (www.jeopardy.com), which features interviews with contestants in its "Winners' Circle" section, Newmark mentions Teaneck and Cong. Beth Sholom, the synagogue where she is a member and which hosted a viewing party Monday night.
"About 60 or 70 people came for the dinner, a bunch more to watch the show," said Newmark. "It was lots of fun."
"Every time she gave the right question we all cheered, and every time someone beat her we all booed," said Janice Rosen, a member of the congregation who is classified advertising director for this newspaper.
Newmark said she enjoyed her discussions with Jeopardy host Alex Trebek, who told her off camera that in his observation the best Jeopardy players are students, teachers, and lawyers.
"If you think of how rabbis spend our lives studying Torah, a lot of the material we study is legal, so we're the ideal Jeopardy contestants," Newmark said.
The first episode, which was recorded Feb. 2 in Culver City, Calif., aired 20 years to the day of Newmark's graduation from the Jewish Theological Seminary.
A member of the first class of Wexner Graduate Fellows, she has served numerous congregations. These days she writes and lectures.
Before attending rabbinical school, Newmark spent more than 15 years in management consulting and banking.
Newmark wore a yarmulke during the taping of the show. The head covering has been part of her garb since 1987.
"The interesting thing is that nobody said a thing about the kippah," she said. "Since I was introduced as a rabbi, they may have just thought it was normal."
Trebek asked off-camera about how long female rabbis had been around and if there were any female Orthodox rabbis.
Once the cameras started rolling, he introduced Newmark as a rabbi, but then went on to ask her about her experience at the Woodstock music festival, where she stayed at a motel rather than camp out.
Before the episode aired, Newmark wasn't able to divulge much about what happened on the show, though she did insist that being a rabbi did not give her a leg up on any of the questions.
Well, maybe one — about which figure in the Bible succeeded Moses as the leader of the Israelites. Newmark certainly knew the correct response ("Who is Joshua?"), but wasn't able to buzz in early enough.
Newmark had auditioned unsuccessfully for "Jeopardy!" in 2006 before her successful tryout in 2010.
At her audition, she was asked to fill out a form informing the producers if there were specific dates when she would not be available to tape. She wrote "Jewish holidays."
Upon receiving the congratulatory call from the show about her selection, Newmark expressed surprise, explaining that she had never expected to be picked.
"We actually were going to call you two months ago," the show official told Newmark, "but it was during Chanukah, so we figured you couldn't come."
This entry was written by Heather Robinson and posted on May 23, 2011 at 1:24 am and filed under Features.