Congressman comes to Yavneh Academy: Rothman cautions students not to 'walk through life with blinders on

From The Jewish Standard
by HEATHER ROBINSON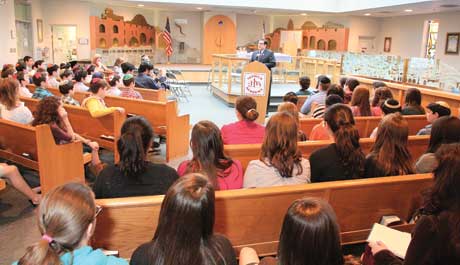 Before a sanctuary filled with seventh-graders at Yavneh Academy in Paramus, Rep. Steve Rothman (D-NJ) placed his hands on either side of his face and pretended to be a horse.
"Most people walk through life with blinders on," the congressman exclaimed while pantomiming a horse's trudging. "They live in their own little community. They don't think about anything else."
Rothman faced forward and lowered his hands. "Now other people," he said, "who take their blinders off, they see things. Maybe they see people being bullied. So they call the principal, call the kid's parents, get a bunch of friends to distract the bully, they do something!"
Rothman came to Yavneh on Tuesday to address the seventh grade as part of the curriculum in a course called Advisory, a "social and emotional class" dedicated to promoting ethical behavior and building life skills, according to Aliza Frolich, director of guidance for the middle school.
"They have learned about the power of political action and Cong. Rothman's visit is meant to be a way to help them practically implement this lesson," Frolich explained.
Rothman addressed a range of topics with the students, including being a Jewish-American member of Congress representing both Jewish and non-Jewish constituents, the importance of the U.S.-Israel alliance, and his view of the importance of civility in politics.
Asked about the fate of Jonathan Pollard, convicted of spying for Israel and sentenced to life in prison, Rothman said, "Mr. Pollard committed an act of treason against the U.S., one of the most damaging acts of treason in the history of the U.S., so it was justified to punish him for this act…. The question is, how much punishment is enough and how does this punishment compare with punishment against others who have committed acts of treason?" He added that he believes that Pollard has been sufficiently punished and should be released.
A girl asked, "But does the information Pollard gave Israel still hurt the U.S. in any way?"
Rothman replied, "I'm told in classified briefings the material he was involved with is still of great danger to the U.S. and the very bad effects of his actions are still being felt."
After several other students asked about Pollard, Rothman said, "One in five American children go to bed hungry every night. Did you know that? How do you feel about that? Do you want to think about that?"
As for the U.S.-Israel relationship, he said that many Americans are strong supporters of the Jewish state because of its importance to U.S. security, citing Israel's location near the Persian Gulf.
"To have a powerful ally right there at that key location, one that shares key intelligence information, is a great advantage to the U.S.," he said. "Israel is a sovereign nation, not a state of the U.S., but we are such close military and economic allies it is as if we are one."
Rothman said he is the first Jewish-American from New Jersey's ninth congressional district, which is 90 percent non-Jewish, to serve in the House of Representatives.
"So how does a Jewish person get elected in a district that's 90 percent not Jewish?" he asked. "It's America, so thank God people get elected in terms of perception of character and the contribution they can make … to the whole community, not just the little section they come from."
Later he added, "I like to say, 'I am half-Jewish, half-Catholic, half-Muslim, [and] I am Chinese-American, Korean-American, Filipino-American," and went on to mention several other dual nationalities.
He stressed that Jews are a tiny minority of the U.S. and world populations.
"Sometimes people in the pro-Israel community … Jewish and non-Jewish, think everybody wakes up every morning all over America and the world, and every day turns on the TV to see if the news is good for Israel," Rothman said.
He asked the students, out of 310 million Americans, how many are Jewish. When a boy answered, "Six million," Rothman said, "Six over 310. Is that the majority? Is that in fact a really tiny fraction?"
He went on to ask what portion of the world's population is Jewish and concluded, "Are we the majority? [Or] are we like a speck of sand on a vast beach?"
One girl asked, "With the recent change of government in Egypt, how do you think this will affect Israel?"
Rothman answered, "We don't know for sure….We've been involved with Egypt and its military and its democratic movement for a while…. Hopefully, we'll prevent a takeover in Egypt [by] a government that would not honor the peace agreement; that would be bad for the United States and Israel."
After his talk, he answered children's questions. One boy asked, "Why can't the U.S. tell Hamas and the [Palestinian Authority] that until they let Gilad Shalit go free, we won't give any aid to Hamas or the Palestinians?"
Rothman answered that the United States does not provide Hamas with aid. Regarding aid to other Palestinians, Rothman said, "We provide humanitarian assistance to some of the Palestinians.… It is our position it is in our best interest and that of Israelis for it to continue."
After the talk, Talia Davidovsky, 12, of Teaneck, said, "He was trying to tell us we should be more open to the world and not just Jewish and Israeli concerns."
"There are other problems besides Israel," said Sydnee Anderson, 13, of Tenafly.
"He said Pollard committed a big act of treason, but Israel should have known that information," said Ayelet Berger, 13, of Teaneck. "The U.S. made an agreement that if Pollard cooperated he'd get 10 years, but they put him away for life. Also, it wasn't actually treason because Israel is a U.S. ally."
This entry was written by Heather Robinson and posted on April 16, 2011 at 11:22 pm and filed under Features.