HaZamir: Teenagers reach for heights in music and spirit: 'Chai anniversary' concert set for Lincoln Center

From The Jewish Standard
by HEATHER ROBINSON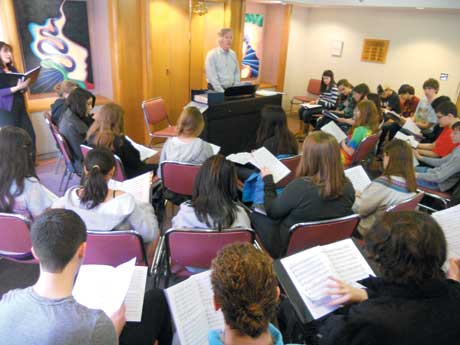 If Shachar Avraham had to give up something, it would not be HaZamir.
The 16-year-old junior at The Frisch School in Paramus has sung in HaZamir: The International Jewish High School Choir for four years. He says that not only is it a musical and social outlet, but HaZamir — which has 19 chapters in the United States and Israel and is now in its 18th year — is, for him, a spiritual gift.
"Music is a passion of mine and to be honest, Jewish music spiritually uplifts me," Shachar told The Jewish Standard. "I do a lot of extracurricular activities, and if I had to give up something, it would not be HaZamir."
This spiritual joy is one part of the vision of Matthew Lazar, founder of HaZamir's high school choir movement and the Zamir Choral Foundation, the umbrella organization that also includes an adult choir, Zamir Chorale.
After joining Zamir Chorale in 1972 as a teenager himself (he participated in the adult choir because there was not one for teenagers at that time), Lazar told the Standard, he "was inspired to create an opportunity for Jewish teenagers to sing first-rate music combined with Jewish texts at the highest level, all within the context of a community," meaning the choir. "I understood as a teen how great it would feel for a teenager to have this kind of experience."
Envisioning a "plethora of choirs" for teens across the U.S. and the world, Lazar started by founding the first, in Manhattan, in 1963. At present, there are 19, including one in Israel.
Twenty-three Israeli teens will join 235 teenagers from chapters across the country, including chapters from Bergen County and North Jersey, in a March 27 gala concert at Frederick P. Rose Hall at Lincoln Center. Sold out for the past month, the concert will be a celebration of HaZamir's 18th birthday — 18 signifying chai, or life, in Hebrew.
The teens will spend the weekend before the concert at the Hudson Valley Resort and Spa in the Catskills rehearsing, talking, and learning from one another, according to Sima Rolnick, coordinator of the Israel chapter, which is based at Katzenelson High School in Kfar Saba, 25 minutes northeast of Tel Aviv.
This social weekend, a HaZamir tradition, enables American and Israeli teens to "talk about being 17 and a half and going into the army as opposed to being 17 and a half and going into college," Rolnick said, adding that the Israeli teens "learn that Israel is important to American Judaism and American Judaism is important to Israel — if we had no support outside Israel we'd die."
Musically speaking, HaZamir combines old and new, according to Leon Sher, conductor of HaZamir Bergen County, which meets on Sundays at Temple Sholom in Teaneck and has 37 participants.
While he says the various conductors have some discretion in terms of musical selection, HaZamir exposes teenagers to a range of Jewish music, including liturgical tunes "from the 1600s" as well as "really cool pop music — remember, these are teenagers."
Sher added, "The kids enjoy doing pop stuff and also very adult, mature-sounding music. These kids … mostly perform off the book," meaning that they sing by heart without looking at sheet music.
HaZamir is social, too.
"Sunday mornings the kids run to one another screaming and hug," said Sher. "It's not just teenage hormones. They feel very connected to each other."
"Whether liturgical, folk, classical, secular, or religious, all are texts of Jewish people," Lazar said.
At the Lincoln Center gala, one selection will be Debbie Friedman's "Shalom Aleichem," performed as a tribute to the composer, who died this year.
Vivian Lazar, national director of HaZamir (and Matthew Lazar's wife), explained that choral music is written for four voice categories: soprano, alto, tenor, and bass. With its dedication to showcasing a range of voices and incorporating various types of Jewish music, the movement seeks to unite Jewish teens across denominations.
"HaZamir bridges gaps and differences among the Jewish people," Vivian Lazar said.
"They're able to express their diverse Jewish identities through singing together in the choral community," her husband added.
Every HaZamir concert ends with performance of David Burger's "Prayer for Peace in the State of Israel."
Burger, a Jewish-American composer, wrote the piece following the Yom Kippur War. It sets to music the text of a prayer written by rabbis in 1948 for the security of the Jewish state — and for peace.
This song, said Vivian Lazar, in the voices of 250 teenagers who have come to know one another through their shared passion for music, "truly becomes a prayer. They are praying for the peace and safety of their friends, who are going to serve in the [Israeli] army next year."
HaZamir Bergen County will be part of a synagogue-wide concert at Teaneck's Beth Sholom on May 22 at 4 p.m. Tickets will be sold through the synagogue office, (201) 833-2620. For information on HaZamir Bergen County, e-mail Ronit Hannan, coordinator, at HaZamirBergen@aol.com. For information on HaZamir North Jersey, call Cantor Joel Caplan, its conductor (973) 226-3600, ext. 116, or e-mail HaZamirNorthJersey@gmail.com. For information on the HaZamir Choral Foundation, visit www.zamirchoralfoundation.org.
This entry was written by Heather Robinson and posted on March 20, 2011 at 4:05 am and filed under Features.