Ex-Iraqi MP urges U.S. to Form Moderate Arab-Israeli Alliance

From The Jerusalem Post
by HEATHER ROBINSON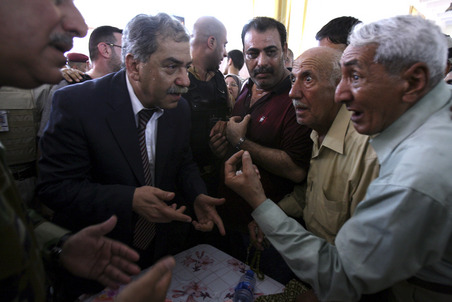 Partnership based on economic interest could give US greater leverage against Iran, says Mithal al-Alusi, whose sons were murdered after he came to Israel in '04.
Oil and water don't usually mix. But one native son of the Middle East has a suggestion for US President Barack Obama on how to combine these elements to promote peace in the region.
Mithal al-Alusi, a former Iraqi parliamentarian, believes a key to Mideast peace lies in the Strait of Hormuz, the passage for oil transport between the Persian Gulf and the Indian Ocean vital to several Arab countries.
Alusi, who served for nearly five years in the legislature and continues to promote cooperation among Arab nations, the US and Israel, suggests that Obama organize a conference of moderate Arab states to demand the Strait stay open no matter what. (Opponents of the idea of a military strike on Iran's nuclear facilities frequently cite the possibility that Teheran might close the Strait).
Because it would be based on the economic self-interest of Arab countries around the strait, the conference would bolster an alliance among these countries, and could bring them into cooperation with a historic enemy – Israel.
The point of the conference could be: Don't close the Strait of Hormuz; it is an international waterway, Alusi says. Arabs can say, It is about our economy and our security. These are powerful oil exporters, and they don't want the strait blocked.
The Arab countries around the strait that Alusi sees as ideal participants in the initiative – the United Arab Emirates, Saudi Arabia, Oman, Qatar, Kuwait, Bahrain and Iraq – all have a powerful economic interest in keeping the strait open. They also fear the Islamic Republic of Iran and its quest for nuclear weapons, he says.These are small countries and they are afraid of Iran, according to Alusi.
If Obama can leverage their anxieties about Iran's quest for nuclear weapons and the possibility Iran will block the strait, Alusi believes the US president can forge a powerful alliance between these nations and the strongest military force in the region, Israel.
Such an alliance, he maintains, would change the dynamic of Washington's relationship with the Islamic Republic, enabling the US to operate from a position of greater strength.
We can't let Iran play smaller, more moderate Arab countries against each, Alusi says. This conference would block this Iranian tactic, and when we block extremists like Iran's Mahmoud Ahmadinejad and Hizbullah's Hassan Nasrallah, we support seculars, liberals, moderates, and anyone in the Middle East who wants a normal life.
Israel would benefit, too.
It would be looked at as a powerful source of help. All of us have the same worries, the moderates would say. It would also help Israel feel more secure.
Honor is important in the Arab world, where Obama is a respected figure, Alusi says. The US president could elevate the status of moderates by hosting this conference. If Obama organizes this event, the Saudis, the leaders of the UAE and other Arab countries might come even if Israel were invited as a party with an economic and political interest in the peaceful containment of Iran, he says.
Obama's ties to the Muslim world go back to childhood. Having his blessing would help moderates feel better, more confident, Alusi says.
The US president's Muslimfriendly credentials make him the ideal leader to make this bold move, and the time is ripe, Alusi insists. Arab countries have, in their recent actions, signaled increased openness to dealing with Israel. He points to then-vice premier Shimon Peres 2007 visit to Qatar and the official reception of National Infrastructures Minister Uzi Landau in the United Arab Emirates earlier this year.
Moreover, in a dramatic example of Arab concern about Iran, the UAE's ambassador to the US, Yousef al-Otaiba, said in July that the Middle East would be worse off if Iran gets a nuclear weapon than if there were an attack on Iran's nuclear facilities by whomever, presumably including Israel.
If Obama could organize this conference, it could be a first step toward realizing the president's dream of a peaceful Palestinian state alongside a secure Israel, Alusi believes.
Conversely, he argues that if such a conference cannot occur, it would be unrealistic to expect a Palestinian state by 2011.
If such a conference is impossible to organize, how could it be possible to organize something bigger? But if Obama can pull it off, it would be more realistic to organize something bigger.
One step at a time, Alusi cautions.The Palestine issue would not be the center of this conference, he says. That way, the participants would not be burdened by the same old roadblocks.We are talking about a new issue: the need for alliance against extremism, Alusi emphasizes.
Baghdad-bred, Alusi is a Sunni Arab who believes the key to normalcy in the region is rejecting the "Israel complex," the Arab tendency to oppose Israel, and instead, to capitalize on partnership with the Jewish state.
As a former director of the Iraqi interim government's National Commission of de- Ba'athification, he has lost a tremendous amount in advancing the cause of peace. In September 2004, he attended a counterterrorism conference in Israel. After he returned home, insurgents murdered his two grown sons.
Minutes after the attack, he told reporters, "Even if these terrorists try to kill me again, peace is the only solution.Peace with Israel is the only solution for Iraq. Peace with everybody, but no peace for the terrorists."
Alusi remained in Iraq, got his Iraqi Nation Party onto the ballot for the 2005 elections, and was elected to parliament.He served in the legislature for nearly five years and remains a champion of human rights and cooperation between Arab nations and Israel.
He emphasizes that the conflict in the Middle East is not fundamentally between Arabs and Israelis, but between moderates and extremists.
Ryan Crocker, a former US ambassador to Baghdad, believes Alusi, whom he describes as a man of extraordinary personal and political courage, is uniquely positioned to contribute to dialogue about Middle Eastern affairs.Too often conventional thinking takes over and nothing changes, Crocker says.
Mithal al-Alusi is an agent of change.
This entry was written by Heather Robinson and posted on October 27, 2010 at 1:43 pm and filed under Features.