1-800-Mattress.com Founder Thinks Outside the Box Spring

by HEATHER ROBINSON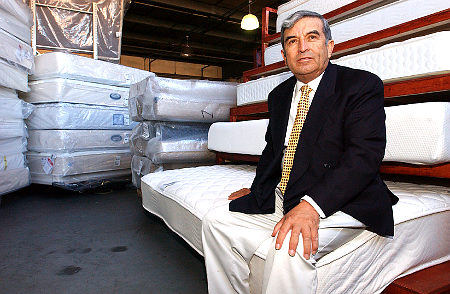 Napoleón Barragán, the founder, owner and CEO of 1-800-Mattress.com, believes in thinking outside the box. In the late 1980s, Barragán approached radio talk show host Howard Stern about advertising on his radio program.
On a recent afternoon at his warehouse and corporate headquarters in Long Island City, Queens, Barragán, 67, chuckles and shakes his head as he remembers.
"He had a blank check to say whatever he wanted and to make fun. He had such influence with his group of listeners — they'd call and say, 'Howard told us to call.'"
A diminutive, handsome man whose graying hair is combed neatly back from his forehead, Barragán imparts some of his creative approach to business — along with instruction on a range of business skills — to students of Newcomers High School in Long Island City and of Queens College, who participate in an internship program he has developed.
From February to June, students come to the corporate headquarters of 1-800-Mattress.com, the largest retailer of bedding by phone in the U.S., where they work in departments including marketing, sales, human resources, customer service and legal operations.
"They get the chance to learn how to manage a business, 24 hours a day, 7 days a week," says Barragán.
Having immigrated to the U.S. from Ecuador in 1968 at age 27, Barragán feels an obligation to give back, particularly to other Latinos trying to make it in the U.S.
"I'm grateful to this country but I don't forget where I came from," he says. "I say [to the students], 'If I can achieve something, you can do better, because you are better prepared.' "
He adds, "The president of Queensboro Community College … said self-esteem in our group — Hispanics — is very low. [But] when they come from high school and then deal with real situations, that confidence improves."
When you're in an industry for so long, Barragán emphasizes, you need fresh minds to bring fresh perspective.
"I'm learning from them as much as we bring to them."
Barragán conceived the idea of the internship program, which has graduated 81 students since 2005, after participating in a partnership program through PENCIL, a nonprofit organization that assigns leaders in business to serve as mentors to principals and students in the New York City public schools.
PENCIL matched Barragán, who lives in Middle Village, Queens, with Newcomers High School, a school for immigrant students that is 50% Hispanic.
Samia Alam, 18, valedictorian of her class at Newcomers High, is one of the students who participated in this year's internship program.
"To see how an immigrant like Mr. Barragán came from another country and succeeded in life — it encourages us," says Alam, whose family emigrated from Chittagong, Bangladesh, 3½ years ago.
A highlight of the internship, she says, was hearing Barragán share his life story. Alam says she wrote her college application essay about her intern experience. She will attend Washington and Lee University in Lexington, Va., this fall.
As part of the internship, students team up into four groups of five to research different aspects of the company, like product dispatching or dealing with customer feedback.
Barragán awards scholarships ranging from $500 to $1,500 depending on the interns' rankings in an "Apprentice"-style competition among the teams.
Alam, whose team won first place this year, focused on a subject dear to Barragán, who was the first retailer in the U.S. to sell mattresses by phone — innovative ideas for using communications in business.
Choosing to study the 1-800-Mattress.com Web site, her team compared it with its competitors and recommended a design change to the Internet chat room — advice Barragán took.
Since 2005, the company has awarded $102,000 in scholarship money to students, about half of whom go on to college in New York.
Barragán, a father of five and grandfather of 12, awards the scholarships through the Luis and Beatrice Barragán Foundation, named in memory of two of his children who died — at age 34 and 27 respectively.
"I was fortunate to be their father, to have children of that quality," he says. "In this program, helping children, I feel I am their agent, representing them. That helps me and motivates me."
On a recent afternoon, Barragán takes visitors on a tour of the warehouse, where employees carry and load mattresses — a job not unlike Barragán's first, at 17, for a beer and soda distributor in Colombia, where he lived briefly in his youth.
"We would put the cargo on a donkey and distribute it to small stores," he recalls.
He speaks of a new policy he's trying out in his Manhattan stores, in which customers can schedule half hour naps during the day to try out different mattresses.
"You try different ways," he says of business innovation. "It's a constant process of learning."
Another of his early jobs was as a kindergarten and elementary school teacher in Colombia. The internship program, he says, is an outlet for him to express his love of education, and to give back.
"When you do something for somebody," he says, "You don't need a psychiatrist."
This entry was written by Heather Robinson and posted on June 25, 2008 at 11:57 am and filed under Features.