Helping Mexican Immigrants Find Dignity — and a Better Life

by HEATHER ROBINSON
March 3, 2007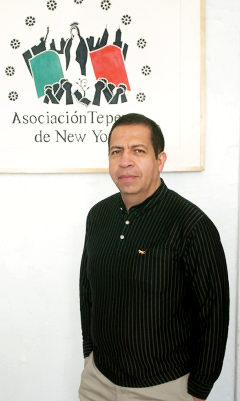 Joel Magallan
Former Brother Joel Magallan has headed the Association Tepeyac for 11 years.
"Our Lady of Guadalupe is an icon of dignity," says Joel Magallán, the head of the Asociación Tepeyac de New York, explaining the symbol the group has adopted. "That's what the people are trying to find, they are struggling for dignity."
Magallán, 48, a compact man whose solemn appearance expands in a broad, warm smile when making a joke or calling to Morris, a brown-and-white pit bull he has unofficially adopted, has dedicated his last 11 years to helping New York's growing Mexican community.
He speaks of Mexican immigrants with a quiet pride, compassion and admiration even if they are often referred to just as "illegals" in political debates, and even reviled on the national stage as a drain on America's resources.
"[Tepeyac is] dedicated to immigrants who are trying to survive, and to find a better life for their children," he says.
Magallán was a Jesuit Brother until last year though he still uses the religious title. He estimates that about 95% of the Mexican immigrants in New York City are undocumented. Total population estimates vary widely between 250,000 according to the U.S. Census Bureau to 500,000.
They are the men stocking bodega shelves, selling flowers, carrying crates of food and scrubbing floors and dishes in restaurants. Many of the women tend other people's children and elderly parents, and clean apartments.
Far from being a drain on the economy, Magallán says, they help keep it running, as they seek a better life.
To that end, he sees his organization's mission as twofold: helping immigrants adapt to America, and helping the second generation – many of whom were born here and are U.S. citizens – to get a college education.
"Parents have said to me, 'We know how to survive, working [at menial jobs], but we don't know how to help our children,'" says Magallán, who lives on the upper West Side.
Tepeyac maintains an office on W. 14th St. in Manhattan and two community centers – one in the Mott Haven section of the Bronx, and the other in Corona, Queens.
While Tepeyac's principal focus is Mexican immigrants, the majority of whom started arriving in New York in the early 1990s, it serves other Latino immigrants as well.
In all, its programs – including classes, legal services, cultural events, economic development initiatives and health workshops – serve about 144,000 people annually.
After-school programs for children include computer education, literacy and arts programs that draw upon traditions of Mexican folk art and storytelling.
This year, in response to parents' requests and research on the high school dropout rate for the eldest kids in the Mexican community, Tepeyac developed a parent/teacher student support network.
Adult education including English as a Second Language, computer classes and graphic and Web design, have enabled some to open Web design and technical support companies, he said.
Beyond helping Mexican immigrants in their struggle to become Americans, Magallán supports them in maintaining their cultural roots.
"We try to provide people with a reason to fight and face hard times, low salaries, living in crowded apartments, without drinking or giving in to loneliness," he says.
In December, Tepeyac organizes the International Guadalupan Torch Run, a 45-day relay in which a flame is carried from the Basílica of the Virgin of Guadalupe in Mexico City to St. Patrick's Cathedral in Manhattan. In all, millions participate, either as runners or spectators.
Torch runs are a tradition among Catholics who revere the Virgin of Guadalupe, a saint beloved by most Mexicans. She is believed to have appeared in 1531 to Juan Diego, an Indian convert to Christianity, atop a mountain peak called Cerro de Tepeyac.
She represents the dignity of native peoples, according to the Rev. John Grange, a board member of Tepeyac, which takes its name from this legend.
It was Magallán's inspiration, Grange says, to rework this ancient ritual and story into the realities of Mexican immigrants' lives in New York.
"This was Joel's idea. He adapted the custom," says Grange, the pastor of St. Jerome Church in Mott Haven. "He's a terrific organizer who gets people to knock down barriers and realize their skills."
Magallán's own path to his life's work has been unique. As a young Jesuit Brother, his graduate work at Loyola University of Chicago included counseling at-risk youth.
After returning to his native Mexico, his superiors in the Catholic Church recruited him to serve the Mexican immigrants in New York.
After 10 years of building Tepeyac, they called him back to Mexico. But he felt he could not leave the organization, and so last year he decided to leave the Jesuits and continue on as executive director.
"This organization is my mission," he says.
This entry was written by Heather Robinson and posted on March 3, 2007 at 4:56 pm and filed under Features.