Rising to the Occasion

by HEATHER ROBINSON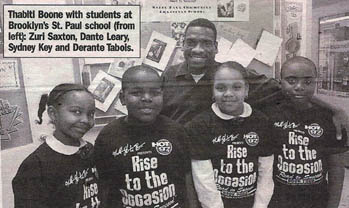 "When you rise to the occasion, there's no 'just getting by,'" says Thabiti Boone of his efforts to be a strong black male role model to inner city children. "My best is connected to my family, my future, my community, and to making the world a better place.
[In the black community,] a lot of out brightest stars don't come back [to the inner cities].
Our young people need real life heroes who come back to them."
An author, activist and educator, Boone, 41, has developed a curriculum, "The Rise to the Occasion—Read to Succeed Book Tour" that uses hip hop music and sports to encourage inner city children to read, study and think critically. It also encourages students to persist in striving for success.
Boone's life story is one of Herculean tenacity in overcoming obstacles.
Born in East New York to a 13-year-old mother, he narrowly avoided winding up in foster care due to the determined efforts of his grandmother, Carrie Cuerton.
He spent much of his childhood playing basketball on courts in East New York—a neighborhood he returns to frequently as an adult.
"I always promised myself if I made it out I would come back, to give back to the neighborhood," he says.
When he was 12, his mother attempted suicide, jumping from the roof of the housing project where they lived. Miraculously, she survived.
So did Thabiti's will.
"I knew there was something wrong with a world that creates these situations," he said. "I wanted to be part of the solution."
He excelled at high school basketball and at his studies, earning a full scholarship to the University of Florida.
Although he dreamed of pursuing a career in the NBA, after his freshman year, he became a teenage father. Upon discovering that he and the baby's mother wanted different things, he made a decision that was highly unusual for a 19-year-old college student: to raise his infant daughter, Kim, as a single Dad.
"I wanted something better for my daughter than what I'd seen in my neighborhood growing up," he says.
He began searching for a school that would enable him to play basketball, study, and provide a good environment—including an apartment—for him to raise his infant daughter.
He found the school in Rochester Institute of Technology in Rochester, NY, where he was eventually elected president of the Black Student Union. He also belonged to Omega Psi Phi, a national African-American fraternity which today helps to sponsor "Rise to the Occasion-Read to Succeed" through its Assault on Illiteracy program.
After graduation, he founded an organization called Fighting Ignorance Spreading Truth (FIST) that runs mentoring, tutoring, and sports-themed programs for inner city youth. He has also developed numerous educational programs–of which "Rise to the Occasion—Read to Succeed" is the most recent– that use sports and popular culture to encourage academic and life achievement.
"Rise to the Occasion—Read to Succeed" requires students to read a different book each month and includes classroom discussions, guest speakers, and field trips.
During a recent lesson for fourth graders at Saint Paul Community Christian School in East New York, Brooklyn, a Big Town reporter and photographer got firsthand exposure to Boone's provocative teaching methods.
The subject was some rap artists' use of a hateful word.
Boone began by speaking about a recent episode of the TV sitcom "All of Us" (UPN) on which a little boy named Bobby guilelessly uses the word, "nigga."
He pointed out that many rap singers use the word to mean "homeboy," or friend.
"Write down what that word means to you," Boone instructed. "If you think it's bad, tell me why; if you think it's good, tell me why.
"Now when I point to you, you're going to share what you wrote."
One by one, the children stood and read responses that included, "I think the word is bad because it's a threat to black people" and "I think the word means homeboy—that's my crew."
"Let's talk about the origin of this word," said Boone. "It comes from Niger, a river in Africa, and Negro, which is a Spanish word to mean black.
"The people who started using this word, they didn't want to know us as individuals.
"Now, is it cool to be treated like you aren't worthy of respect, to be told that if you read and learn, you'll be punished?"
"No," said the children.
"Well," Boone continued. "Do you know what happened? Martin Luther King came along and said, 'I want my little girls to grow up in a country where they will not be judged by the color of their skin, but by the content of their character.'
"So, if you're my homeboy, and I care about you, why am I telling you not to go to school? Now I love MTV, I love BET, I love VH-1, I love Jay-Z, and we're not beating down rap; we love it, BUT–," Boone says, pausing for emphasis. "We have to be mindful about how it dictates our self-image and affects us in the classroom and in our homes."
Local radio stations such as Hot97FM support Boone's message.
"Most parents don't understand hip hop music, and Thabiti is old enough to be a respected figure to the kids, but is close enough to the music to help young people discern the positive from the negative messages," said Barry Mayo, senior vice president and market manager for Emmis Broadcasting, owners of HOT97, 98.7KissFM, and CD101.9.
Presently, Boone is bringing "Rise to the Occasion—Read to Succeed" to over 500 children in nine inner city schools, including several New York Public Schools.
In addition to promoting reading, the program helps them to learn about careers.
Guest speakers include successful black professionals like a fireman, a gynecologist, and the owner of a Burger King franchise.
Field trips include visits to City Hall, Nickelodeon TV Network, HOT97 FM's studios, and New York Knicks games.
Before the games, children have the opportunity to talk with NBA professionals, including executives and accountants. The idea is to expose them to potential career opportunities.
"Through this program, the children get to hear role models' personal stories," said Rita McCormick, principal of Saint Paul Community Christian School. "They need to know it's not always easy, and you don't get there overnight."
Boone's messages seem to resonate deeply with fourth graders at Saint Paul Community Christian School.
"Once Mr. Boone did a chart showing Rosa Parks and L'il Kim," said Sydney Key, 9.
"L'il Kim exposes her body, but Rosa Parks did more important things."
Some spoke of obstacles they encounter and their determination to succeed.
"I think people try to convince you not to learn because they're jealous…they could have gotten an education but they wasted their time," said Dante Leary, 9. "You don't have to be hanging on the corner doing drugs. You can be a pediatrician, a manager, a police officer, a basketball player and many more."
This entry was written by Heather Robinson and posted on May 17, 2006 at 11:10 am and filed under Features.