Jewish Community Helps Victim of Russian Hostage Crisis Recover

From The Jewish Telegraphic Agency
by HEATHER ROBINSON
November 14, 2005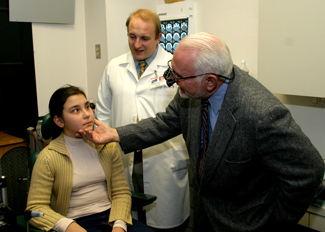 Shifting from foot to foot in Kennedy Airport here, Anya Kadalaeva waited for the plane that would bring her father and sister.
In her jeans and lavender winter coat, her light brown hair pulled back in a ponytail, she appeared a normal 10-year-old Russian girl, except that the left side of her face was heavily bandaged.
In October, Anya came to the United States to receive eye surgery, accompanied by her grandmother and Motya Chlenov, director of the Moscow branch of the World Congress of Russian Jewry, an international organization dedicated to strengthening Jewish affiliation and helping victims of terrorism.
Anya was among the victims of September's Chechen terrorist siege at her school in Beslan, Russia.
She lost her left eye to a shrapnel wound, and her younger sister, Alyona, 7, was wounded in the leg by shrapnel. The girls' mother died in the siege.
In mid-December, Anya will receive an artificial eye implant.
"America is beautiful," Anya said by way of a translator as she gazed at a Christmas tree ornament she received from a well wisher while waiting to meet her sister and father.
Although the family is Christian, the WCRJ contacted Dr. Daniel Igor Branovan, an ear, nose and throat surgeon at the New York Eye and Ear Infirmary, on their behalf.
In addition, both Anya and Alyona will receive psychological counseling while in New York.
"These children we are helping are not Jewish, but children are children," Branovan said. "We are all living in a world threatened by international terrorism. We must all try to help each other."
Because Anya's younger sister was treated in Moscow, their father remained there with his younger daughter until Nov. 9, when the family was reunited at the airport. For the next month, while Anya heals from her initial surgery, the family will spend time in New York and visit Disney World in Florida. She will receive the implant in mid-December.
Although the vision in Anya's eye could not be saved, the sophisticated implant will move in tandem with her real eye. It is made of material most resembling coral and doctors expect that it will not need to be replaced during her lifetime.
The surgery typically costs more than $20,000, but Anya's did not cost her family anything.
Many donors helped to enable Anya to receive the surgery. Branovan secured the help of his colleague, Dr. Robert Della Rocca, to perform the surgery at no cost.
New York Eye and Ear Infirmary absorbed the cost of Anya's hospital stay.
Moscowhelp.org, a not-for-profit organization dedicated to helping terror victims in Russia, will help cover airfare and the trip to Orlando, Fla., and an anonymous Moscow donor teamed up with the New York-based Russian language daily Novoye Russkoye Slovo to shoulder the $2,500 cost of the placement of the implant itself. The WCRJ has coordinated lodging for Anya and her relatives with various families in New York.
The WCRJ's effort to help the Kadalaeva family evolved from the organization's work to help victims of terrorism in Israel.
Along with its mother organization, the Federation of Jewish Communities of Russia, the 3-year-old WCRJ, which has branches in Berlin, Jerusalem, Moscow and New York, raised more than $200,000 last year for Israeli victims of Palestinian terrorism.
That effort marked the first time Russian Jews have raised money for Israelis on a large scale and represents a reversal of the dynamic in which Russians have often relied on help from the Jews of Israel and the United States.
"It is now the turn of Russian Jews who have successfully assimilated to help Jews in Israel and elsewhere," said Misha Shneerson, chairman of the board of the WCRJ.
In the aftermath of the Beslan siege, in which more than 330 people were killed, the WCRJ sent word to doctors in Russia that if any terror victims needed medical help the Russian doctors could not provide, the WCRJ would try to get them such help in Israel or the United States. The organization also sent medical cream to treat burns.
Simultaneously, Anya's family had inquired about the possibility of finding help for her in Israel, a country whose doctors are known for their abilities to respond to terrorism.
"This family was persistent," Chlenov said. "They had heard about miraculous medical operations in Israel, and hoped Israeli doctors might be able to restore the vision in Anya's eye.
"Unfortunately, the vision could not be restored, Chlenov said, adding, "in terms of appearance, this implant is better than what would be available in Russia."
After learning about Anya's need, the WCRJ approached Dr. Branovan, who had performed surgery at no cost in 2000 on Sergey Zvezdin, a 12-year-old Israeli boy who was severely injured during a terrorist bombing of a city bus in Haifa.
In that surgery, using technology not available in Israel, Branovan extracted a bullet deeply embedded in the boy's face and performed reconstructive surgery.
Anya has a piece of shrapnel that is too deeply embedded in her head to be removed.
Anya appears to be functioning normally. When her father and sister got off the Aeroflot plane from Moscow to New York, she hugged and kissed them repeatedly, and showed her sister the Christmas ornaments they had received as gifts.
Psychologically, however, she and Alyona have suffered grave trauma.
"Anya does not want to accept the fact that her mother died in the attack," Chlenov said. He believes traveling to the United States has provided the girls with a change of scene that has helped, for the present, to ease their pain.
"The girls' psychologist in Russia said it was OK to bring them here," he said.
The girls' father, Albert Kadalaeva, who works as a police officer in Beslan, spoke through a translator about what his daughters said happened inside the school during the siege. Due to trauma, he said, their memories are few.
His wife, Irina Kadalaeva, was taken hostage, along with the girls, as she was dropping them off at school.
At one point, his wife was among a group of hostages given the choice to leave the school, but she would not leave without her children.
On the final day of the siege, when an explosion occurred near them, Alyona was injured. She leapt up, and told Anya that they needed to jump out a nearby window. Alyona jumped, and Anya hesitated.
"In that moment, another explosion happened and Anya lost her eye, but was pushed from the window," Kadalaeva said.
Despite his pain, Kadalaeva emphasized his gratitude to the Jewish community for what it has done for his family.
"From the first people I contacted, to the people in whose house we are staying," and for the eye implant "that will be indistinguishable from Anya's other eye, thank you," he said.
This entry was written by Heather Robinson and posted on November 14, 2005 at 5:22 pm and filed under Features.