The Dating Game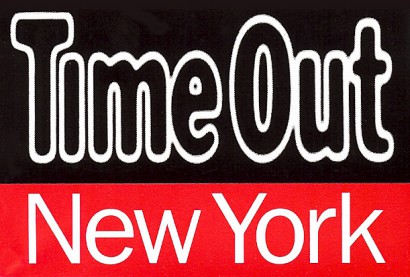 From Time Out New York
by HEATHER ROBINSON
CHECKOUT: A Smart Buyer's Guide to Styles, Shops, Sales, and Services
THE DATING GAME
Photographs by Britt Carpenter
Ask the people who run dating services why their help is sorely needed, and they'll tell you that most New Yorkers are just too darn busy to meet that special someone. But ask me, a single New Yorker who has spent way too many evenings watching Brady Bunch reruns on Nick at Nite, and I'll tell you that I've passed plenty of time at parties, gyms, clubs and bars I still haven't met my prince. At 28, I'm starting to feel ready to settle down and have a baby with a soul mate, so I signed on with-count 'em!-six dating services. Except for one, all the networks specialize in guy/girl matching. Each service took me through its standard protocol, from interview to actual fix-up. I dated 13 new men, most whom I found to be more attractive and interesting than I'd predicted. Although this experiment resulted in lots of fun and amusing experiences, I didn't meet The One. But if your attitude is upbeat and realistic and you aren't meeting a variety of potential partners, it might be worthwhile to invest in a dating service. After all, you can only watch Marcia get in the nose with a football so many times.
Meaningful Connections
575 Madison Ave between 56th and 57th Sts, suite 1006 (877-5151). Subway: N, R to Lexington Ave; 4, 5, 6 to 59th St. By appointment only. One-year membership (minimum six matches), $1,000.
At this straightforward dating service, owner Fay Goldman first conducts an hour-long interview that includes questions about a prospective client's education, career, lifestyle and qualities desired in a partner. Goldman then personally sifts through her client roster (consisting of several hundred people) to try make a match. Clients are guaranteed their first match within two weeks of joining. Goldman maintains that she is choosy about whom she accepts as clients. Despite my offer to interview over the phone and send her a picture of myself, Goldman would not pair me with anyone until I met her at her office, a tasteful midtown suite. Her questions were reasonable and direct ("Do you come from a close family?" "Do you prefer tall or short men?").
I soon realized that Goldman does her homework. The two men I met through her service fit my profile. The first, a corporate executive, had curly, dark hair and striking blue eyes. On our first date, we went downtown to Kiev, where we shared borscht and discussed our immigrant ancestors. For our second meeting, we ate dessert at the St. Regis. Unfortunately, he had this annoying habit of talking about beautiful women he knew. Call me insecure, but it was a turnoff. The other guy, a cute, athletic-looking stockbroker, also took me to some nice places, including a highbrow charity function at an art gallery. Too bad he had a brusque, serious quality. Neither man was my soul mate, but it was pleasant to meet guys who seemed interested in finding a relationship. And the membership cost pretty much ensured that I didn't meet paupers-always a plus.
Social Circles
505-9985, 505-8456, by appointment only. Or go to www.socialcircles.com. Six-month membership $445, one-year membership $575, 18 month membership $695; activities cost extra.
I'm an artsy gal who finds that the places I like to hang out-art galleries and bookstores-aren't exactly hotbeds of eligible bachelors. That's where 18-month-old Social Circles fits the bill. This dating service organizes group activities in which the 700-plus members meet with anywhere from 7 to 25 new singles on a given night. Once you join, you receive a monthly calendar of 30 to 40 events ranging from sky diving to swing dancing. After events where chatting isn't allowed (such as plays), Social Circles typically plans an informal gathering at a bar and ensures that the ratio of men to women is roughIy equal. According to the owners, Graham McAden and Jose de Lasa, the key is providing opportunities. "The point isn't to put you on a date, but to put you in an environment where you can meet potential friends and dating partners who share your interests," says McAden. For my first Social Circles outing, I attended a Mets game. Unfortunately, my fellow singles were mostly die-hard fans more interested watching the scoreboard than in getting first base with me. But my next activity, salsa-dancing lesson at a Tribeca studio, was great. Rotating dance partners provided the opportunity for some very brief eye contact with every man in the room. I saw a few cuties (including a guy with light-blue eyes with whom I chatted afterward over wine and cheese, though neither of us made a move). For my final evening with Social Circles, a group of us went to see De La Guarda, the show in which cast members swing on trapezes above the audience. Afterward, we gathered for drinks at Candela, a restaurant around the corner. A handsome real-estate attorney struck up a conversation with me. I gave him my number, and we went out a couple of times. The first date was great, the second mysteriously uncomfortable; on our third meeting, he stood me up. He later apologized profusely, and I obsessed about whether to give him another chance, then decided to forget the entire episode. Nevertheless, the activities were a lot of fun. In fact, I was disappointed when my temporary membership expired.
It's Just Lunch
120 E 56th St between Park and Lexington Aves, suite 910 (750-8899). Subway: N, R to Lexington Ave; 4, 5, 6 to 59th St. By appointment only. Six-month membership (six guaranteed matches) $775, one-year membership (12 guaranteed matches) $1,000.
It's Just Lunch prides itself on making the search for love more efficient. If you and your date don't hit it off, you don't have to be stuck with the person for the entire, painfulIy awkward evening-because it's just lunch. Arranging dates for lunch or after work drinks, IJL courts upscale professionals, especially corporate types. I interviewed with Tammy Korol, senior director of the New York office, who asked about my background and interests-staple
questions of the dating-service industry. She arranged dates with a human-resources consultant, whom I met at the Jazz Standard, and the VP of a corporation, who turned out to be pleasant and handsome but seemed too neat–I was afraid he would run if he saw my messy apartment. Still, he was generous enough to insist on paying for our lunch (at an Italian restaurant near his Wall Street office), even though going dutch is one of IJL's rules. He gave me his card and asked me to call him. The problem was, I didn't feel any sparks for this nice Jewish executive. Forgive me, Mom! While neither date was particularly similar to me in terms of interests, both were gentlemen and reasonably attractive. I would have been interested in seeing who else IJL might have come up with, but it was time to move on to the next service.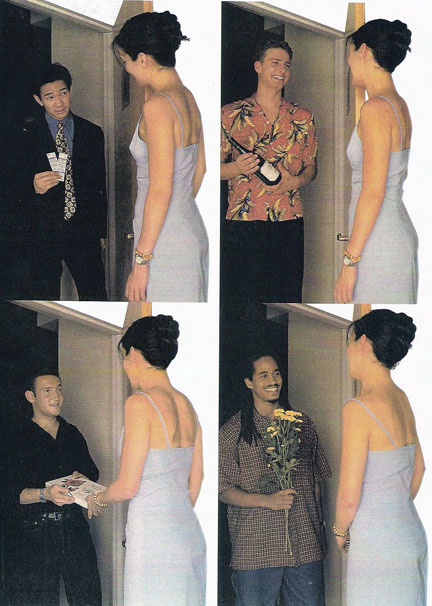 The Relationship Line
987-7000. By appointment only. One-month membership for men $49.95, one-month membership for women $29.95.
Do you believe you can judge a singleton by his or her voice? The Relationship Line enables you to listen to a large number of voice personal ads organized by gender, age and religion. You receive a private voice mailbox and can respond to ads as well as create your own. I listened to about 100 ads and found that The Relationship Line produced several genuinely interesting dates. A philosophical investment banker who looked like Jason Alexander took me to the revolving bar at the Marriott Marquis, where we had a fascinating conversation about near-death experiences. We wound up going out three times; he was interesting and smart, but there were no fireworks on my end. Another Relationship Line date got off to a good start: the guy, a writer, was cute in a Paul Reiser-ish way. But the connection fizzled after he gave me his advice: "If you wait too long, your eggs will get old." Instead of leaving immediately, I stuck around long enough for him to admit that he had another date lined up exactly one hour later in the same coffee shop. In all, I dated four men through the Relationship Line and conversed with at least a dozen others. It was fun playing around on the phone, and by screening the men, I was in control (no one could get my phone number or last name until I chose to give them). Also, this service allowed me to talk with many men in a short period of time for comparatively little cost. The downside? After a few weeks, the kaleidoscopic variety of men leaving messages became slightly dizzying.
Drip
489 Amsterdam Ave between 83rd and 84th Sts (875-1046). Subway: B, C, 1, 9 to 86th St.
Originally a neighborhood bar, Drip evolved into a destination for its cheap DIY dating service. For $10, you can fill out a form at the coffee counter that asks more than a dozen questions (including your self-description, biggest turn-ons and turnoffs and favorite time of day). The form is then stored in one of dozens of folders around the cozy room. For another $3, people can request to meet you based on your form, or vice versa. Once someone asks to meet you, a Drip staff member invites you to come in and read your requester's form. If you like what you read, the staff member arranges a meeting at Drip. In the three years since former corporate headhunter Nancy Slotnick opened Drip, the dating service has accumulated 24,000 forms. Slotnick says she is aware of 18 marriages that have resulted from the service (including spontaneous meetings in the couch-filled space). "Drip attracts lots of educated, intellectual people who like a casual environment better than a loud, smoky bar where you can't really talk," says Slotnick. Although I found the process rather cumbersome (I had to make three separate trips to set the stage for my first Drip date), my first meeting was with a Harvard-educated attorney who listened very patiently to my long-winded summary of my half-completed screenplay. The other man I met was a little too old for me and not Jewish (I must have been bleary-eyed from dating fatigue: I hadn't read his form carefully enough). Still, I enjoyed the hour I spent talking books with him. Overall, I found Drip a nice, low-cost alternative to more elaborate dating services. And don't even get me started on its phenomenal brownies.
Time Out New York personals
688-6935 or fax your ad to 752-4260.
Admit it-you read the personals. What red-blooded, magazine-loving New Yorker doesn't? You may have placed an ad yourself. And why not? At most magazines, it's free. In this magazine, where I chose to run my ad, personals run for two weeks. You receive a voice mailbox to field responses (also at no charge) and can rent a mailbox to receive letters ($30; TONY will forward the missives to you). Would-be suitors must pay $1.95 per minute to respond to ads by phone. TONY accepts ads on a first-come basis, so it takes a few weeks before your ad appears. My description shamelessly accentuated the positive: "Beautiful, sensitive Jewish woman, slender and curvy, with large blue eyes and long chestnut hair." (Okay, so I neglected to mention that I'm short.) I also mentioned that I was a writer, inspiring the first respondent to inform me during our phone conversation that he had rented an entire room in a storage facility to house all his old newspapers and magazines. I was savvy enough to steer clear of meeting that fellow. Another man, a politician's aide, wrote me a letter saying he knew "how to treat a lady." Later that week, when we went out for dinner, he declared that he wasn't hungry and suggested that we "split an appetizer" instead. I lost my appetite. And just the other day I received a handwritten letter with a warning: "XXX-Rated Sexual Content to Follow." In the 19 subsequent pages, the writer offered up such self-revealing gems as "I'm a very, very, very (secretly) horny guy." Overall, I found the men who responded to my personal ad less together than those I met through the dating services. But my ad still has one more week to run, and maybe my one true love will spot it. You never know.

NO ORDINARY LOVE
Search for that very special someone with the help of a niche dating service
African-American Singles Club
www.gpsn.com. You must belong (one-month membership $24.95, one-year $99.95) to respond to ads.
Click on Global Professional Singles Network's African-American Singles link and you'll find photographs and self-descriptions of single black men and women across the U.S.
Christian Singles Dating Service
800-562.5459. One-year membership (three introductions) $75. This service matches Christian hopefuls with fellow believers.
Janis Spindel Serious Matchmaking Inc.
987-1582. Men's one-year membership $10,000 for 12 introductions; women's one-year membership $5,000 for six introductions. A former fashion executive, Janis Spindel says she handpicks clients for her extremely upscale dating service and turns away anyone who isn't "successful, honest and interesting."
The Carol Zicklin Links Program
751-3731, www./linksjbfcs.org. One-year membership (minimum three introductions) $300. Staffed by volunteers for the Jewish Board of Family and Children's Services, Links provides Jewish clients with introductions to other Jewish singles. The volunteer matchmakers are former social workers and educators.
Muslim Matrimonial Link
www.matrimonial.com. $30 for one-time ad that can be accessed for free; $5 for one-time ad that can be accessed for $1. Single Muslim men and women from around the world have posted self-descriptions and photographs of themselves on this site, which is organized by culture (Afghani, Algerian) and geography (U.K., Europe).
Perfect Partners
987-6400, One-month membership $39,95, three-month $89,95, six-month $149,95. The brainchild of John Regal, owner of the Relationship Line (see "The Dating Game," this page), Perfect Partners is a voice personal-ad system for gays and lesbians.
The Right Stuff
800-988-5288, www.rightstuffdating.com. Membership $70; $30 if you graduated since 1990 or are a full-time graduate student. This introduction service is for graduates of prestigious schools-the Ivy League, the Seven Sisters, MIT, Duke, Stanford, medical schools and a few others-who want to meet other graduates of these schools.
Swoon Personals
www.swoon.com. Free. Swoon online personal ads tell you the zodiac sign of potential paramours (among lots of other details). The site also offers a link to its Lovematch feature, which lets you know what's in the romantic stars for every astrological combo.
The Tall Club
332-0067, www.tallny.org. One-year membership $50. Sick of being asked "How's the weather up there?" This nonprofit social service hosts parties for men 6'2″ and taller and women 5'10" and taller. – HR
This entry was written by Heather Robinson and posted on May 11, 2005 at 1:55 pm and filed under Features.