Any Volunteers?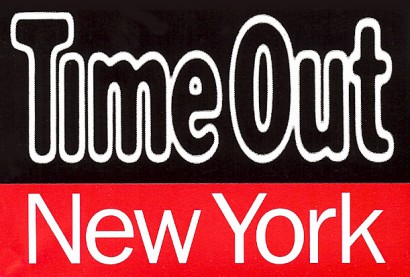 From Time Out New York
by HEATHER ROBINSON
January 13 – 20, 2000
Photographs by TIMOTHY FADEK
You say you want to do good, but you just don't have enough time. No more excuses-the following local agencies can always use an extra hand.
Like many cynical but soft-at-heart heart New Yorkers, I occasionally get nostalgic for my old, more idealistic college self, the one who actually devoted time to causes greater than finding the most natural-looking highlights for my hair. When l start feeling this way, I get the urge to be good. The problem is, I've never been big on commitment. So, in the spirit of making the world a better place without overextending myself, I signed up for short-term volunteer projects all across the city. Most are one-shot deals with flexible shifts. Some let you participate just by making a phone call; others require you to attend an orientation and provide references, but the red tape is still minimal.
By the end, I'd not only had a great time, but also fe1t a sense of well-being not unlike what I feel after sticking to a workout regimen for a few weeks: I done good. The opportunities below are listed in order of the commitment required, from least to most, including training time, the hours you'll actually work, and the kind of contribution you'll make. You may find one you like and discover-or perhaps re-discover-that it feels good to do good.
THE BOWERY MISSION
It's easy and fun to volunteer on short notice at the Bowery Mission, which serves three hot meals weekdays and Sundays, and two on Saturdays, to NYC's needy. This Christian organization (the Mission requires people to listen to sermons before receiving meals) also maintains a shelter and provides residents 'with computer training and typing lessons, as well as GED tutoring. Some of the work is less than glamorous: My first assignment was cleaning sticky soda cans for recycling, and my next duty was ladling out bowls of stew. Being face-to-face with the clients forced me to confront their humanity in a 'way that dropping coins in a can does not.
Minimum commitment: 1 hour, 227 Bowery between Spring and Prince Sts (212-674-3456). Subway: B, D, F, Q to Broadway-Lafayette St; N, R to Prince St; 6 to Spring St. Doors open Mon-Fri at 70am, noon and 7Pm; doors open Sat 2pm and 6pm; Sun 8:30am, 2pm and 6pm.
BEING KIND
Here's a one-shot, two-hour volunteer opportunity for animal lovers: caring for cats through Being Kind, a no-kill animal rescue and adoption service. When I arrived at Being Kind's adoption center at Petco in Union Square, a sweet, bespectacled 12-year-old volunteer named David showed me the ropes, and soon I was cleaning cages (you'll want to bring your own rubber gloves), pouring cat food into bowls and showing grateful felines to prospective owners. The highlight of volunteering at Being Kind is that you can give the cats a little affection; although some are wary from past abuse, most appreciate your attention. Once they're comfortable in your arms, they soak up attention like furry sponges.
Minimum commitment: 2 hours, Petco in Union Square, 860 Broadway at 17th St (212-358-0692). Subway: L, N, R, 4, 5, 6 to 14th St-Union Sq. Volunteers needed to care for cats Mon-Fri 9-11:30am m- 6-8pm; Sat, Sun 1-6pm.
NEW YORK CARES
Started by college buddies who found it difficult to find short-term volunteer projects, New York Cares is a referral system for time-strapped do-gooders. The organization publishes a monthly calendar listing a range of opportunities, including projects with children, the needy and disabled, animals, and the environment. Some assignments require a weekly commitment, but most are one-shot deals. For example, through New York Cares I found the Achilles Track Club, which coordinates athletic training sessions for disabled people like Eddie, a blind runner. My job was to hold one end of a short rope while Eddie held the other, and we ran around the Central Park Reservoir with a group of disabled people and their running partners on a cold December night. Talk about a runner's high.
Minimum commitment: Around 2 hours, 116 E 16th St between Irving Pl and Park Ave South (212-228-5000). Subway: L, N, R, 4, 5, 6 to 14th St-Union Sq. Participants are required to provide two references; an orientation takes place in the lobby of 75 Rockefeller Plaza every Friday at12:30pm.
NEIGHBORHOOD OPEN SPACES COALITION AND FRIENDS OF GATEWAY
Even after Bette Midler and other concerned citizens helped save 100 community gardens from Mayor Giuliani's plan to sell them to developers, dozens more remain imperiled. Neighborhood Open Spaces Coalition and Friends of Gateway is dedicated to preserving these patches of Thoreauvian tranquility. I didn't have to lie down in front of any bulldozers, but they did put me to work shoveling compost and transplanting young trees in a community garden in Red Hook, Brooklyn. This group's determination has helped make the cause a favorite of celebrity and non-celebrity naturalists alike.
Minimum commitment: 2hours, 356 Seventh Ave between 29th and 30th Sts, second floor (212-352-9330). Subway: 1,9 to 28th St. Write TJ Brandt, community outreach coordinator; at T.J. Brandt@treebranchcom.
THE NEW YORK CITY GAY & LESBIAN ANTI-VIOLENCE PROJECT
Founded in 1980 in response to an outbreak of antigay violence, this agency counsels victims, lobbies for harsher penalties for hate crimes and tries to raise awareness among police and the community. Offering to do whatever was needed, I got an assignment that I'll confess made me a little nervous: posting flyers in Harlem asking people to come forward with information about a recent murder. It was definitely an eye-opener. Several people asked me, for instance, if the police had killed the victim. (I explained that the organization I was volunteering for was working with the police to find the killer.) The organization also needs help right now with fund-raising and such projects as coIlating data in support of an anti-hate-crime bill.
Minimum commitment: 2hours, 240 W 35th St between Seventh and Eighth Aves, suite 200 (212-714-1184). Subway:1,2,3,9 to 34th St-Penn Station; A, C, to 34th St-Penn Station.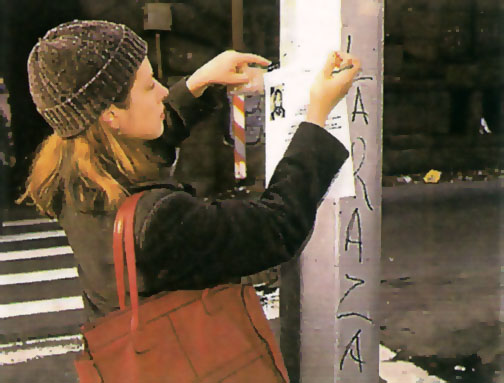 Caption: MURDER INK Anti-Violence Project volunteers post flyers throughout the city to help solve hate crimes.
UJA-FEDERATION OF NEW YORK
While UJA-Federation is dedicated primarily to Jewish causes, it also supports institutions that help people of various religions and races. Serving as a big brother or big sister to a needy child, teaching immigrants English and fixing up a home for a formerly homeless person are just a few of the cross-cultural opportunities this mega-agency can coordinate. For those who don't have time to make an ongoing commitment, Hands-On, UJA's in-house version of New York Cares, provides a monthly calendar of weekly, one-time and ongoing volunteer opportunities. I attended Thursday Night Roseland, a dance at the Upper West Side's Jewish Home & Hospital, where the residents' warm smiles and eagerness to talk made me feel like the belle of the ball.
Minimum commitment: 2 hours, 130 E 59th St between Lexington and Park Aves (212-836.-1883). Subway: 4, 5, 6 to 59th St; N, R to Lexington Ave.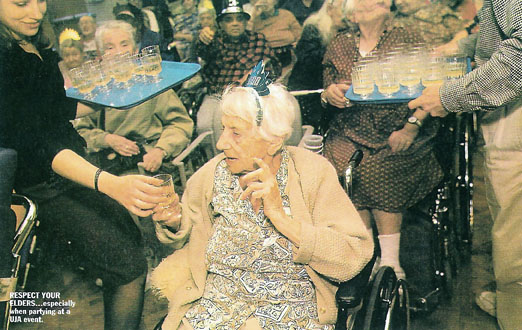 Caption: RESPECT YOUR ELDERS…especially when partying at a UJA event.
GOD'S LOVE WE DELIVER
"To us, God's love in tangible form is food," explains Joe Torres, volunteer intake associate for this nonsectarian organization, which provides lunch and dinner for more than 1,100 people living with HIV/AIDS. Under normal circumstances, vo1unteering to deliver meals requires a commitment of one hour per week, while kitchen hands must attend a one-hour food safety course (in addition to the two-hour orientation required of all volunteers) and commit to one three-hour shift per week, for at least 12 weeks. Still, God's Love bent the rules and let me try out each just once. First, I delivered Thanksgiving dinner to Barry Woloski, an HIV-positive former actor who gives God's Love credit for enabling him to keep eating healthy food and build up his strength. I also helped out with the dedicated, fun-loving bunch in the kitchen and, despite the fact I'm a vegetarian, unexpectedly enjoyed chopping bacon for two hours.
Minimum commitment: 3 hours, 166 Sixth Ave at Spring St (212-294-8104). Subway: C, E to Spring St.
THE JEWISH GUILD FOR THE BLIND
There are lots of ways to volunteer at the Jewish Guild for the Blind, which serves the visually impaired of all religions and races. Actors and other trained voice professionals can read newspapers and magazines for broadcast on the Guild's national In Touch radio networks, or record novels on tape for the Guild's cassette library. And anyone can read directly to a blind person; a commitment for this is required but can be as modest as 20 minutes per week by phone. I volunteered at the Guild through the Screened Activities Volunteers for Events program, which enlists volunteers to help out where needed at special functions and with Guild Care, a day program for older blind adults. On the day I worked, a live jazz band performed, and one blind woman advised me to "ask some of these older folks to dance." I took to the floor with a 92-year-old man and boogied fiendishly. Now that the Guild and I are better acquainted, I plan to return to conduct a poetry workshop.
Minimum commitment: 4 hours, 15 W 65th 5t between Columbus Ave and Central Park West. Subway: 1, 9 to 66th St-Lincoln Ctr. To volunteer, call Lyn Stone, director of volunteer services, at 212-769-6217.
LITERACY PARTNERS
In the past, volunteering as a literacy tutor meant getting together one-on-one, once a week or so. But while the old way of doing it was convenient and gratifying for the volunteer, literacy experts now believe that the dominant role of a one-on-one tutor could undermine the student's confidence. At Gateway, all instruction is done in a workshop setting, which "spreads out the authority," says Gateway's volunteer manager Jean O'Neill, by providing students more opportunity to read independently and share feedback on their progress. Of course, it takes more preparation to lead an entire class than to tutor one-on-one (thus, this was the only volunteer opportunity listed here for which I was merely an observer). Gateway volunteers must undergo nine hours of training, after which they're paired with another tutor and given a class that meets once a week for two hours for anywhere from four to ten weeks. Still, since almost all the training sessions and classes are in the evenings and on weekends, Gateway volunteers say the program is about as convenient as the new, more sophisticated tutoring approach allows–and every bit as rewarding as they'd hoped. "I wanted to share my love of reading," says Amy Chen, a volunteer from the Upper West Side. "And it's been amazing."
Minimum commitment: 2hours weekly, 30 E 33rd St between Park and Madison Aves (212-802-1128). Subway: 6 to 33rd St.
MOUNT SINAI SEXUAL ASSAULT AND VIOLENCE INTERVENTION PROGRAM
The Mount Sinai Sexual Assault and Violence Intervention Program (SAVI) will train you to be an advocate, providing on-site counseling to victims of rape, sexual assault and domestic violence at one of its eight hospitals around the city. "This work is often uncomfortable, and it brings up a lot for people,' says Terry Henry, SAVI's personnel manager But if you're just a regular well-intentioned mortal, you can still help out. SAVI needs volunteers to stuff envelopes (that's what I did) and remind advocates when they're on call. If you're a good speaker, SAVI can train you to address school and church groups, police, and community organizations about rape and sexual assault issues.
Minimum commitment: 1 hour, but being an advocate can take up to one weekend a month. To volunteer, call 212-423-2140.
This entry was written by Heather Robinson and posted on January 13, 2000 at 12:31 pm and filed under Features.