How My Pittsburgh Hometown Is Coping With The Synagogue Shooting

From The New York Post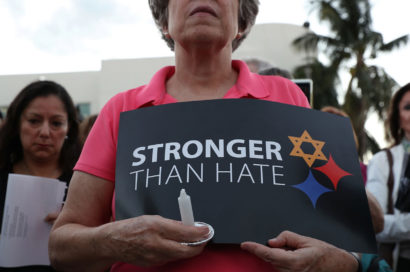 The Jewish community in this leafy Pittsburgh neighborhood of Squirrel Hill is painfully burying 11 of its members this week, after the idyllic peace here was shattered by an anti-Semitic madman on a mindless killing spree. And the enormous outpouring of love, unity and goodwill so prominently on display stands in stark contrast to the evil and hatred that fueled the monster's attack.
I know that spirit of community love and compassion well: I was born and raised in Squirrel Hill; Tree of Life, where the 11 were mercilessly slain, has been my family's synagogue stretching back four generations. My grandparents, Alex and Leona Robinson, helped build the synagogue's social pavilion, which is dedicated in their memory.
I knew one of the victims, Cecil Rosenthal, who was laid to rest Tuesday. My family didn't go to shul every week, but I can clearly recall the High Holy Days of Rosh Hashanah (the Jewish New Year) and Yom Kippur (the Day of Atonement), when Cecil, serving as an usher, would greet us and show us to our seats.
Large and friendly and full of life, Cecil was quick with a joke or a sweet compliment. He emanated love and wanted everyone to participate in the life of our synagogue.
Remembering the victims, and especially Cecil and his brother David, who also served our community as a volunteer, my heart ached. The two men, who had developmental disabilities, held a treasured place in the community. The cruelty of the attack is unimaginable.
I traveled home to Pittsburgh from New York on Tuesday, and I was able to attend shiva — the period in Judaism following a death, during which family, friends and community gather to offer support and mourn — held at a nearby shul, Congregation Rodef Shalom.
I told Cecil and David's parents that their sons will be honored and lovingly remembered forever, along with our other slain Jewish brothers and sisters.
The funeral itself drew thousands of Pittsburghers, including many Pittsburgh Steelers players. Afterward, several dozen community members who remembered the Rosenthal brothers visited the family and spoke kindly of them. Many recalled Cecil's spirit of friendship, heartfelt love and inclusiveness.
Indeed, if Cecil were here, it was unanimously agreed, he'd be urging everyone to eat and enjoy. (There were brownies and cheese danishes!) Some recalled how Cecil usually took a place standing near the front of the synagogue, fondly and bravely greeting any who would enter.
As friends and family mourned at Rodef Shalom, outside the Tree of Life a group gathered to protest the presence of President Trump and his wife, Melania, who had come to pay their respects, along with his Jewish daughter and son-in-law, Ivanka Trump and Jared Kushner.
Such divisiveness — so sadly reflected in America's politics today — is precisely the opposite of what such an event should have triggered. As Tree of Life Rabbi Jeffrey Myers, who survived the massacre and saved the lives of four congregants, put it: "I'm a citizen. He's my president. He is certainly welcome."
Afterward, the rabbi recalled his meeting with Trump: "The president was very warm, very comforting. He put his hand on my shoulder and the first question he asked was, 'Rabbi, how are you doing?' " Myers said he was "pleasantly surprised to see a warm and personal side to the president that I don't think America has ever seen."
Such an open-minded, welcoming attitude, devoid of the preconceptions and hatred that characterize so much of our politics, is just the kind of thing that can promote healing, not just here in Pittsburgh, but throughout the nation.
Fact is, Pittsburgh and its Jewish community sustained a great shock; the tranquility and good will that the community has long striven for was dealt a grievous blow.
My hope is that once the overwhelming grief has passed, more of us can take the brave step of emulating Rabbi Myers — and Cecil — by welcoming and talking with neighbors of other religions, having the courage to have a conversation, including with those on the opposite side of the political divide, without presuming the worst about them.
"Unarmed truth and unconditional love," wisely counseled Martin Luther King, Jr., "should have the final word in reality."
Actually, in Squirrel Hill, now hailed widely as Mr. Rogers' neighborhood, we embraced diversity — of race and religion and, yes, point of view — long ago.
But if something good is to emerge from this horror, perhaps it might be for more of us to honor Cecil's legacy of love and inclusiveness — by emulating it.
This entry was written by Heather Robinson and posted on November 1, 2018 at 10:49 pm and filed under Commentary.