'Pretty Woman' Heads to Broadway — Still Sugar-Coating Ugly Truths

From The New York Post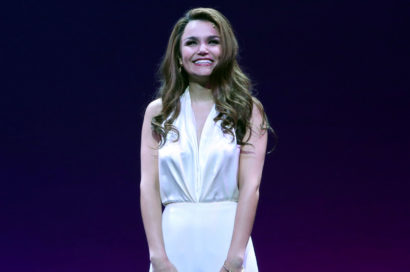 "Pretty Woman: The Musical," an adaptation of the 1990 blockbuster film with Julia Roberts about a gorgeous, young prostitute and a handsome, taciturn billionaire who fall in love, is set to open on Broadway Aug. 16.
I haven't seen it yet, but by all accounts the original storyline, complete with Cinderella ending, survives.
The irony here is stinging: At a time of heightened awareness about sexual abuse, Broadway is peddling a romantic version of what advocates for women trapped in a life of prostitution (or, as they and some survivors put it, commercial sexual exploitation) say is more typically a life of danger and disempowerment. Indeed, the advocates — and human-trafficking survivors themselves — paint a horrifying picture of an industry that thrives on manipulation, addiction and abuse.
Most women in the business "are victims of something, such as exploitation, addiction or poverty," says Shandra Woworuntu, founder of Mentari USA (Mentariusa.org), a New York-based survivor-empowerment program. Many "will encounter abuse in doing their job."
Statistics and reporting bear that out: According to the State Department, 60 percent to 75 percent of prostitutes in nine countries it looked at had been raped, 70 percent to 95 percent had been assaulted and 68 percent had post-traumatic stress disorder.
Law enforcement officials frequently cite a link between drug abuse and sex work, with women gravitating toward prostitution to support a habit and using substances to numb themselves. In West Virginia, for example, prostitution has reportedly spiked among opioid-addicted women.
Woworuntu, who was sexually trafficked from Indonesia at age 24 with the promise of a job in the hotel industry, worries that the "Pretty Woman" franchise is potentially harmful.
"Around the world, many girls who are obsessed with the West can be misled by a story like that," she said.
Today Woworuntu is working to establish a shelter in Astoria for teenagers, women and LGTBQ individuals who want to escape commercial sexual exploitation — people looking to exit "the life," as the advocates call it.
Others who have escaped agree that "Pretty Woman: The Musical," like the film before it, could send girls and young women a warped message.
Carolyn, 23, a New York City writer, model and restaurant server who survived being sexually trafficked when she was 16 in her hometown of Colorado Springs, Colorado, insists the "Pretty Woman" story doesn't even begin to capture the degradation of commercial sexual exploitation.
"It's the Hollywood version, and it's made to look a lot prettier than it is," she notes. The reality is "actually very dirty and disgusting . . . it's frightening, and it hurts."
Asked what she thinks about girls and young women seeing the show, Carolyn doesn't hesitate: "It scares me. The show will make it seem nicer than it is. It's not a lifestyle you choose for the right reasons, ever."
Unlike in "Pretty Woman," no billionaire rescued Carolyn, though she describes her mother as relentless in pushing local authorities to locate her, as well as in helping her to press charges against her trafficker. "My mother was my knight in shining armor," she says.
Carolyn blames her fragile self-esteem for making her vulnerable and wishes girls would value themselves for "more than just being pretty."
"I found myself in that situation, not because I was about to fail in school or funds were low," she said. People with low self-confidence, "who don't believe they are better than" having to work as prostitutes, are "susceptible" to being trafficked or falling into a life of commercial sexual exploitation. She also abused substances. "Never once, when I [worked], was I sober."
Some recent media coverage has offered a lighthearted, glamorous take on the growing popularity of "Sugar Baby/Sugar Daddy" arrangements — well-heeled, older men giving young women gifts or money in exchange for sexual favors. Carolyn is skeptical. "It's not a safe business, no matter what," she says.
Freed from her nightmare, Carolyn still isn't ready for a relationship. Men she has dated haven't been able to handle even hearing about her pain.
Yes, strange, unlikely love stories have great appeal. But let's not kid ourselves: There's no happy ending for most commercially sexually exploited minors and women. Not without help.
Instead, let's channel some of the hope generated by the new play's fairy tale ending toward more support for rescuers, as well as for the brave individuals on the difficult journey of rescuing themselves from a life that, absent effective intervention and great personal will, rarely ends on a high note.
This entry was written by Heather Robinson and posted on August 4, 2018 at 2:46 pm and filed under Commentary.