An Olympic Voice for Women of South Sudan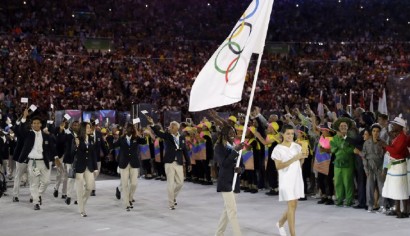 Earlier this month in the Olympic Opening Ceremony, the world saw Rose Nathike Lokonyen, 23, a South Sudanese runner, stride into Maracana stadium bearing the flag of the International Olympic Committee and leading the way for the first ever Refugee Olympic Team.
This team, which the IOC, according to a June statement, created to "act as a symbol of hope for refugees worldwide and bring global attention to the magnitude of the refugee crisis" is comprised of ten athletes, five of whom hail originally from South Sudan, the world's newest country.
Lokonyen, who will run the women's 800 meters this Wednesday and possibly continue on to the semifinals and finals later in the week, recently said, "My dream, my first priority, is to help my parents and my siblings and then after that to help my fellow refugees."
Hopefully her participation in the 2016 Olympic Games, and that of Angelina Nadai Lahalith, 21, the other South Sudanese female member of the Refugee Olympic Team, can enable them to be a voice for the women of South Sudan, many of whom continue to be targeted in a brutal civil war.
Lokonyen has come a long way from the Kakuma Refugee Camp in Kenya where she spent her formative years, and her personal story is testament to the survival of the human spirit.
When she was 10, she fled South Sudan with her family. She grew up running in the massive camp, home to around 200,000 refugees. Last year, she ran the 10 kilometers barefoot — because she owned no shoes — during trials in the camp, and came in second, earning her a spot on the Refugee Olympic Team.
Talent, determination and luck were her ticket out of Kakuma, where this week Amnesty International, in cooperation with a nonprofit called FilmAid, assembled large outdoor screens so residents can watch the Olympic Games, and thousands of barefoot girls and boys are gathered to cheer for the five members of the Refugee Olympic Team, including Lokonyen.
While she is a long way from the camp, Lokonyen was recently quoted as saying, "Maybe if I succeed, I can come back and conduct a race that can promote peace and bring people together."
Her country needs her.
By some estimates, as many as 70,000 to 100,000 people have been killed in Southern Sudan since 2013, when a power struggle broke out between the new country's president, Salva Kiir Mayardit, and his former deputy, Riek Machar. The violence escalated quickly, with soldiers attacking not only each other but also civilians, along ethnic lines. The conflict has displaced nearly one million people, with tens of thousands pouring into refugee camps like Kakuma to escape the violence.
Atrocities against children in South Sudan's civil war have been documented, as has use of rape and gang rape as weapons of war. Last week, several female foreign aid workers at the Terrain hotel complex in South Sudan's capital, Juba, were gang raped, reportedly by armed troops under Kiir's command.
New York City activists with contact with relatives in South Sudan say these crimes reflect what South Sudanese girls and women have experienced for years.
"If this was happening in any European or Western country, you would see more international outrage," said Jasinta Elioba, a New York-based Sudanese-American human rights activist who has organized women's groups to protest the violence, and says rape is being used as a weapon of war in South Sudan on a mass scale. "But because it's an African country, the world turns a blind eye."
Last week, South Sudanese-American citizen activists traveled from across the country at their own expense to peacefully demonstrate outside the United Nations in New York City in support of a resolution to strengthen U.N. peacekeepers' mandate to protect civilians and halt what rally co-organizer Simon Deng, a human rights activist and former champion swimmer on Sudan's national team, calls "Rwanda in slow motion."
This entry was written by Heather Robinson and posted on August 17, 2016 at 10:06 am and filed under Features.