Solving The Great Valentine's Day Dilemmas

From The New York Post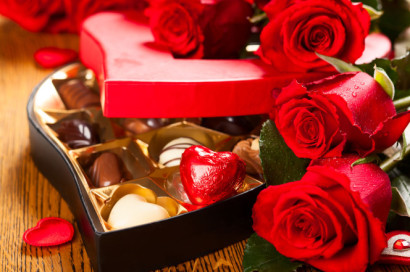 What do New York City women — and men — want for Valentine's Day?
For singles in the uncertain hinterland of early-stage dating, trying to figure out what is reasonable to do or expect can be downright daunting.
For starters, there's the question of a suitable gift.
Should you scour the Internet looking for his favorite action figure or her favorite designer? Or should you go with something classic? A Whitman's Sampler or Godiva? Roses from the bodega or orchids from the florist?
Then there's the dinner dilemma.
Do you really want to be upsold at a trendy place (or expect him to swallow the 20 percent markup)? Or if you elect to do something simple at home — Netflix and instant hot chocolate, anyone? — are you in danger of rushing into an instant relationship?
And for those in a committed relationship, will voicing your opinion that "It's a commercialized ripoff" inspire your significant other to turn her back on you?
Is there a spirit to Valentine's Day? It was originally a holiday to commemorate the life and death of St. Valentine, who was martyred, according to Catholic doctrine, for helping couples to wed.
Starting with a simple query — What three things would you like to do or have for your ideal Valentine's Day date? — I headed out into New York City's freezing streets this week in hope of getting some answers.
The first thing I learned is what some women — particularly working moms — want most for Valentine's Day: a break.
"For me, the ideal valentine would be a date with my husband, wine and cheese and relaxing with no kids and no distractions," said Sara Mroziuk, 26, a hairstylist at Bristle and Crème salon in Murray Hill who lives in Ridgewood, Queens.
"Because I work so much, I would love to just relax with my boyfriend, maybe go to a spa," said Tiffany Griffith, 20, a student in fashion design at the Art Institute of New York City.
Some women favored creative approaches to the day.
"What three things would I want? A morning massage, that I would give, a spontaneous photo shoot outside and a surrealist poetry game at a café," said Mala Sharma, 21, a Bryn Mawr student and artist who was visiting from Philadelphia.
Others reject the day in practice — if not in spirit.
"My boyfriend and I minimize Valentine's Day," said Jessica Stickler, 35, a yoga instructor from Jersey City. "We think that every day should be a day we express sweetness and tenderness and love."
Closeness and affection topped many women's lists.
"A meaningful letter or card, a nice wine, and snuggling," said Kate Cardone, 28, who works for a hedge fund and lives on Long Island.
What did men want for Valentine's Day?
"A hug, a kiss and a beer," said Shaun Cullen, 36, a New York City firefighter with Brooklyn's Squad 1 who lives on Long Island.
"For Valentine's Day, I'd like peace and quiet," said James Ocasio, 53, a midtown doorman who hails from Cypress Hills, Brooklyn. "And some chocolate. It's not just about you girls. We give you chocolate and we're waiting for you to offer us some. But you just eat them all and go, 'It's so good.'"
"Champagne, jazz and a room at the Garden City Hotel," said Joseph Glorioso, 51, who works in the wine industry and was dining with friends at Tasca Chino on Park Avenue South. "Being of Italian descent, I'm predisposed to be romantic."
"On Valentine's Day, if you have a woman, it should be about her," said Seth Otero, 31, a manager at New York Health and Racquet Club, who was dining solo.
That statement brought to mind a classic short story by O. Henry called "The Gift of the Magi," in which a couple who are in love sacrifice their most prized possessions for each other. It occurred to me that perhaps the best Valentine's dates might be those in which each partner considered what the other would most desire.
So I headed to Pete's Tavern in Gramercy, New York City's oldest continuously operating restaurant and bar — and the site where O. Henry wrote his short stories.
Interviewing a few more people about Valentine's Day, I may have uncovered a little of the spirit of the holiday.
"If I were in a good relationship, I'd be looking forward to doing whatever is required," said Ian Fraser, 34, a salesman for a tech company who lives in Astoria, Queens.
Whether they were single or in relationships or married, the happiest people spoke more about what they would like to give than get on Valentine's Day. (They were also the people generous enough to be quoted by name for this article.)
And giving to each other with open hearts — men and women seemed to agree — was the best plan for a happy Valentine's Day.
This entry was written by Heather Robinson and posted on February 14, 2016 at 7:55 am and filed under Commentary.