New York Guys Flee 'Trainwreck' Women

From The New York Post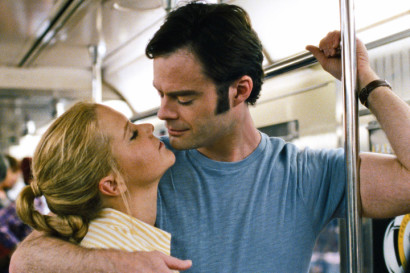 It's the oldest piece of dating advice in the world: Everyone enjoys the life of the party, but no one wants to take her home. But is it still true in 2015?
In her hit film "Trainwreck," comedienne Amy Schumer plays a single Manhattan woman in her 30s who drinks, smokes, overeats, swears and behaves like a party girl.
In the film's first half, "Amy" (the character shares Schumer's name), who writes for a crude men's magazine, beds a series of notably attractive men, getting offered breakfast (and other forms of gratification) in bed and stumbling home drunk on the Staten Island Ferry. (As a single Manhattan woman, I couldn't help but reflect that the character is lucky she doesn't contract a disease, or get roughed up, given that she seems to know nothing about her paramours and recalls little the next morning.)
After one montage ends with Amy bidding goodbye to her various conquests, she narrates, "The key is to never, ever let them sleep over."
The film has been billed as a story about a female commitmentphobe.
But it seems more likely that, in a city in which many lovely, professionally accomplished and successful women complain of a lack of eligible men of comparable age, this character would have a hard time getting any successful, stable man to take her seriously enough to consider a relationship.
Nevertheless, Amy's hard drinking, smoking, swearing and promiscuity don't stop a clean-cut, successful, attractive, philanthropic young sports surgeon, Dr. Aaron Conners (played by Bill Hader), from falling for her.
But is it realistic that a responsible, hardworking New York City man would go for a "Trainwreck"?
Almost to a man, single men interviewed at random in Manhattan watering holes and restaurants this week said "No."
"Amy Schumer comes across as a girl version of a frat guy; what guy finds that attractive?" said Rocco Hart, 29, who works in real estate and was hanging with friends at Bravest sports bar on Second Avenue. "I think she acts like a slob."
"No, I wouldn't, because you want a girl who takes care of herself and carries herself in the right way," said his friend Liran Dassa, 24, of Mill Basin, Brooklyn.
Some indicated youthful exploits are fine but they wouldn't want an older party girl.
"A past is fine, but with where I'm going today, someone who is promiscuous and drunk all the time — I don't have the patience for it," said John Evangelista, 28, of Yonkers, who works in construction.
"Once you get to a certain age, two or three years out of school, you can't be a train wreck, it's not attractive," said Peter Bregartner, 29, who works as a banker and was eating dinner at RARE Steakhouse in Murray Hill. "I'd have higher standards for a woman I'd want to date."
"It probably wouldn't last very long," said Jonathan Weiss, 37, a contractor who lives in Washington Heights and was drinking at The Chester in the West Village.
"The smoking alone would be a turnoff," he added. "I'd date the sister. She was cuter and seemed more serious."
" 'Trainwreck' describes almost every girlfriend I've had, but I've never taken them home to Mom," said Ilya Bubel, 29, a lawyer.
There were a couple of dissenters — though they included a qualification in their assessment.
"My wife is a party girl with an education and a career and she can drink with the best of them," said Josh Davenport, 30, an engineer from Saratoga Springs who was having dinner with friends at Duke's in Murray Hill. "If I come home drunk, she won't be like, 'Oh you're an animal.' She's more understanding."
"I prefer a woman with a past," he said, adding, "But the key word is 'past.' "
"Trainwreck" isn't intended to be a morality tale and could be fun for viewers who enjoy the edgy comedy Schumer offers on her hit Comedy Central show.
But viewers — especially young, impressionable females — would be wise to recognize the romance in this romantic comedy for what it really is: a big fantasy.
This entry was written by Heather Robinson and posted on August 3, 2015 at 2:36 pm and filed under Commentary.