It's not the bondage, boys: Real '50 Shades' date tips

From The New York Post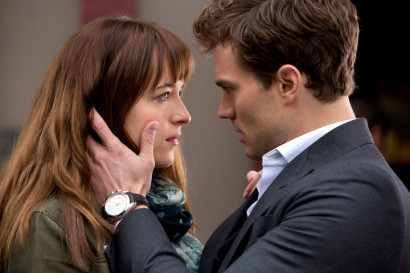 It's not about the bondage, it's about the seduction.
No question, women are flocking to "50 Shades of Grey." I saw it on the eve of Valentine's Day in a Murray Hill movie theater packed with enough single women out together in groups to start an estrogen revolution — some toting flowers and other Valentine's Day gifts they'd bought each other.
But don't conclude, guys, that what we need is whips, chains and psychological games — the "50 Shades" stuff that gets all the hype. If you want to get a nice, pretty girlfriend, try creative gifts, phone calls, foreplay — and decisive pursuit.
There's a big message in the success of "50 Shades" — it earned $81.7 million over three days, an all-time Presidents' Day weekend record, with women buying seven out of 10 tickets.
And part of it is the manliness of billionaire Christian Grey — who tells virginal student Anastasia Steele, "I don't do the girlfriend thing," which means no long talks, cuddling, or bed-sharing for purposes of sleep.
But it's not the way he insists she submit to a program of do's and don'ts that, at least when they're together, puts him almost entirely in control of what she eats, drinks, wears and does in the bedroom. Nor the brutish kinks.
Almost to a woman, filmgoers told me the movie's appeal lies more in the seduction than the sadomasochism.
"I liked the romantic parts more than the other parts," said Sarah, 22, of Westchester. "His character was aggressive but he had a softer side. Girls like a guy with a soft side behind the facade he puts on."
"The excitement of the whole thing was the seduction," said Manhattan dentist Alina, 33.
"Anastasia goes into the relationship because she wants to be with him, not because she wants to get beaten up . . . She's attracted to the fact he takes control."
That's right: In a feminist age when many men — and women — are more confused than ever about what women want, it turns out that the fantasy of being ardently pursued and seduced by a strong man still retains great appeal for many women.
Many female filmgoers spoke about how refreshing it would be, in an age saturated by cyberdating and online porn, to meet more men who can step away from their computers to boldly and creatively pursue real-life women.
Christian Grey's use of handcuffs left me unmoved, but I found his seduction of Ana — from surprising her with first editions of literary classics to a helicopter ride — truly exciting.
E.L. James' book is mediocre at best, yet she's clearly tapped into something. Maybe the kink is just the "edgy" excuse (or taboo spice) that give women cover to respond to the story's true appeal.
Namely, Grey's character embodies at least one old-fashioned ideal of manhood: He knows whom and what he wants, and he pursues his desires decisively.
Don't get me wrong. As Murray Hill chiropractor and self-described feminist Ashley, 41, put it, "There's danger for men to see this and believe all it takes is them walking into a room and we're ready to go."
The real lesson of "50 Shades," said Ashley, is: "It may mean different things to different women . . . but we all want to be seduced."
This entry was written by Heather Robinson and posted on February 22, 2015 at 12:18 pm and filed under Commentary.