Table for One: Watch out for the Weiners

From NY Blueprint
by HEATHER ROBINSON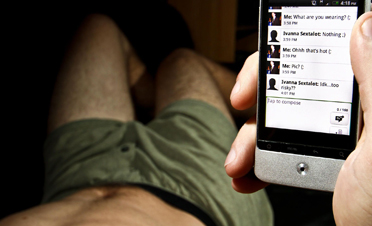 The ongoing controversy about Anthony Weiner's lewd sexting raises political questions about whether the man is fit to govern. But as a single woman living in New York, there's something else, on personal level, that bugs me about it: Weiner's creepy ways are reminiscent of those of certain men with whom women in my circle and I have crossed paths lately.
To clarify: most men don't make their privates public, and thankfully I've not yet encountered any men in the Jewish singles dating pool of New York who are bona fide exhibitionists (as I suspect Weiner is). But my female friends and I have experienced a phenomenon I'll call "The Weinerization of communication." A characteristic of it is that men, whether corresponding on singles sites, via text, or in person, cross a line of decency, sexualizing messages to near strangers with as much nonchalance as they'd cross a street.
Last weekend my friend Kara, a 40-ish fashion designer, went to a Jewish singles party where she met a man named Andy. He was tall, handsome, and seemed completely normal. They had a text message exchange the next day that went like this:
Andy: "Hey!"
Kara: "Hey!"
Andy: "How's the prettiest girl at the party?"
Kara: "Good, now."
Andy: "Do you have a boyfriend?"
Kara: "I don't."
Andy: "When was the last time you did it?"
Within a second, the conversation went from sweet and flirtatious to crass, and Kara didn't know what she had done to invite it (To her credit, Kara didn't take the bait).
Then there's the recent JDate exchange my cousin Amy shared with me. Amy, a 30-something Manhattan marketing executive, had been corresponding with a man who seemed imaginative and intelligent.
A self-identified archaeologist whose handle was "Greeneyes354," the man wrote Amy, asking about her work and interests. They got into a conversation about travel, and he explained he was visiting Israel, including "mini Israel," an attraction featuring "over 385 beautifully crafted exact replica models of Israel's most important historical, religious, archaeological and modern sites at a scale of 1:25."
Enchanted, Amy wrote back, "Sounds lovely. Where is it? Hope you're having fun. Are you visiting family there or just traveling around?"
GreenEyes354 replied, "It's by Tel Aviv. I'm doing both. When I went to mini Israel I had an idea. Imagine you were a 100-foot giant goddess woman. You would have so much control, the world would be your playground. Lol. So many little 1-inch people to play with and catch as your toys. Lol."
Thinking she had stumbled upon a charming and cultivated fellow with a sense of humor, Amy replied, "Lol. Are you an avid reader? Or remembering Gulliver's Travels from childhood? I love to read—especially at the beach or park … Do you?"
GreenEyes354 responded, "Imagine if I was a 1-inch little man. I would look so damn cute. I bet you would catch me and take me with you. You could put me in your purse or other private places that you wish. Lol. I would be yours to keep. … Would you like this?"
She wouldn't, especially with someone she doesn't even know.
Nor are men who cross the line of taste with perfect strangers or new acquaintances – and who seem unaware that a line even exists – confined to the online world.
A couple months ago I went out with a 46-year-old investment banker I'll call Ken. On the first date, he told me about his close relationship with his family of origin and how he could see himself as a husband and father because he loves being with his nieces and nephews. "I can't wait; the lifestyle wouldn't be a stretch for me," he said.
On the second date, after a fascinating political discussion, he started practically groping me on a bench in Central Park. I brushed him off, trying to be gentle but firm about it. I wanted to take things slowly, but told myself the man was smitten and it was a good thing he had energy (unlike some of the 40-something guys I've met who punctuate every other sentence with; "Guess I'm gettin' old.") When I agreed to meet for a third date the next day, to sunbathe in Madison Square Park, he started asking me what kind of bathing suit I planned to wear.
"I'm not sure," I said.
"Can you make it a two piece?" he asked with a wink.
"Um, maybe," I said. How had the conversation shifted so suddenly from one about shared values and dreams to whether my stomach would be exposed?
The next day, he called around 2pm to see if we were on.
"Sure," I said, although I was starting to have my doubts.
"What are you wearing?" he said.
"Shorts and a T-shirt," I replied.
"Bikini under?"
"Ken," I said. "I hope that's not the only reason you'd be coming to spend time with me."
At that point he – a Manhattanite – started demanding directions to Madison Square and, when I explained how to get there easily, suddenly began to cough, announcing he didn't feel well and would need to reschedule. He called about a week later, rhapsodizing about the view from his Penthouse and inviting me over for "wine, strawberries, and conversation" (Needless to say, I passed on that invite).
Back to Anthony Weiner. My purpose isn't to demonize the man or to say his form of compulsion – exhibitionism – is typical. But maybe the online culture in which every erotic image is available at a click and men are treated to an endless buffet of options on ubiquitous dating sites – including Tinder, an I-phone app which features pictures with minimal profile information, and the option to click "yes" or "no" based solely on looks – has brought out some guys' "Weinerish tendencies."
Then again, maybe this "hookup culture" in which talking and texting sex-sex-sex is part of the initial "getting-to-know-you" works for some people.
But it's no favor to real women looking for real men.
We still believe that somewhere out there, under the onslaught of Weinerish techno-boys, you really do exist.
This entry was written by Heather Robinson and posted on August 8, 2013 at 3:26 am and filed under Commentary.