Ay Caramba! Berkley Weeps for Workers–While Her Hubby's Trust Collects Wal-Mart Dividends

From Algemeiner
by HEATHER ROBINSON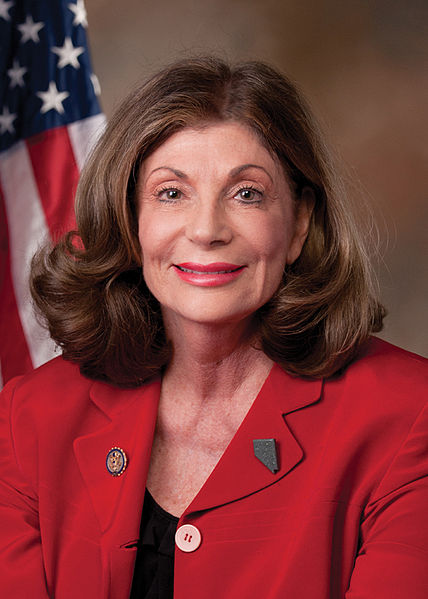 Rep. Shelley Berkley (D-NV), the liberal Democrat Senate candidate trying to unseat Senator Dean Heller (R-NV) in November, is a gung-ho supporter of labor unions who highlights her tight relationship with Big Labor in her fights for office.
For instance, Berkley spoke at a rally in Las Vegas where the Teamsters Local 631 hosted the "2006 Change Wal-Mart, Change America bus tour." The gathering featured a giant cardboard pledge pressing the retail giant to provide health insurance to all its employees. Berkley took to the stage to call for an all-female Democratic slate in Nevada's House, referring to herself and two other candidates as the "three amigas." Also at the event, Paul Blank, campaign director for the union-funded Wake Up Wal-Mart group that organized the tour, "said 54 percent of Wal-Mart employees are not covered by a company health plan" according to the Las Vegas Review-Journal. Blank added that for a corporation that made $11.2 billion the previous year, "that's just not fair."
Approaching November's Senate race, too, Berkley is trading heavily on her support for – and from–labor unions.
But, according to public disclosure forms Berkley submitted last month to the House Committee on Standards of Official Conduct, her financial records show a trust belonging to her husband owns over $33,000 worth of stock in Wal-Mart as of May 21, 2008. (Yes, that same retail giant that was condemned for its supposedly paltry provision of healthcare to workers when Berkley peddled her "three amigas" shtick back in 2006. That same retail giant struggling to maintain its wholesome image after last month's New York Times expose on its largest foreign subsidiary's alleged bribery of Mexican officials so it could rapidly expand South of the Border). Aye yai yai, Shelley!
The stock may not technically be Berkley's, but she considered her assets and those of the Lawrence Lehrner Family Trust connected enough as a household that she included them in personal financial disclosure forms submitted as part of an investigation, launched in March by the House Ethics Committee, into alleged conflicts of interest in her dealings regarding kidney care providers, including her efforts to keep open a kidney transplant program with which her husband's nephrology practice had a contract.
Contacted this week for comment on the matter of the Lehrner's Trust's Wal-Mart stock, Berkley's office responded with a note citing the policy of Morgan Stanley, the outfit that manages the Trust: ""Per a previous agreement, all investments related to the stock portfolio are made solely at the discretion of the investment manager."
Does that mean Berkley and her husband just don't scrutinize what Morgan Stanley is doing with the Lehrner Trust all that closely? Who can blame them? Life in Vegas can be pretty darn exciting. Who in their right mind would scrutinize boring stock portfolios when they can be taking in the shows and throwing the dice? On the other hand, it can be useful to go to rallies that condemn those capitalist pigs who are trampling workers' rights.
So is the Congresswoman, who positions herself as a great friend of labor, una hipocrita?
Perhaps that is in the eye of the beholder. But particularly given the alleged Mexican bribery scandal that the retail giant now has to contend with, Berkley's union supporters may soon be shouting, "Shelley, you got some splainin' to do!"
This entry was written by Heather Robinson and posted on May 27, 2012 at 11:57 am and filed under Commentary.